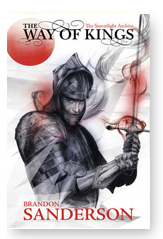 Gosh, anyone would think it's awards season! And the latest wonderful news we have to impart in this department  is that Brandon Sanderson's THE WAY OF KINGS has just scooped this year's David Gemmell Legend Award. WOOT!
A recent arrival in the awards calendar, the Legend award is three years old now, and is decided by popular vote rather than by a jury. There are three categories – for best newcomer, best artist and the Legend award itself, which is given to the best fantasy novel.
We are absolutely delighted for Brandon and publisher Gollancz who have done a really wonderful job with this thwacking great novel. And Brandon is hard at work on the second volume. Let's hope the arrival of the very large "Snaga" axe he just won doesn't distract him!