Samit Basu's fantastic new novel TURBULENCE has been published in the UK in paperback and as an eBook by Titan and is already receiving some stellar reviews. It will be released in the US next year and Samit is already hard at work on a sequel.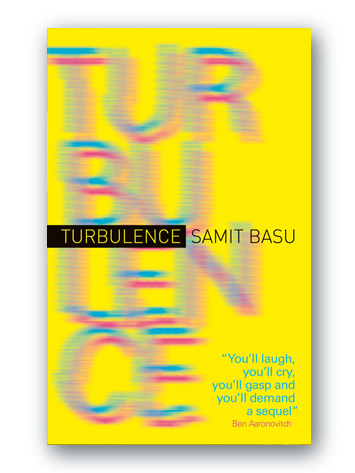 Aman Sen is smart, young, ambitious and going nowhere. He thinks this is because he doesn't have the right connections—but then he gets off a plane from London to Delhi and discovers that he has turned into a communications demigod. Indeed, everyone on Aman's flight now has extraordinary abilities corresponding to their innermost desires. Vir, an Indian Air Force pilot, can now fly. Uzma, a British- Pakistani aspiring Bollywood actress, now possesses infinite charisma. And then there's Jai, an indestructible one-man army with a good old-fashioned goal — to rule the world!
Aman wants to ensure that their new powers aren't wasted on costumed crime-fighting, celebrity endorsements, or reality television. He wants to heal the planet but with each step he takes, he finds helping some means harming others. Will it all end, as 80 years of superhero fiction suggest, in a meaningless, explosive slugfest?
TURBULENCE features the 21st-century Indian subcontinent in all its insane glory—F-16s, Bollywood, radical religious parties, nuclear plants, cricket, terrorists, luxury resorts, crazy TV shows — but it is essentially about two very human questions. How would you feel if you actually got what you wanted? And what would you do if you could really change the world?
***
'Basu knows his stuff…  he conjures up a vast array of imaginative powers… unflinchingly depicts the costly consequences…' – SFX
'It's smart, it's funny, it's intelligently witty, it's great…. I found it difficult to put down. Loved, loved, LOVED it.' – SFFWorld.com, Mark Yon.
'The characters are brilliantly written… With a globe-trotting sensibility even James Bond would be proud of, the cinematic action sequences are as breath-taking as anything Hollywood has to offer, so the campaign for a big-screen version, or failing that, at least a sequel to the book begins here!' – IGN
'TURBULENCE is a new breed of superhero novel and likely to appeal to both classic hero fans as well as fans of contemporary fiction… This is one of those rare superhero stories that is not overshadowed by the powers but is told in the humanity that pulls the superhuman together.' – Geek Native
'If you're looking for brilliantly written, fun and fast paced action that leaves you wanting more, this is definitely it. One word of warning though, you may ignore your loved ones completely until you've finished it.' – The Tattooed Book.
'It is somewhat self-referential, inventive and very clever. But most of all, it is fun. If you have ever picked up a comic book and enjoyed it, then this is a must-buy.' – Starburst