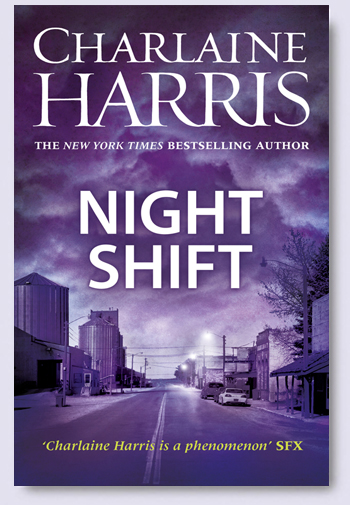 Earlier this week, Gollancz unveiled the cover for Charlaine Harris's next novel, NIGHT SHIFT. The third novel in the author's Midnight Texas series, here's the synopsis…
Welcome to Midnight, Texas.
At Midnight's local pawnshop, weapons are flying off the shelves-only to be used in sudden and dramatic suicides right at the main crossroads in town.
Who better to figure out why blood is being spilled than the vampire Lemuel, who, while translating mysterious texts, discovers what makes Midnight the town it is. There's a reason why witches and werewolves, killers and psychics, have been drawn to this place.
And now they must come together to stop the bloodshed in the heart of Midnight. For if all hell breaks loose-which just might happen-it will put the secretive town on the map, where no one wants it to be…
NIGHT SHIFT is due to be published in the UK by Gollancz, on May 5th, 2016. The first two novels in the series — MIDNIGHT CROSSROAD and DAY SHIFT — are also published in the UK by Gollancz.
Zeno represents Charlaine Harris in the UK and Commonwealth, on behalf of the JABberwocky Literary Agency in New York.