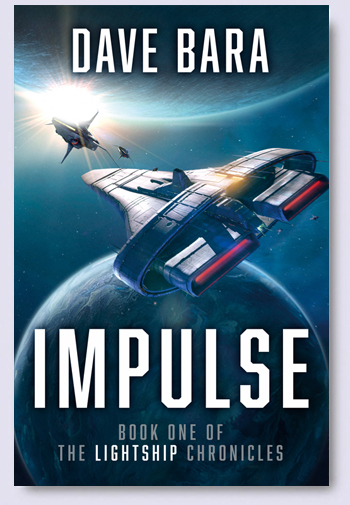 The exciting debut science fiction novel from Dave Bara, IMPULSE, is due to be published in the UK by Del Rey on February 12th, 2015. It is the first in Bara's Lightship Chronicles, an action-packed, adventure-filled space opera. Here is the synopsis…
A remote solar system
A fragile galactic alliance
An interstellar war is on the brink of eruption…
When the Lightship Impulse is attacked without provocation, Lt. Peter Cochrane, son of the Grand Admiral, is sent to investigate.
His first deep space mission, this isn't what Peter has spent three years in training for. Surrounded by strangers and following secret orders, is he willing to do what it takes to keep the alliance together? Even mutiny?
LIGHTSHIP has already racked up a few advance blurbs from his contemporaries…
'If you liked Star Trek Into Darkness, you'll like Dave Bara's IMPULSE.' — Jack Campbell, New York Times bestselling author of the Lost Fleet series
'IMPULSE is fun, fast, and proper science fiction. Where the stakes are big, and things matter because the characters matter. I enjoyed the hell out of this. Impulse should be an impulse buy.' — Simon R. Green, bestselling author of the Deathstalker series
'Totally convincing space navy… check! Perfectly realized characters complete with depth and heroism… check! Plus a fascinating story with an Ahab of a captain determined to complete his mission, and a fledgling lieutenant who comes into his own in the midst of interstellar conflict. Oh yeah: exploding spaceships… double check!' — Tony Daniel, bestselling author of Guardian of Night
Zeno represents Dave Bara in the UK and Commonwealth, on behalf of the JABberwocky Literary Agency in New York.