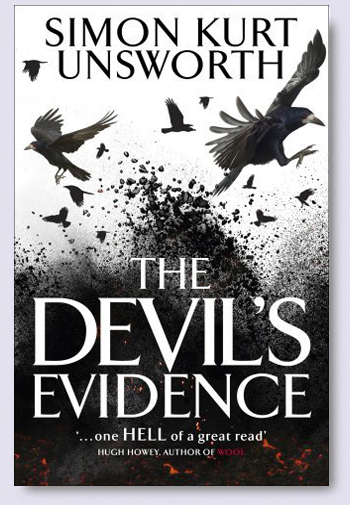 Above you can see the striking UK cover for Simon Kurt Unsworth's upcoming THE DEVIL'S EVIDENCE. The sequel to Simon's critically-acclaimed THE DEVIL'S DETECTIVE, it's due to be published in the UK by Del Rey in October 2016. Here's the synopsis…
Thomas Fool, now the head of Hell's Information Men, must solve a new mystery that crosses the divide between Heaven and Hell.
THE DEVIL'S DETECTIVE and THE DEVIL'S EVIDENCE are both published in the US by Doubleday — the latter on July 5th, 2016. Here's the US synopsis for THE DEVIL'S EVIDENCE, which is more substantial…
A new case of unsolvable murders brings Hell to Heaven in the explosive sequel to The Devil's Detective.
Hell is burning out of control. Thomas Fool, Hell's first Information Man tasked with investigating the endless stream of violence in Hell, has been promoted to the head of the newly expanded Information Office. Now in command of a legion of Information Men, his new position finds him hated by demons and almost revered by humans. He alone has survived the wrath of demon and angel alike, but he stands alone and at the center of a brewing crisis. New on the scene is the Evidence, a shadowy department whose officers do not investigate; they punish and spread fear. And its leader, Mr. Tap, is gunning for Fool.
Fool is ordered to accompany a political delegation to Heaven, and his arrival coincides with an impossible—and sinister—discovery. A dead body. Murder in Heaven. Violence, corruption, and fear are the currency of Hell, and how does one investigate a crime where these concepts are paradoxes? As the bodies pile up, Fool sees disturbing connections between Heaven and Hell. He must follow clues in a strange land where nothing is as it seems and danger can present itself in any form.
What follows is a phantasmagoric, mind-bending thriller as exciting and unsettling as anything in recent fiction. The Devil's Evidence is an electrifying, provocative novel filled with stunning set pieces and characters who will live on in your deepest nightmares.