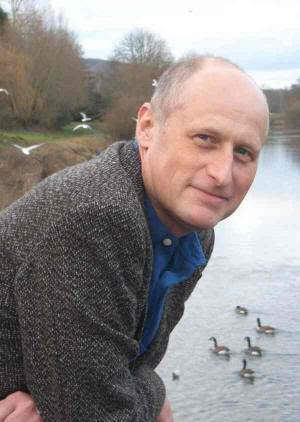 We're very happy to share with you the details of Ian R. MacLeod's upcoming new collection, FROST ON GLASS. The book is due to be published by PS Publishing in spring 2015.
Alongside ten of Ian's best recent stories (each bookended by afterwords by the author) and a selection of his non-fiction, the collection includes a brand new eponymous story – 'a dystopian novella set on a writers' commune' – and also a new essay about 'that perennial subject of where writers get their ideas from'. This substantial volume, Ian writes, is 'a big, fat Christmas pudding of a book.' The title, he continues, 'reflects the delights and frustrations of writing fiction, which is a theme which runs through much of the rest of FROST ON GLASS'. Here's the provisional table of contents (which may change, slightly)…
Introduction:  Don't Look Back.
THE DISCOVERED COUNTRY  —  Afterword: Silver Machines
HECTOR DOUGLAS MAKES A SALE  —  Afterword: A Cul-de-Sac in Los Angeles
Foreword: Different Warts and All  —  A Truncated Life in Books
THE COLD STEP BEYOND  —  Afterword: The Future isn't Real
A Concise and Ready Guide  —  Afterword: Bloody Dragons
An Empty Grey Cell of One's Own
RE-CROSSING THE STYX  —  Afterword: On Being Dark
THE TRAVELLER AND THE BOOK  —  Afterword: On Writing Rubbish
I've Got This Idea For A Story…
THE CRANE METHOD  —  Afterword: Rejection
The Decline of the English Ghost story
LETTER TO WILL  — Afterword: Those Who Can't…
Me and the Mushroom Cloud
TUMBLING NANCY  —  Afterword: Other Writers
FROST ON GLASS  —  Afterword: Writer's Block
ENTANGLED  —  Afterword: Volcanoes and Dinosaurs
An exact publication date hasn't yet been set, but we'll be sure to share it with you as soon as we know. The same goes for the cover art, which is still in production.