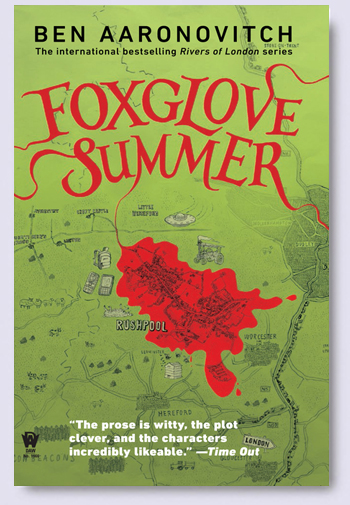 The wait is finally over for book lovers in North America: Ben Aaronovitch's much-anticipated FOXGLOVE SUMMER is published today by DAW Books! Published to great acclaim in the UK by Gollancz, in November of last year, many across the Atlantic have been clamouring to return to the bestselling Peter Grant series. Here's the synopsis…
When two young girls go missing in rural Herefordshire, police constable and wizard-in-training Peter Grant is sent out of London to check that nothing supernatural is involved.
It's purely routine — Nightingale, Peter's superior, thinks he'll be done in less than a day. But Peter's never been one to walk away from someone in trouble, so when nothing overtly magical turns up he volunteers his services to the local police, who need all the help they can get. But because the universe likes a joke as much as the next sadistic megalomaniac, Peter soon comes to realize that dark secrets underlie the picturesque fields and villages of the countryside and there might just be work for Britain's most junior wizard after all.
Soon Peter's in a vicious race against time, in a world where the boundaries between reality and fairy have never been less clear…
Here's a selection of the great reviews the novel has already received…
'[Aaronovitch's] ability to construct a fast, tense, readable police procedural (with magic) is inarguable. The combination—and frequently, the clash—of modern policing methods with magic and folklore remains a compelling juxtaposition, one that's funny more often than not… Peter's voice remains compelling. It's one of the most appealing things about this series. In removing him from his usual stomping grounds to the countryside, Aaronovitch takes the opportunity to cast a minor side-eye at the white uniformity and unthinking assumptions of part of Britain: as a mixed-race lad from London, Peter sticks out in Leominster… It's amusing. It's diverting. It's fun…' — Tor.com
'Ben Aaronovitch is in top form in this fifth Peter Grant novel, as his beloved police constable ventures into the wilds of the English countryside. As ever, the realistic police procedural details ground the plot, but the wonderful and unexpected fantasy world that lurks just below the surface of reality makes this tale the rousing success that it is. The tension is high from the opening of this unpredictable story, but the gravity of Grant's newest case doesn't keep his snarky humor or his wry insight from shining through, making this a book that new readers and fans alike will relish.' — RT Book Reviews (January 2015 Top Pick)
'This book is a great example of how a series and its main character can grow while still retaining everything that makes the previous novels so great. An extraordinary fun ride that's not to be missed.' — Bibliosanctum (5* Review)
'FOXGLOVE SUMMER is a bold and exciting new beginning for Peter Grant and I can't wait to find out where will Ben Aaronovitch take him next.' — Upcoming4Me
The first three novels in the series – MIDNIGHT RIOT, MOON OVER SOHO and WHISPERS UNDERGROUND – were published in the US by Del Rey. BROKEN HOMES, the fourth novel, was also published by DAW Books. The whole series is published by Gollancz in the UK. The first four books have been published in Germany by DTV and in France by J'ai Lu.