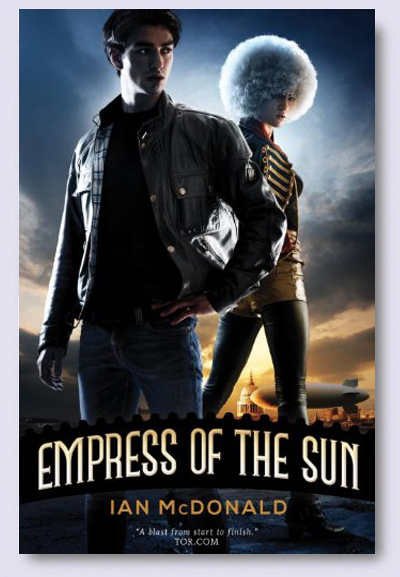 The wait is finally over! The third volume in Ian McDonald's critically-acclaimed Everness series, EMPRESS OF THE SUN, is out today in the US! The series is published by Pyr Books.
Here is the synopsis…
World-hopping, high-action adventure starring a smart boy with computer skills and a tough girl who pilots a blimp 
The airship Everness makes a Heisenberg Jump to an alternate Earth unlike any her crew has ever seen. Everett, Sen, and the crew find themselves above a plain that goes on forever in every direction without any horizon. There they find an Alderson Disc, an astronomical megastructure of incredibly strong material reaching from the orbit of Mercury to the orbit of Jupiter. 
Then they meet the Jiju, the dominant species on a plane where the dinosaurs didn't die out. They evolved, diversified, and have a twenty-five million year technology head-start on humanity. War between their kingdoms is inevitable, total and terrible. 
Everness has jumped right into the midst of a faction fight between rival nations, the Fabreen and Dityu empires. The airship is attacked, but then defended by the forces of the Fabreen, who offers theEvernesscrew protection. But what is the true motive behind Empress Aswiu's aid? What is her price?
The crew of the Everness is divided in a very alien world, a world fast approaching the point of apocalypse.
The novel, out in the UK since last month, has been racking up some impressive reviews. Here's just a taste of what's been said…
'The marvelous Everness series takes readers to a world with highly evolved dinosaurs in this third voyage through parallel universes… McDonald lets his imagination run rampant without abandoning credibility, tackling real scientific concepts such as confirmation bias, a feature lacking in far too much science fiction… Endlessly fascinating and fun.' — Kirkus (Starred Review)
'YA or not, the Everness series may be the most enjoyable ongoing series that SF currently has to offer.' — Locus (Jan.2014)
'It's no exaggeration when I say these books in the Everness series just seem to get better and better. The adventure that started with PLANESRUNNER only intensified with BE MY ENEMY, and now the third installment has taken things even further… The author sure pulled out all the stops with this one. Blown, my mind is… Action, adventure, and rollicking good fun! EMPRESS OF THE SUN has all of that…' — Bibliosanctum (5/5)
The Everness series – PLANESRUNNER, BE MY ENEMY and EMPRESS OF THE SUN – is published by Pyr Books in the US and Jo Fletcher Books in the UK. If you have already read the first two, you can get a taste of EMPRESS OF THE SUN, here. You can also learn a little bit more about the Multiverse in Ian's books by reading his Guest Post on Nocturnal Book Reviews.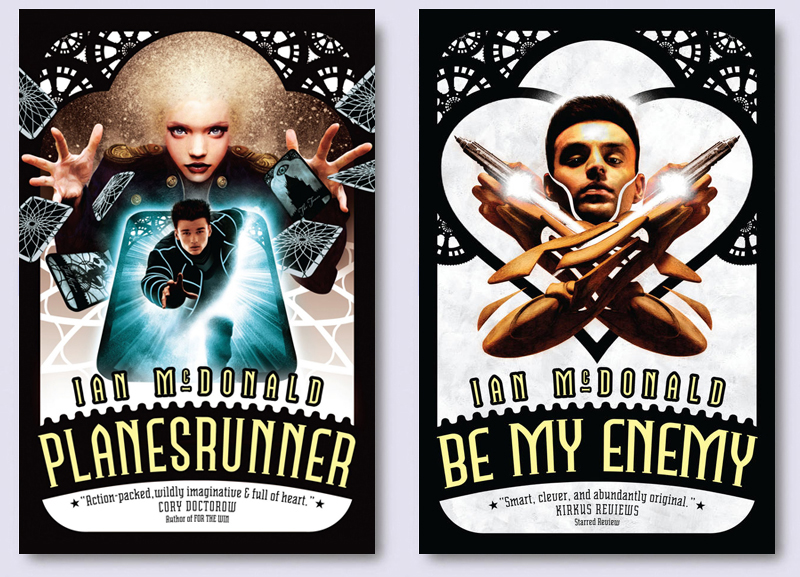 US Covers for PLANESRUNNER and BE MY ENEMY (Pyr)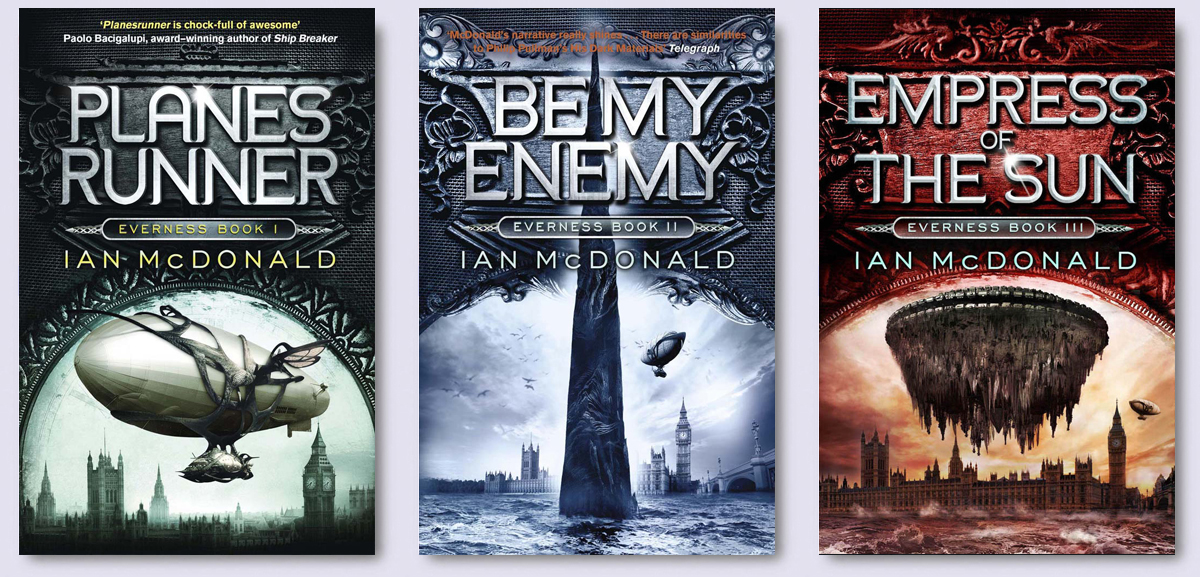 UK Covers for the Everness Series (JFB)