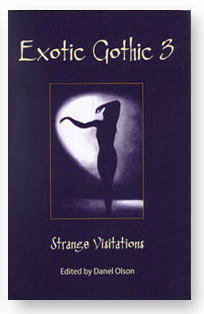 A section of Stephen Volk's powerful and richly written novel THE GOSPEL ACCORDING TO LAZARUS has been excerpted in EXOTIC GOTHIC 3: Strange Visitiations, published by the award winning Canadian outfit, Ash-Tree Press, who specialise in works of supernatural fiction.
LAZARUS is an extraordinary, ambitious and audacious piece, one that the author describes as 'Part Jacobean revenge tragedy of epic proportions.  Part variation of the "Frankenstein" myth.  Part heretical alternative history.'
Stephen Volk is a Bafta award winning screen and television scriptwriter – check out his page on the Zeno web site. You can order EXOTIC GOTHIC 3 by following this link.
Ash-Tree Press, Stephen Volk and Zeno Agency will all be attending this year's World Horror Convention in Brighton in a couple of weeks. Feel free to come up and say "Boo!"