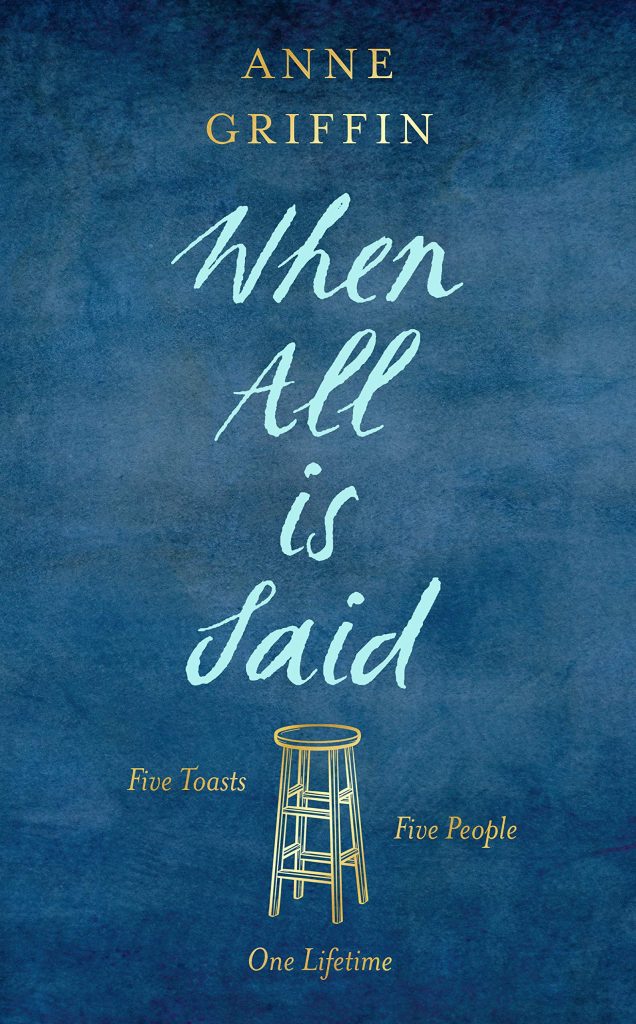 Above you can see the lovely UK cover for Anne Griffin's highly-anticipated and already-critically-acclaimed debut novel, WHEN ALL IS SAID. Due to be published in January by Hodder in the UK, here's the synopsis…
'I'm here to remember – all that I have been and all that I will never be again.'
At the bar of a grand hotel in a small Irish town sits 84-year-old Maurice Hannigan. He's alone, as usual — though tonight is anything but. Pull up a stool and charge your glass, because Maurice is finally ready to tell his story.
Over the course of this evening, he will raise five toasts to the five people who have meant the most to him. Through these stories – of unspoken joy and regret, a secret tragedy kept hidden, a fierce love that never found its voice — the life of one man will be powerfully and poignantly laid bare.
Heart-breaking and heart-warming all at once, the voice of Maurice Hannigan will stay with you long after all is said.
The novel is also due to be published next year (March) in North America by St. Martin's Press, with many translation editions on the way as well! We'll keep you updated on these upcoming editions as soon as we have more information.
As we stated above, the novel has already been receiving some incredible reviews, from authors, reviewers and others. Here are just two examples, from Graham Norton and Cecelia Ahern…!
Here are some more early reviews…
'An extraordinary novel, a poetic writer, and a story that moved me to tears… There is something special here.' — John Boyne
'Beautifully written, unhurried and thoughtful, a lonely man truthfully wrought and a character you love from the off, in spite of his flaws or maybe because of them… a terrific debut.' — Kit de Waal, award-winning author of My Name is Leon
'A hugely enjoyable, engrossing novel, a genuine page-turner. Maurice is a fabulous character, wonderfully flawed and completely engaging; his voice is familiar and real, full of sadness and regret and defiance, and unexpected tenderness.' — Donal Ryan, award-winning author of The Spinning Heart
'Anne Griffin is a writer with a bright, bright future.' — Janet Peery (National Book Award finalist)
'WHEN ALL IS SAID captures the texture of a night catching up with an old friend — the pleasures and comforts, the stories and surprises — one that you never want to end, and all the more bittersweet because you know, of course, that it must.' — Kathleen Rooney, author of Lillian Boxfish Takes a Walk