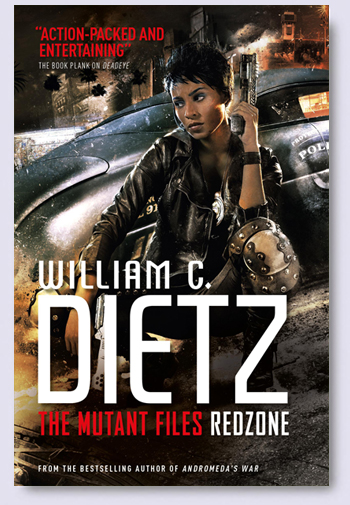 Today, Titan Books publish William C. Dietz's REDZONE in the UK. It is the second novel in the author's new Mutant Files urban fantasy series. Here is the synopsis…
The year is 2065, almost thirty years since a bioterrorist attack decimated the population. The world has been divided, and new nations have formed. Those mutated from exposure inhabit the red zones, while "norms" live in the green zones.
In the nation of Pacifica, Los Angeles detective Cassandra Lee is in charge of investigating a disturbing case, tracking a cop killer dubbed the Bonebreaker. But strange new murders have occurred, falling outside the normal pattern and leaving Lee and her team wondering if the serial killer has become unpredictable — or if he's no longer acting alone…
To make matters worse, Lee's attention is diverted after she receives a letter from her long-lost mother. Now she must venture into the red zone, a lawless land where might makes right — and where the biggest danger may be her own family.
Publishers Weekly called REDZONE a 'sharp sequel', and 'its brisk pacing and suspenseful twists will suck in readers…' The first novel in the series, DEADEYE, was also published by Titan Books, in May 2015. Titan also publish a number of Dietz's Legion of the Damned military sci-fi novels in the UK.
Zeno represents William C. Dietz in the UK and Commonwealth, on behalf of the JABberwocky Literary Agency in New York.