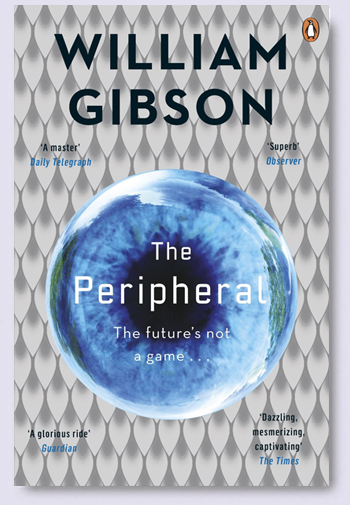 Tomorrow, Penguin Books publish the paperback edition of William Gibson's superb, critically-acclaimed latest novel, THE PERIPHERAL. Above you can see the striking new cover. Here's the synopsis…
Flynne Fisher lives in rural near-future America where jobs are scarce and veterans from the wars are finding it hard to recover. She scrapes a living doing some freelance online game-playing, participating in some pretty weird stuff. Wilf Netherton lives in London, seventy-some years later, on the far side of decades of slow-motion apocalypse. Things though are good for the haves, and there aren't many have-nots left.
Flynne and Wilf are about to meet one another. Her world will be altered utterly, and Wilf's, for all its decadence and power, will learn that some of these third-world types from the distant past can be real badass.
Here's just a small selection of the aforementioned critical acclaim…
'Dramatic, scary, creepy,violent, and finally satisfying… like any really well-designed thrill ride or mystery tour (or sonnet or string quartet), as soon as you get off, you want to get right on for another go-round.' — Locus
'While placed firmly in the sci-fi genre of his earlier works, Gibson's latest retains the social commentary from his more recent novels… This is quintessential Gibson: gonzo yet cool, sharp-edged, sophisticated…' — Kirkus
'A perfect fusion of Gibson's pulp heritage with his fine-tuned design and social sensibilities… From the microscale word choices to the macroscale plot, structure and themes, the book is strange and contemporary in a perfectly futuristic way.' — Boing Boing
'Gibson remains as unnervingly prophetic as ever, making his futures feel like they're just around the corner, products of humankind's inability to act when necessary, transforming a sci-fi whodunit into a work of fiction that feels both ahead of its time and frighteningly relevant to today's world.' — Starburst (9/10*)
Zeno represents William Gibson in the UK and Commonwealth, on behalf of the Martha Millard Literary Agency.