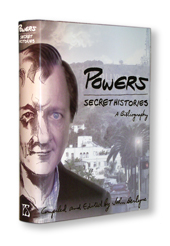 Here at Zeno towers, I have been quietly working away for some months on something of pet project. Anyone who knows me also knows that my favourite author nonpareil is the American genre writer Tim Powers. I won't waste time repeating all the reasons why his work has thrilled and fascinated me for over twenty years, except to say that it did so enough for me to spend the last ten of them writing a book on the subject!
SECRET HISTORIES is now available from PS Publishing, and one significant thing that occured to me whilst I was working on it was that, with only minor exceptions, Powers remained out of print here in the UK for almost the entire time I was writing about him –  a project I began in the previous century!
Given my expert knowledge on this particular subject, I decided to set about addressing the issue and it is with tremendous personal and professional pride that I am delighted to be able to announce that Zeno, in association with Russell Galen of Scovil Galen Ghosh Literary Agency, has just completed on a FOUR book deal for Tim with Nicholas Cheetham at Corvus Books, the new imprint at Grove Atlantic.
Corvus is a perfect home for Powers, who has for many year's been confined to the genre ghetto. However, the wider readership is nowadays far more receptive to genre-friendly, mainstream-cross-over novels in the wake of the Dan Brown phenomenon and the runaway success  in recent years of novels such as The Historian and Jonathan Strange and Mr Norrell.  Publishing Director Nic Cheetham says of the imprint "Corvus takes a particular delight in patrolling those fertile zones of convergence at genre borders, where the best stories are to be found, where entire worlds – historical, psychological, fantastical – are built just to tell stories," which makes things sound pretty much tailor made for Powers!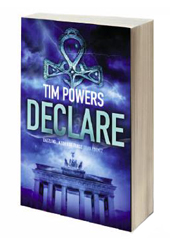 The Corvus deal sees publication both backlist and frontlist titles, bringing Powers back to a British and Commonwealth  audience with a fanfare that this extraordinary author truly deserves. Their programme begins with a mass market paperback edition of DECLARE – Tim's 2000 World Fantasy Award winner, described as a "…transcendent thriller that re-writes the espionage fiction rule book as it reveals the terrible secret at the heart of the Cold War…" and scheduled for publication in June 2010. It's hard to believe that this will be the first UK publication of this novel. Note that the image to the right is merely a design rough from the Corvus catalogue and may well change in due course. (I like it though!)
Nic Cheetham: "Everyone is a Tim Powers fan, but just not everybody knows it… yet. We're looking forward to changing that in June with the publication of Tim's World Fantasy Award-winning spy novel DECLARE."
Following DECLARE will be another first UK publication, this time of THREE DAYS TO NEVER (format to be confirmed) currently scheduled for a January 2011 release, though subject to change. Corvus and will then publish a brand new Powers novel sometime later in that year. THE LIGHTS ALONG THE SHORE is set some years after the events of THE STRESS OF HER REGARD, to which it is a loose sequel.  STRESS will also be reissued as part of the deal.
So, there you have it folks – Powers is back in the UK with a new publisher, a new book and ready to find a new audience. Happy days!