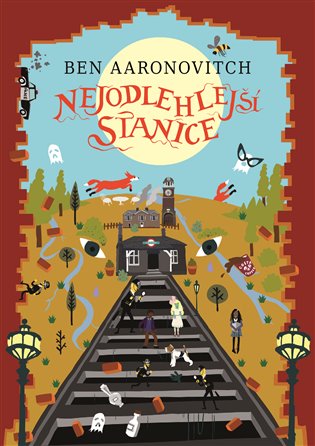 Tomorrow, Argo is due to publish the Czech edition of Ben Aaronovitch's first Peter Grant novella, THE FURTHEST STATION! Published as NEJODLEHLEJŠÍ STANICE, here's the synopsis…
Na lince Metropolitan se začínají dít divné věci. Vyděšení cestující volají na tísňovou linku, že byli v tlačenici napadeni zvláštně oděnými lidmi, kteří se jim pokoušeli předat naléhavý vzkaz… Oběti útoků však při dalším dotazování nejsou schopny policii vysvětlit, o co přesně šlo, a během chvíle se jim střet vykouří z hlavy. Seržant Jaget Kumar, příslušník dopravní policie známý ze Šepotu v podzemí, se promptně obrací na Petera Granta, protože případy vykazují neklamné znaky působení nadpřirozených sil. Zjistit, co jsou oni duchové zač a proč zasévají takový zmatek mezi nevinné Londýňany, se Peterovi pokusí jeho mladičká a magicky nadaná sestřenice Abigail, věrný pes Toby a samozřejmě inspektor Nightingale coby klidná síla v pozadí. Vyšetřování se z metra záhy přenese na zdánlivě idylická londýnská předměstí, která se opět ukážou být semeništěm podivností, nad nimiž zůstává rozum stát a při nichž tuhne krev v žilách.
The novella is published in the UK by Gollancz and in North America by Subterranean Press. It is also available in Germany (DTV) and France (J'ai Lu). Here's the English-language synopsis…

Also out tomorrow, the Czech edition of NIGHT WITCH! The second collection in the Rivers of London comic series, by Ben and Andrew Cartmel, it is published by Argo as NOČNÍ KOUZELNICE. Here's the synopsis…
Druhý komiksový příběh ze světa Bena Aaronovitche Řeky Londýna staví do popředí ruskou čarodějku Varvaru Sidorovnu, kterou známe už z Prokletých domovů. To ona je noční kouzelnice. Tedy alespoň jí byla během svojí služby Sovětskému svazu. Ale to je dávno. Teď má Peterovi pomoci vyšetřit únos dcery ruského emigranta, který nechal za zády Putinovo Rusko, sbalil prachy a vypadnul… Jenže když vám unese dceru lešij, pán lesů, jsou peníze k ničemu. Proto musí nastoupit odborníci: Peter Grant a Thomas Nightingale. A pochopitelně Toby. Jak se ukáže, je celý případ daleko komplikovanější, takže se můžete těšit nejen na svoje oblíbené hrdiny, ale také na jejich arcinepřítele – Muže bez tváře.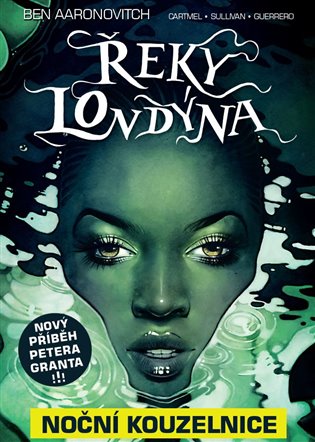 NIGHT WITCH is published in English by Titan Comics. Artwork is by Lee Sullivan, and colours by Luis Guerrero. Here's the English-language synopsis…
Press-ganged into helping a Russian oligarch hunt his missing daughter, PC Peter Grant and his boss, Thomas Nightingale, London's only wizarding cops, find themselves caught up in a battle between Russian gunmen, a monstrous forest creature — and their nemesis: The Faceless Man.
But as Grant and Nightingale close in on the missing girl, they discover that nothing about this case is what it seems!