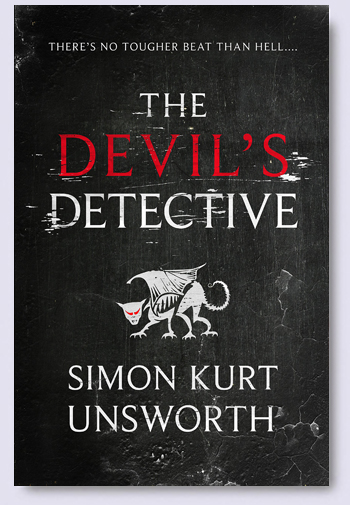 Simon Kurt Unsworth's debut novel, THE DEVIL'S DETECTIVE, is out tomorrow in the UK! The first in a new horror-crime duology set in hell, it is published by Del Rey UK.
Welcome to hell…
… where skinless demons patrol the lakes and the waves of Limbo wash against the outer walls, while the souls of the Damned float on their surface, waiting to be collected.
When an unidentified, brutalised body is discovered, the case is assigned to Thomas Fool, one of Hell's detectives, known as 'Information Men'. But how do you investigate a murder where death is commonplace and everyone is guilty of something?
A stunningly original blend of crime, horror and suspense, The Devil's Detective is a bold new thriller that will shock and amaze.
The novel was published in North America by Doubleday last week. Here is just a selection of the reviews the book has received so far…
'Hell as the setting for a noir investigation turns out to be as fun as it sounds in THE DEVIL'S DETECTIVE. Inventive and pacy, Simon Kurt Unsworth has created a world – underworld? – distinctly his own.' — Andrew Pyper
'Unsworth's care in constructing an imaginary world enables him to make the most of his debut's challenging concept: a hard-boiled detective novel set in Hell itself… Unsworth offers intriguing variations on traditional themes and some memorably hair-raising prose…' — Publishers Weekly
'The debut novel from prolific short story writer Simon Kurt Unsworth depicts a very modern hell. There's still suffering but it's mostly to be found in the drudgery of the daily grind. Gruesome medieval tortures have given way to endless toil, confounding bureaucracy and arbitrary cruelty. Once you accept the logic of this underworld, what follows is an entertaining Dantean spin on the police procedural… Appropriately awash with gore and bodily fluids, THE DEVIL'S DETECTIVE is damned good.' — Financial Times
'There is much to love with THE DEVIL'S DETECTIVE. The depiction of Hell is original, with it being less of a torture chamber and more of a place for continued hard work for the unworthy, and the world building is great… The novel is dark and full of twists and originality, and it's suitable for anyone wanting to get into fantasy with a supernatural element.' — Starburst
But wait! There's more: This Saturday (14th), Forbidden Planet in London will be hosting Simon for a signing from 1pm-2pm. You can find details of the event here.