Anne Griffin was born in Dublin and now lives in County Westmeath, in the heart of Ireland's midlands. An acclaimed short story writer, Anne is the recipient of the John McGahern award for emerging writers in 2017. She has been previously shortlisted for the Hennessey New Irish Writing Award, The Sunday Business Post Short Story Competition and The Benedict Kiely Short Story Competition, amongst others. Her work has been published in The Irish Times, The Stinging Fly, Ireland's Own, The Lonely Crowd, For Books' Sake, The Ogham Stone, The Honest Ulsterman, The Incubator, Bunker, Cork County Libraries Short Story Collection, and the forth coming winter edition of Crannóg.
A graduate of UCD's MA in Creative Writing Programme, Anne is a recipient of an Arts Grant from Westmeath County Council. Alongside her writing, Anne's career has encompassed many years working in the charity sector and eight years with Waterstone's Bookseller where she worked in both Dublin and London. Anne is married with one son.
WHEN ALL IS SAID is her debut novel. The novel landed squarely at the top of the Irish book charts, where it remained for weeks. It was also selected as the Fiction & Irish Book of the Month by Waterstones in July 2019. In November 2019, Anne won Newcomer of the Year at the Irish Book Awards.
In 2018, the Irish Times published one of Anne's short stories, 'Change Given'.
You can also read an interview with the author over on Goodreads.
Agent Contact: Louise Buckley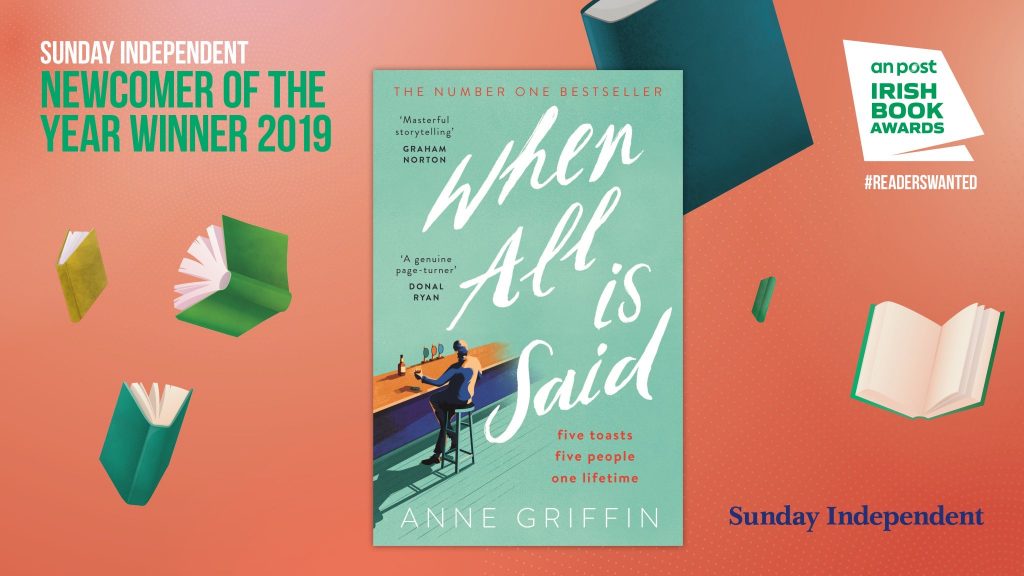 Awards & Commendations
+
---
WHEN ALL IS SAID
- Irish Book Awards, Newcomer of the Year (2019)
- Goodreads Choice Awards, Best Debut Semifinalist (2019)
- Goodreads Choice Awards, Best Debut Semifinalist (2019)
- Big Book Awards, Best Fiction Nominee (2019)
- Irish Book Awards, Newcomer of the Year Shortlist (2019)
- Irish Book Awards, Popular Fiction Book of the Year Shortlist (2019)
- #1 Bestseller in Ireland
covers
+
---
WHEN ALL IS SAID

WHEN ALL IS SAID (Audio Editions)
translations
+
---
WHEN ALL IS SAID
- Eesti Raamat (Estonia, TBC)
- Mozaik knjiga (Croatia, TBC)
- Edizioni di Atlantide (Italy, TBC)
- Pioneer Books (Hungary, TBC)
- Epsilon (Turkey, TBC)
- AST (Russia, TBC)
- Vivat (Ukraine, TBC)
- Norstedts (Sweden, TBC)
- פן הוצאה לאור / Penn Publishing (Israel, 2019 - אחרי שהכול נאמר)
- 寂寞 / Solo Press (Taiwan, 2019 - 五杯酒)
- Éditions Voir de Près (France, Large Print, 2019 - Toute une Vie et un Soir)
- Czarna Owca (Poland, 2019 - Pięć Toastów Hannigana)
- Εκδόσεις ΜΙΝΩΑΣ (Greece, 2019 - Όταν όλα έχουν ειπωθεί)
- Rowohlt (Germany, 2019 - Ein Leben und eine Nacht)
- TYTO ALBA (Lithuania, 2019 - Kai viskas pasakyta)
- Delcourt Littérature (France, 2019 - Toute une Vie et un Soir)
- Harper Collins NL (Netherlands, 2019 - Als alles is gezegd)
- St Martins Press (US, 2019)
- Sceptre/Hodder (UK, 2019)
reviews
+
---
WHEN ALL IS SAID

+

'Anne Griffin's debut novel is a must read. Beautifully observed, masterful story telling – stunning!' — Graham Norton

'An extraordinary novel, a poetic writer, and a story that moved me to tears… There is something special here.' — John Boyne

'Beautiful. Intimate. Tearful. Aching and lyrical. So simply and beautifully told.' — Louise Penny

'Beautifully written, unhurried and thoughtful, a lonely man truthfully wrought and a character you love from the off, in spite of his flaws or maybe because of them… a terrific debut.' — Kit de Waal, award-winning author of My Name is Leon

'A hugely enjoyable, engrossing novel, a genuine page-turner. Maurice is a fabulous character, wonderfully flawed and completely engaging; his voice is familiar and real, full of sadness and regret and defiance, and unexpected tenderness.' — Donal Ryan, award-winning author of The Spinning Heart

'[An] impressively confident debut … Maurice Hannigan emerges as an engaging, compassionate creation' — Guardian

'Anne Griffin is a writer with a bright, bright future.' — Janet Peery (National Book Award finalist)

'WHEN ALL IS SAID captures the texture of a night catching up with an old friend — the pleasures and comforts, the stories and surprises — one that you never want to end, and all the more bittersweet because you know, of course, that it must.' — Kathleen Rooney, author of Lillian Boxfish Takes a Walk

'It is difficult to believe that WHEN ALL IS SAID is a first novel, as Anne Griffin displays such an assured hand at locating and maintaining the voice of our lead character, Maurice Hannigan. An old widower, Hannigan picks a night at the local pub and toasts the five people who influenced his life in the most important ways, and, in the process, gives an oral first person history of his own life — both the truthful and the delusional. With an impeccable eye, Anne Griffin picks out details from seemingly-unimportant moments in a life that become so much more in her capable hands. Each toast brings a new facet of Hannigan's life into focus, sometimes shining a light on things he would rather keep buried deep within himself, and the result is quite lovely. I truly felt as if I were in a country pub, sitting with the county raconteur, and I enjoyed his company immensely!' — Bill Carl, Wellesley Books

'Pitch-perfect prose… Moving and beautifully written, this is a wonderfully assured debut.' — Mail on Sunday

'It's all beautifully done; a tale told in the plain but poetic prose of a man who recognises the tragic truths gleaned from a life of love and loss. A gem of a book.' 5* — Sunday Express

'A proper tear-jerker, but one that will ultimately leave you feeling hopeful.' — Grazia

'An intimate character study of a wealthy 80-year-old Co Meath farmer, WHEN ALL IS SAID is also a study of extreme reticence and self-sabotage, giving voice to a man who, in matters of the heart, has all too often chosen to remain silent… Griffin's strength is in voice and in the rhythm of her prose, which is rich without being overwritten. A winner of the John McGahern Award for Literature, she fits into the Irish lyrical tradition… but WHEN ALL IS SAID feels like a bridge between the past and the present, Maurice's belated loquacity breaking open that familiar Irish silence… a testament to Griffin's talent that she paints such a complete portrait of a man whose contrariness disguises his stoicism. By the end of the novel his humanity is clear; he has made himself known.' — Independent

'Griffin's portrait of an Irish octogenarian provides a stage for the exploration of guilt, regret, and loss, all in the course of one memorable night.' — Kirkus

'Maurice's humor, his keen observations on class and family, and his colloquial language, as well as Griffin's strong sense of place, create the feeling of a life connected to many others by strands of affection and hatred.' — Publishers Weekly

'The most impressive aspects of this first novel from the pen of prize-winning short-story writer Anne Griffin are its rich, flowing prose, its convincing voice, and its imaginative and clever structure. She has complete mastery of her quite complex plot, and manages to imbue her sizeable cast of diverse characters with life and energy… Griffin is a writer of unusual confidence and authority, and a welcome arrival to the literary scene.' — Irish Times

'Cinq toasts autour desquels est organisé TOUTE UNE VIE ET UN SOIR, cinq toasts pour raviver les instants-clés qui ont fait l'histoire d'Hannegan et, à travers lui, celle des métamorphoses de l'Irlande après son indépendance…' — Le Monde

'A beautifully written, perfectly paced, heartfelt novel.' — Saga Magazine

'A deceptively powerful tale. Beneath the surface of seemingly simple lives lie stunning stories of love, heartbreak, humor, hope, tragedy, regret, and — most of all — humanity.' — Viola Shipman

'Poetic and touching without being sentimental… something special.' — Good Housekeeping

'This simple premise hides a rich and moving story, a poetic voice and an unforgettable character in Maurice.' — Elle Magazine

'Warning: it is impossible to read the last chapter of this book without weeping copious tears… an ingenious narrative… Maurice's toast to his late wife that will leave you reeling though. Here is a man who deeply loved a woman but just didn't know how to show it (often held back by his own parsimony), stifling her in the process until one day she rebels in the smallest but most moving of ways. When you read that page, you might want to get the tissues at the ready…' — Stylist

'Elegant prose and and descriptive writing make this book a joy to read, and Maurice, despite his recalcitrant, obstinate, money-driven, ways, will win your heart with his honesty and his capacity for love. Yes, he is flawed, but as his story of life, love and loss unfolds, he reveals his vulnerable side. His story will make you laugh and cry – WHEN ALL IS SAID is a wonderful debut novel from Anne Griffin. She says she "wanted to write a damn good story". She has succeeded beyond her dreams.' — My Weekly

'Beautifully written, this is a feast of Irish storytelling.' — Choice Magazine

'… an admirable, likable novel. Griffin's protagonist, flawed and sad, is a good guy who's decided to address some long-hidden wounds. Fortunately, he has all night.' — Star Tribune

'… a confident yet carefully written debut… I ugly cried my way through and I adored it. Utterly recommended.' — Women's Way

'Poignantly written, with an original premise and a well-constructed narrative.' — Woman (Magazine)

'… packs an emotional punch… This book is storytelling at its best. I felt as though I could have been sitting on the bar stool next to Maurice listening to him tell his story. He had a relatively ordinary life perhaps, but Anne Griffin's writing makes it captivating in its telling nonetheless… I thought the ending was perfect, very poignant yet perfect… Heart-breaking and heart-warming all at once, the voice of Maurice Hannigan will stay with you long after all is said.' — Portobello Book Blog

'… achingly beautiful… one of those books I never wanted to end. It did, nevertheless. It was done, but reverberates in echoes and booms. I highly recommend it.' — The Page Walker

'I loved everything about WHEN ALL IS SAID. I loved the poetic quality of the writing. I loved the iterative appearance of the gold coin. I loved the raw emotion that resonates behind every perfectly selected word. But most of all I adored the portrayal of Maurice. I didn't so much read a book in WHEN ALL IS SAID as find myself seated with a much loved friend, Maurice, and listening, mesmerised, to his life story… poignant, emotional and utterly brilliant tour de force and I can't recommend it highly enough… utterly magnificent.' — Linda's Book Bag

'What a lovely, lovely book! I really didn't think that I could fall in love with such a curmudgeonly old man, but I did… I was in tears or near tears throughout this whole story. There was a lump in my throat. In my mind, I heard that lovely Irish brogue in all the words. There is a serene feeling in this story, a quietness that fit the character of Maurice. He is a wonderful character, flaws and all and this story will stick with me for a while.' — One Blog Two Broads