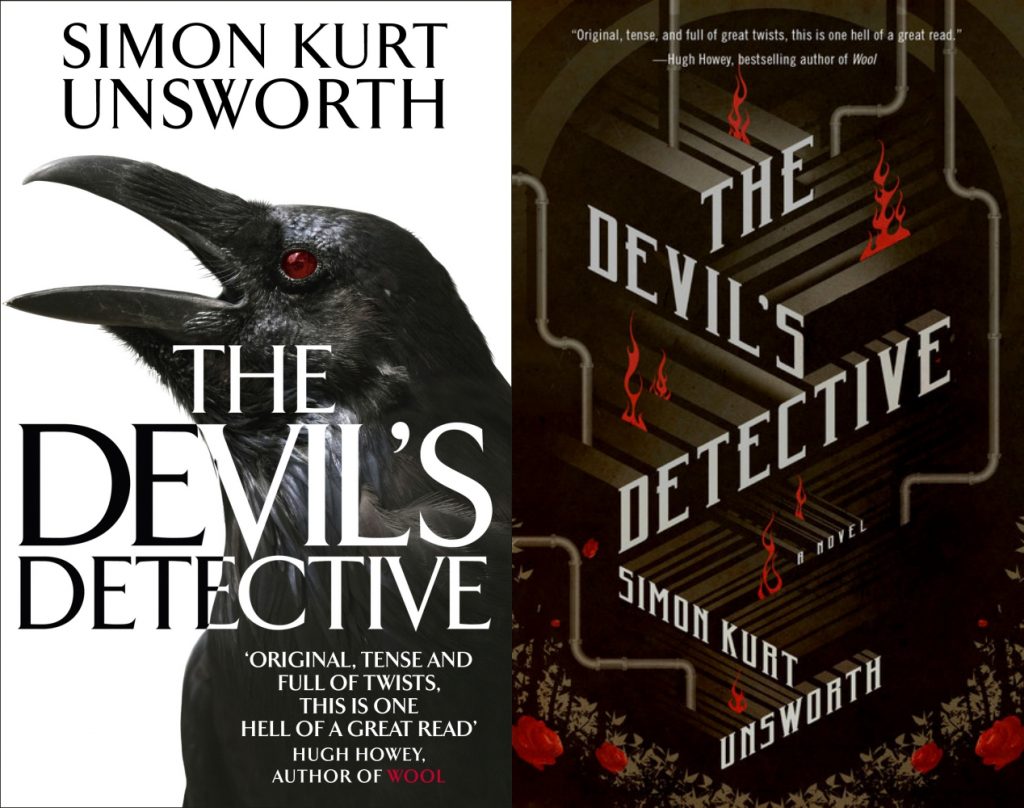 Like horror novels? Like crime and noir fiction? Then perhaps we could interest you in Simon Kurt Unsworth's acclaimed Thomas Fool novels? Published between 2015-16, THE DEVIL'S DETECTIVE and THE DEVIL'S EVIDENCE offer a fantastic twist on horror and noir fiction that is 'Dark and luminous, compelling and insidious' and 'transcends genre' (Michael Marshall Smith).
Here's the synopsis for the first novel…
In The Devil's Detective, a sea change is coming to Hell… and a man named Thomas Fool is caught in the middle.
Thomas Fool is an Information Man, an investigator tasked with cataloging and filing reports on the endless stream of violence and brutality that flows through Hell. His job holds no reward or satisfaction, because Hell has rules but no justice. Each new crime is stamped "Do Not Investigate" and dutifully filed away in the depths of the Bureaucracy. But when an important political delegation arrives and a human is found murdered in a horrific manner — extravagant even by Hell's standards — everything changes. The murders escalate, and their severity points to the kind of killer not seen for many generations. Something is challenging the rules and order of Hell, so the Bureaucracy sends Fool to identify and track down the killer…. But how do you investigate murder in a place where death is common currency? Or when your main suspect pool is a legion of demons? With no memory of his past and only an irresistible need for justice, Fool will piece together clues and follow a trail that leads directly into the heart of a dark and chaotic conspiracy. A revolution is brewing in Hell… and nothing is what it seems.
The Devil's Detective is an audacious, highly suspenseful thriller set against a nightmarish and wildly vivid world. Simon Kurt Unsworth has created a phantasmagoric thrill ride filled with stunning set pieces and characters that spring from our deepest nightmares. It will have readers of both thrillers and horror hanging on by their fingernails until the final word. In Hell, hope is your worst enemy.
The Thomas Fool novels are out now, published by Del Rey in the UK and Anchor in North America.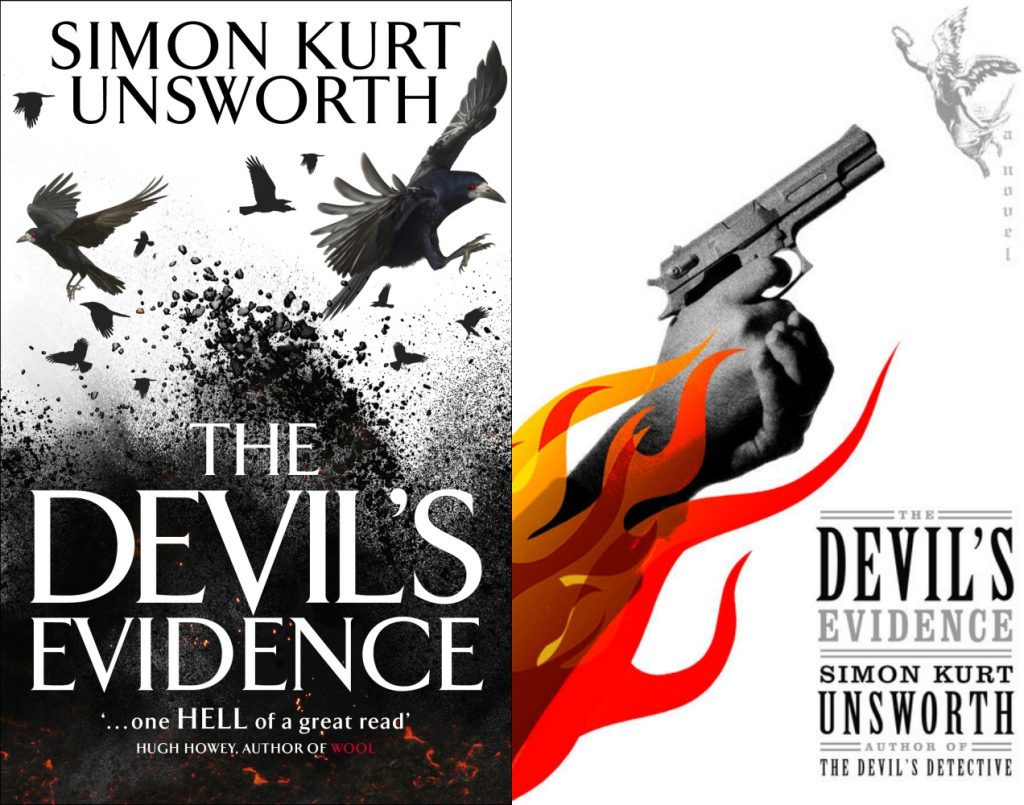 Here are just a few of the great reviews the novels have received…
'Unsworth's care in constructing an imaginary world enables him to make the most of his debut's challenging concept: a hard-boiled detective novel set in Hell itself… Unsworth offers intriguing variations on traditional themes and some memorably hair-raising prose…' — Publishers Weekly on THE DEVIL'S DETECTIVE
'A clever spin on the traditional police procedural… Unsworth, a British author of numerous horror and supernatural short stories, makes his book-length debut, and it's a rousing success. The story is well crafted, and the setting is ingeniously conceived: Hell is a real, tactile place, with a bureaucracy and corporate structure. We've seen other novels set in Hell, but we haven't seen a Hell quite like this. Whether the premise is strong enough to support a series is an interesting question; at the very least, another novel would be most welcome.' — Booklist on THE DEVIL'S DETECTIVE
'With wit, ingenuity and prodigious timing, first-time British novelist Unsworth imagines an unsettling afterlife that at times feels uncomfortably close to some of the more unbearable regions of our waking dreams. The whodunit aspects of this novel may, in the end, be less interesting than the phantasmagorical details surrounding it. But that's far less a complaint than a compliment of the author's visionary gifts. A grand, nightmarish page-turner that will have you riveted.' — Kirkus on THE DEVIL'S DETECTIVE
'Hell as the setting for a noir investigation turns out to be as fun as it sounds in THE DEVIL'S DETECTIVE. Inventive and pacy, Simon Kurt Unsworth has created a world – underworld? – distinctly his own.' — Andrew Pyper
'THE DEVIL'S DETECTIVE grips. Unsworth's storytelling is taut and lean, avoiding any lapses into potboiler… When he writes about Hell, he makes it downright hellish… The book eventually spins all this admittedly sumptuous horror into thought-provoking notions about salvation, hope and free will.' — NPR
'Unsworth's conception of a spiritual universe where deeper understanding may itself be the greatest curse is as nuanced and ingenious as his depiction of "poor little Fool," perhaps the most oddly endearing sleuth to come along in years. The scales are tipped a tad more toward gaudy savagery and gratuitous cruelty than toward more intellectual digressions and plot twists. Still, one suspects Thomas Fool will return, with more respect from readers than from his spiritual jailers. It's less a whodunit than a ripsnorter, with an emphasis on the ripping. Or maybe the snorting.' — Kirkus on THE DEVIL'S EVIDENCE
'Unsworth's imagination soars! THE DEVIL'S EVIDENCE is a twisted journey into the afterlife, a dark labyrinth of mystery, and a brilliant contemplation on identity, transgression, and our struggle to recognize that we each make our own heaven and our own hell. A fresh new voice in dark fiction. Don't miss this series!' — Christopher Golden
'Truly a literary gem that plays out as a great mystery series with a one of a kind anti-hero!' — BookPeople, Austin, Texas, on THE DEVIL'S EVIDENCE
'The ultimate solution is a fairly clued surprise, and Unsworth's creative worldbuilding leaves plenty of room for a sequel.' — Publishers Weekly on THE DEVIL'S EVIDENCE
'Do you love Jim Butcher's Dresden Files series? How about the Rivers of London series by Ben Aaronovitch? Like a bit of John Le Carre intrigue? If so, you will love THE DEVIL'S EVIDENCE. A hybrid between horror fantasy and crime procedural, Simon Kurt Unsworth's novel had this writer hooked from its first opening, fiery lines… Unsworth has built a very horrible, yet believable universe with characters who you can hate as well as root for. While you don't need to read the first novel to enjoy the second in the series, we really do recommend you start at the beginning. There's a lot to take in and a great deal of character development to enjoy. A real page turner.' 10/10 — Starburst
For those who prefer audiobooks, both novels are also available in that format, published by Penguin Audio in the UK and Random House Audio in North America.