Israeli-born writer Lavie Tidhar has been called an "emerging master" by LOCUS, and has quickly established a name for himself as a short fiction writer of note. He has travelled widely, living variously in South Africa, the UK, Asia and the remote island-nation of Vanuatu in the South Pacific, and his work exhibits a strong sense of place and an engagement with the literary 'Other' in all its forms.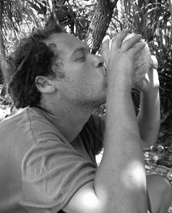 Novella An Occupation of Angels was published in 2005, a Cold War fantasy thriller that was described by Michael Marshall Smith as "the most compelling thing I have read in a long time". In linked-story collection HebrewPunk (2007), effortlessly mixing fact and fiction, Tidhar set out to re-imagine traditional fantasy tropes with a distinctly Jewish slant in richly rendered historical settings – including a tale of the little-known Zionist expedition to British East Africa in search of a possible Jewish homeland in Uganda. The collection was described by Adam Roberts as "saturated with a sense of exotic roundedness, an eerie solidity and reality."
Notable short stories include 304, Adolf Hitler Strasse (2006), an alternate history in which Jews had become extinct; My Travels with Al-Qaeda, published in the World Fantasy winning anthology Salon Fantastique, (2006), which deals with the impact of global terrorism in a poignant, poetic tone; The Mystery of the Missing Puskat (2007), where a young boy's search for a missing cat on a remote South Pacific island becomes a tale of painful growing up; and Shira (2008) about a little-known poet in a Middle East much different – and yet very close – to our own.
Forthcoming work includes short-novel The Tel Aviv Dossier (co-written with Nir Yaniv), novellas Cloud Permutations and Gorel & The Pot-Bellied God, and short graphic novel Adolf Hitler's 'I dream of Ants'.
"Lavie Tidhar has a unique and fascinating voice, as well as a good sense of history—both History Surreal and History Literary, as well as the more mundane kind. Imagine Hard-Boiled Kabbalah, a Godfather Rabbi whose gang includes vampires, werewolves and (naturally) golems. If you like your otherworld fun noir, have I got a book for you!" — Kage Baker