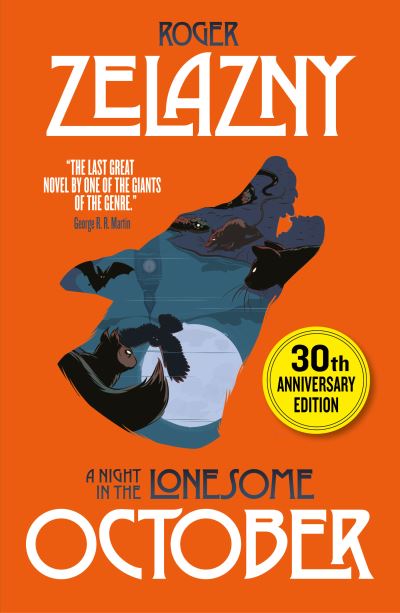 This week marks the 30th anniversary of Roger Zelazny's classic, beloved Halloween fantasy novel, A NIGHT IN THE LONESOME OCTOBER. To mark the occasion, Farrago Books are publishing a new edition in the UK — specifically, due out on September 14th. Here's the synopsis…
All is not what it seems.
In the murky London gloom, a knife-wielding gentleman named Jack prowls the midnight streets with his faithful watchdog Snuff – gathering together the grisly ingredients they will need for an upcoming ancient and unearthly rite. For soon after the death of the moon, black magic will summon the Elder Gods back into the world. And all manner of Players, both human and undead, are preparing to participate.
Some have come to open the gates. Some have come to slam them shut. And now the dread night approaches – so let the Game begin.
Here are just a few of the great reviews the novel has received…
'One of Zelazny's most delightful books: Jack the Ripper's dog Snuff narrates a mad game of teams to cause or prevent armageddon.' — Neil Gaiman
'The last great novel by one of the giants of the genre.' — George R.R. Martin
'A madcap blend of horror tropes and fantasy… There aren't many authors who would set out to write a novel in which the Wolfman and Jack the Ripper were the two heroes… And I'm not sure anyone else could have made it work.' — Science Fiction Chronicle
'Sparkling, witty, delightful. Zelazny's best for ages, perhaps his best ever.' — Kirkus Reviews
'A cheerful, witty, well-crafted fantasy… Its deft, understated good humor and spare, poetic prose reaffirm Zelazny as one of fantasy's most skilled practitioners.' — Publishers Weekly
Farrago also publishes a UK edition of DOORWAYS IN THE SAND.