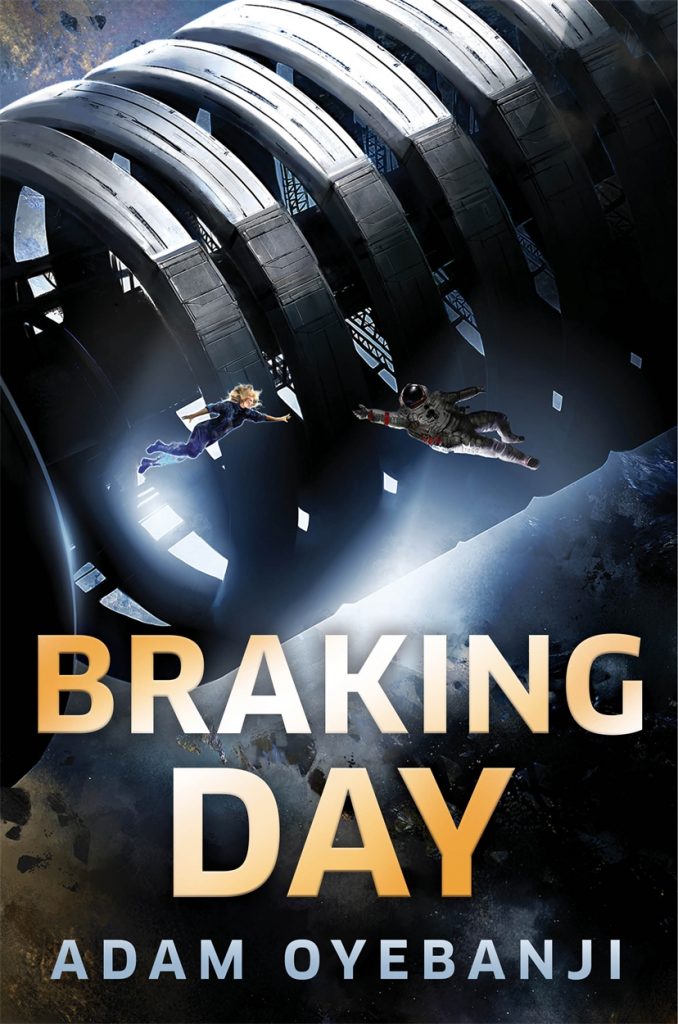 We're very happy to report that Adam Oyebanji's acclaimed debut science fiction novel, BRAKING DAY is a 2023 Canopus Award finalist! As reported by File 770, the novel is one of the six finalists in the Long-Form Fiction category. The awards are intended to recognize 'Excellence in Interstellar Writing' by residents of continental Africa. The award winners will be announced during a special Canopus Award ceremony as part of the at Nexus Nairobi conference, on Thursday, February 2, 2023.
Published in the UK by Jo Fletcher Books, here's the synopsis…
Interstellar Vehicle Archimedes has been hurtling through space for more than five generations, an oasis of heat and light in the middle of absolutely nowhere. But now the ageing starship is preparing to brake, for it is arriving at Destination Star: Tau Ceti, the new home for the space-born descendants of the First Crew.
For trainee engineer Ravinder MacLeod, the world he knows is coming to an end. Once Archimedes succumbs to the gravitational pull of the Destination Star and its (hopefully) habitable planet, there will be no going back – or anywhere else. As Braking Day approaches, Ravi finds himself caught between the rigid requirements of the officer class to which he aspires and his blue-collar, ne'er-do-well family. Unfortunately for Ravi, Boz, his brilliant ex-con cousin, seems determined to make his life difficult – not least by her experiments with forbidden technology.
Then Ravi is assigned to routine maintenance deep in the massive engines of the Archimedes, where, alone and out of contact, he comes face to face with something impossible – mind-breakingly impossible.
Plagued by nightmares and visions and worried that his grip on reality is slipping, Ravi turns to Boz for help. Their search for answers takes them to the jagged place where the ship's future intersects with its long past. For not everyone is excited to be reaching journey's end, and the ghosts of the First Crew may not have been fully laid to rest.
Here are just a few of the great reviews the novel has received since it was published…
'Oyebanji's brilliant debut […] builds intrigue upon intrigue through the novel's first half and pays off the suspense with a series of jaw-dropping revelations. Innovative worldbuilding, a plot packed with surprises, and Oyebanji's nuanced exploration of social and cultural shifts make this a must-read for space opera fans.' — Publishers Weekly (Starred Review)
'This is a story of people who are their own worst enemies as groups fracture, danger ramps up, and options close in. It will appeal to fans of colony ship stories and coming-of-age tales.' — Library Journal (Starred Review)
'If you're after action, mystery, and mind-bending mega-structures, look no further than Adam Oyebanji's "Braking Day." Set on a vast generation starship, it follows engineer Ravi Macleod and his charmingly criminal cousin Boz as they discover a secret that changes everything they thought they knew about the voyage. It zips along with some wonderful world-building and a lot of unexpected turns. This is Oyebanji's debut, so I look forward to what he does next.' — Washington Post
'Lovingly crafted characterization and world building, along with a satisfying twist, make BRAKING DAY a worthy entry in the (space)shipboard thriller genre exemplified by classics such as Arthur C. Clarke's 2001 and Mur Lafferty's Six Wakes.' — Booklist
'This richly imagined, intricately plotted adventure is crammed with ideas, and has many surprises in store.' — Guardian
'Oyebanji skillfully brings forth a story whose political themes emerge from the plot and setting to produce an adventure novel that examines the politics of social privilege, and the way in which an individual's context can influence or even dictate their perceptions of reality.' — Strange Horizons
'This well-realised debut adopts a refreshingly pragmatic, hopeful stance, showing people overcoming division to secure a common goal.' — Financial Times
'A fast-paced, but still character driven story, full of action and compelling twists […] I am very curious to see where his writing career takes him. I'm a fan.' — Grimdark Magazine
'Engaging, fast-moving, and inventive. The characters and the space environment feel totally real, as do the life and death challenges that never miss a step.' — Jack Campbell, New York Times bestselling author of the Lost Fleet series
Zeno represents Adam Oyebanji in the UK and Commonwealth, on behalf of the JABberwocky Literary Agency in New York.