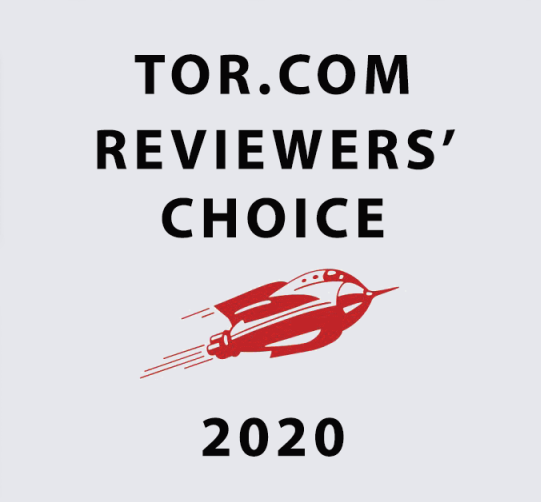 Two of our clients' books are featured in the Tor.com Reviewers' Choice: Best of 2020! Specifically, SEVEN OF INFINITIES by Aliette de Bodard and BY FORCE ALONE by Lavie Tidhar. We personally feel that these are entirely justified selections to be among the Best of 2020! Congrats, Aliette and Lavie!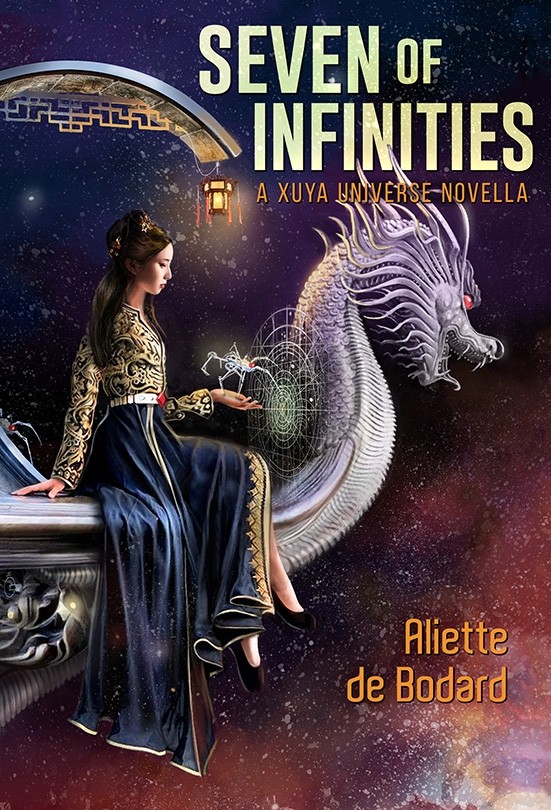 Aliette's SEVEN OF INFINITIES is out now, published by Subterranean Press in limited edition and eBook. Here's what Liz Bourke had to say about her selection of the book…
'Drawing inspiration from Arsene Lupin and Raffles, it sees a poor scholar and a gentleperson thief — a mindship who's been growing bored in retirement — faced with a mysterious death, a dangerous kind of treasure-hunt, and a growing mutual attraction. A dense, atmospheric, emotionally satisfying gem of a space opera.'
Here's the synopsis…
Vân is a scholar from a poor background, eking out a living in the orbitals of the Scattered Pearls Belt as a tutor to a rich family, while hiding the illegal artificial mem-implant she manufactured as a student. 
Sunless Woods is a mindship — and not just any mindship, but a notorious thief and a master of disguise. She's come to the Belt to retire, but is drawn to Vân's resolute integrity.
When a mysterious corpse is found in the quarters of Vân's student, Vân and Sunless Woods find themselves following a trail of greed and murder that will lead them from teahouses and ascetic havens to the wreck of a mindship — and to the devastating secrets they've kept from each other.
And here are some of the other reviews the book has received…
'With this lush, immersive sci-fi tale, de Bodard (The House of Sundering Flames) delves into a world as gritty as it is ethereal… De Bodard hints at a vast, fully realized world… readers will be swept away by the vivid prose, intrigue, and romance of this intricate tale. This fascinating, unusual story is sure to entrance.' — Publishers Weekly
'A magnificent sf mystery, nuanced, intense, and romantic, with a complex, clever plot nested inside de Bodard's rich, evocative, and vivid Xuya universe.' — Kate Elliott
'Aliette de Bodard is an author whose works I both like (in several cases, the word adore may be more appropriate) and admire… De Bodard's work is marked by precision and delicacy of prose, by a concern with ethics and relationships, and by the presence of uncaring systems that violently resist critique from without – and even from within… SEVEN OF INFINITIES is a novella concerned with forgiveness, deserved or not, about cages, self-made or otherwise. It concerns itself with growth, with grace, with ruthlessness and its costs and consequences. It's a tightly written jewel of a story, intense and full of feeling, and I recommend it highly.' — Locus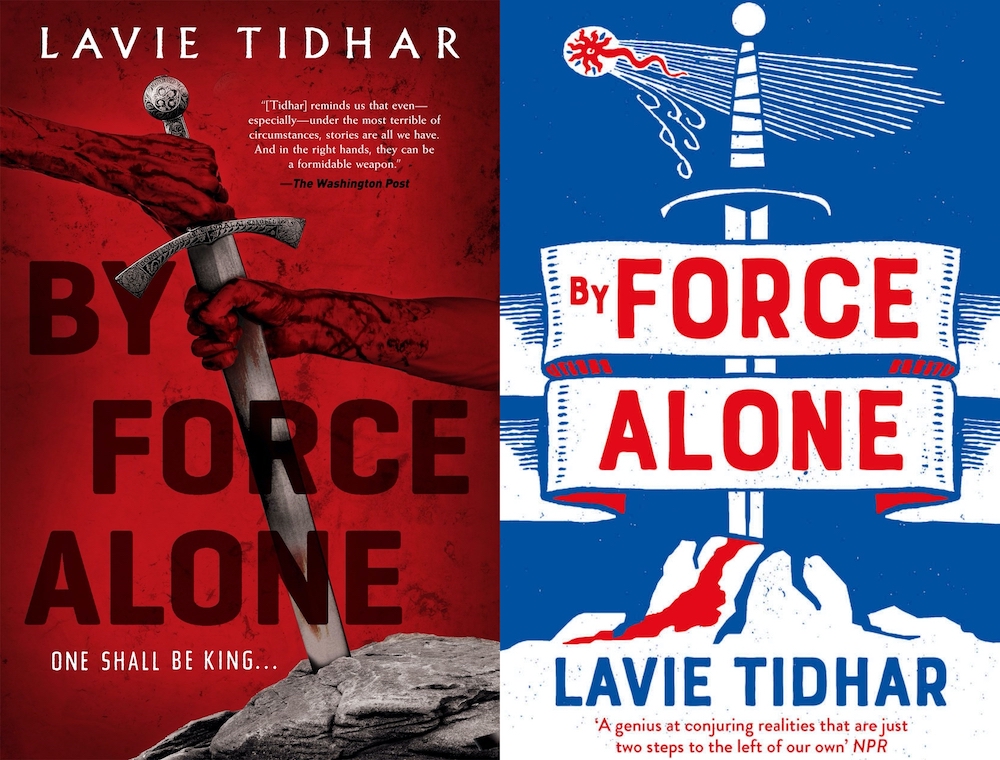 Lavie's BY FORCE ALONE is published by Tor Books in North America and Head of Zeus in the UK. Matt Keeley selected the novel…
'Tidhar's revisionist Arthurian fantasy By Force Alone was a great mix of high learning and low behavior. To my mind, the best Arthur novel since Thomas Berger's Arthur Rex back in 1978.'
Here's the synopsis…
Everyone thinks they know the story of King Arthur and his knights of the Round Table.
The fact is they don't know sh*t.
Arthur? An over-promoted gangster.
Merlin? An eldritch parasite.
Excalibur? A shady deal with a watery arms dealer.
Britain? A clogged sewer that Rome abandoned just as soon as it could.
A savage and cutting epic fantasy, equally poetic and profane, By Force Alone is a magical adventure and a subversive masterwork.
Here are just a few of the great reviews the novel has received so far…
'Tidhar saturates this epic adventure with profanity, dark humor, sword-sharp twists, and unexpected moments of pathos. Readers who hold King Arthur dear to their hearts will be gratified by Tidhar's attention to detail amidst the innovation. This dark, imaginative take on a classic is sure to impress.' — Publishers Weekly
'Lavie Tidhar has built a career out of not playing it safe. Over the last decade he has written bold, provocative novels… with a flair for metafiction and inspired by the pulps (both hard-boiled and genre)… given the political nature of his work, it's not entirely surprising that he would shift his focus to the question of nationalism and Brexit… with his latest novel, BY FORCE ALONE, Tidhar takes a mythology the English hold dear, the legend of King Arthur, and goes to town with it… For all its foul language and radical deconstruction, of which I've provided only a taste (you should see what Tidhar does with the Holy Grail), BY FORCE ALONE isn't a desecration of the Arthurian romances. Instead, he pays homage to the writers and poets – Robert Wace, Chretien de Troyes, Wolfram von Eschenbach, and Thomas Mallory (just to name a few) – who took their turn in adapting and refining Monmouth's text… BY FORCE ALONE is a jolt of pure entertainment, a brilliant, revisionist blend of magic, crime syndicates and Kung-fu knights.' — Locus (Ian Mond)
'Uther is a chancer and a shagger… [Arthur] is ruthless in pursuit of power… His Lancelot… is a ninja warrior, his Guinevere a killer — the writer is clearly having fun… Tidhar never lands direct political punches… but the very tone and shape of the book are a reminder that we need to treat national myths with caution… this is a novel that demands your attention and proves that sometimes when a writer has the audacity to revisit stories that others would avoid for fear of over-familiarity, they can steal the power of the oldest tales.' — SFX (4.5*/5)
'Lavie Tidhar's BY FORCE ALONE gives us an Arthur for the Brexit era: A tyrant in lieu of a king, brute violence in lieu of gallant feats, undisguised venality in lieu of chivalric ideals. This is the Matter of Britain become the Matter with Britain… For all the bleakness and cynicism of his story, Tidhar's profligate invention makes BY FORCE ALONE a joy… Lavie Tidhar's joke on the Matter of Britain is a great one. And if the laughter catches in your throat, that just means you've been paying attention to the book, and to the world.' — Tor.com