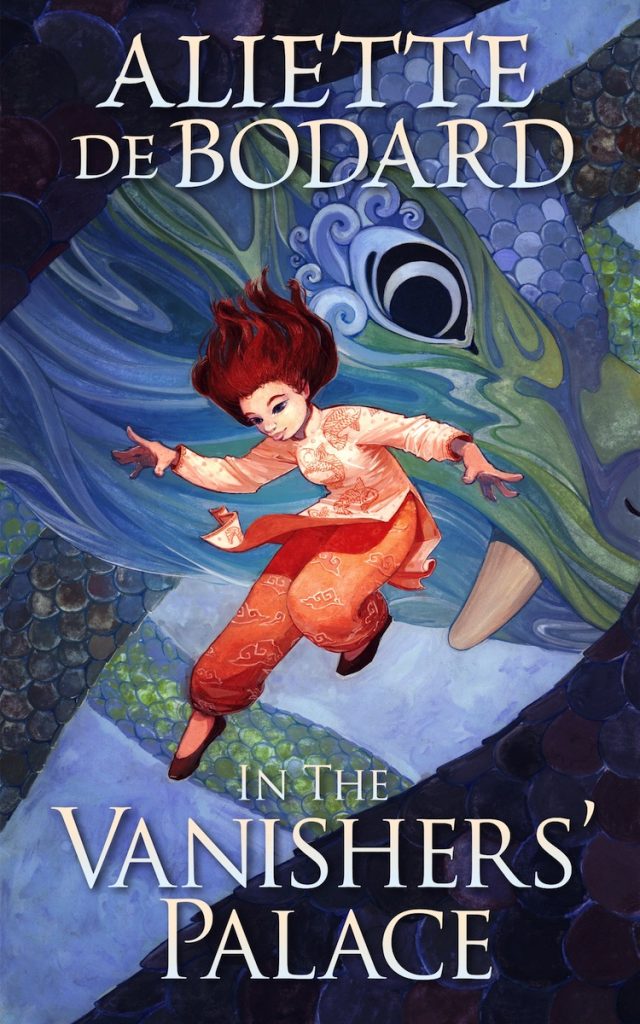 Hot on the heels of the author's recent Nebula Awards win, and also multiple Hugo nominations, we are delighted to share the news that Aliette de Bodard has also been nominated for a Lammy Award! Specifically, IN THE VANISHERS' PALACE is a finalist in the category of LGBTQ Science Fiction/Fantasy/Horror! The winner will be announced next week, June 3rd!
The critically-acclaimed IN THE VANISHERS' PALACE is published by JABberwocky. Here's the synopsis…
A dark retelling of Beauty and the Beast from the award-winning author of the Dominion of the Fallen series.
When failed scholar Yên is sold to Vu Côn, one of the last dragons walking the earth, she expects to be tortured or killed for Vu Côn's amusement. But Vu Côn, it turns out, has a use for Yên: she needs a scholar to tutor her two unruly children. She takes Yên back to her home, a vast, vertiginous palace-prison where every door can lead to death. Vu Côn seems stern and unbending, but as the days pass Yên comes to see her kinder and caring side. She finds herself dangerously attracted to the dragon who is her master and jailer. In the end, Yên will have to decide where her own happiness lies — and whether it will survive the revelation of Vu Côn's dark, unspeakable secrets…
Here is just a small selection taken from the aforementioned critical acclaim…
'This intriguing, Sapphic, Vietnamese take on Beauty and the Beast is recommended for fans of De Bodard's previous works or readers who enjoy diverse, lushly described fantasy.' — Library Journal
'De Bodard has taken the outline of a classic fable and turned it into a hall of mirrors as ravishing as it is disturbing.' — Locus (Gary K. Wolfe)
'This is a compelling short novel, with vivid and fascinating characters. (It's so compelling, in fact, that every time I went back to it while writing this review to check a spelling, I found myself car­ried away for pages on end before I could recall myself to my work.) For me, it's an utter delight: a really enjoyable, polished and gleaming jewel of a story. I sincerely hope de Bodard returns to these characters and to this world.' — Locus
'A dark gender-fluid recasting of Beauty and the Beast with multidimensional dragons that just falls over into novella length and should be on awards ballots' — Jonathan Strahan, The Best Science Fiction and Fantasy of the Year
'… beautifully written. Aliette de Bodard's prose is always on point. If you want evidence, just read one of her short stories…  de Bodard never fails to create breathtaking and complex worlds… I loved IN THE VANISHERS' PALACE, and I know I'll be recommending it going forward.' — The Illustrated Page
'[A] closely-observed and darkly compelling Beauty-and-the Beast retelling between a scholar and a dragon… a story that deserves attention: you should all keep an eye out and read it.' — Liz Bourke
'As a reframing of a classic fairy tale, IN THE VANISHERS' PALACE is subversive and bold; as a romance, it is tentative, touching, and sweet.' — Barnes & Noble
'I loved the worldbuilding throughout this story… a very enjoyable and often even soothing book, despite some fearful moments and emotional distress for the characters… I'll follow [de Bodard] to whatever subgenre she wants to explore next.' — Skiffy & Fanty
The novel is also available as an audiobook.