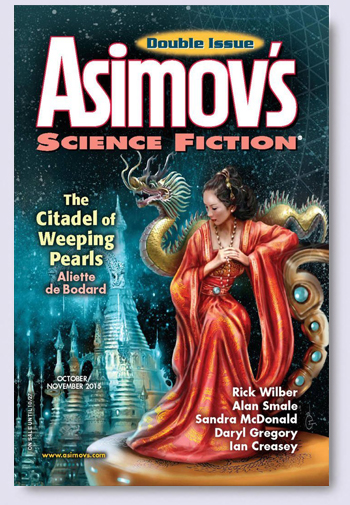 Aliette de Bodard's newest novella, THE CITADEL OF WEEPING PEARLS, is the cover story in the new October/November 2015 issue of Asimov's Science Fiction! Here's the description…
Aliette de Bodard's October/November 2015 cover story is an enormous new novella that plunges us into a far future where various factions struggle to find the lost "Citadel of Weeping Pearls." Success will require travel through time and space. The journey could result in death, or it could give the empire the weapon it needs in a war against archenemies.
You can read a length excerpt from the novella here.
Aliette de Bodard is the author of many critically-acclaimed and award-winning and -nominated short stories and novellas; as well as the Obsidian & Blood trilogy of Aztec historical fantasy.
Most recently, she is the author of the critically-acclaimed new novel, THE HOUSE OF SHATTERED WINGS — published in the US by Roc Books, and in the UK by Gollancz (covers below). Aliette is currently working on a follow-up novel, but has also written a pair of short stories set in the same world. The stand-alone story OF BOOKS, AND EARTH, AND COURTSHIP was released this past weekend, and you can read more about that here.