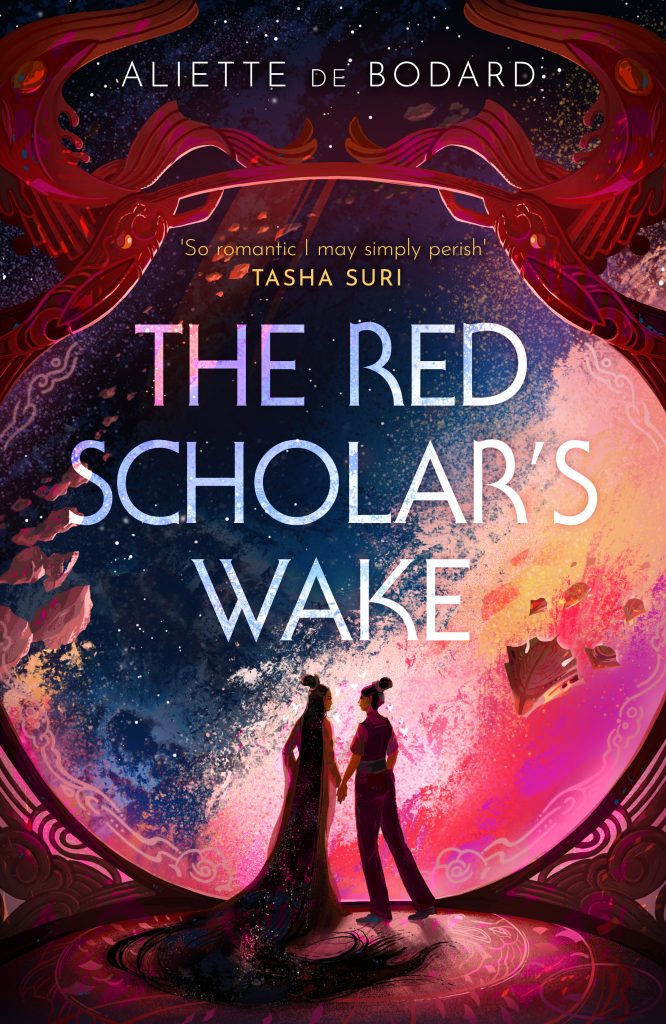 Aliette de Bodard's latest masterpiece, THE RED SCHOLAR'S WAKE is due out next week! To be published by Gollancz in the UK, and JABberwocky in North America, here's the synopsis…
Xích Si: bot maker, data analyst, mother, scavenger. But those days are over now-her ship has just been captured by the Red Banner pirate fleet, famous for their double-dealing and cruelty. Xích Si expects to be tortured to death-only for the pirates' enigmatic leader, Rice Fish, to arrive with a different and shocking proposition: an arranged marriage between Xích Si and herself.
Rice Fish: sentient ship, leader of the infamous Red Banner pirate fleet, wife of the Red Scholar. Or at least, she was the latter before her wife died under suspicious circumstances. Now isolated and alone, Rice Fish wants Xích Si's help to find out who struck against them and why. Marrying Xích Si means Rice Fish can offer Xích Si protection, in exchange for Xích Si's technical fluency: a business arrangement with nothing more to it.
But as the investigation goes on, Rice Fish and Xích Si find themselves falling for each other. As the interstellar war against piracy intensifies and the five fleets start fighting each other, they will have to make a stand-and to decide what kind of future they have together…
An exciting space opera and a beautiful romance, from an exceptional SF author.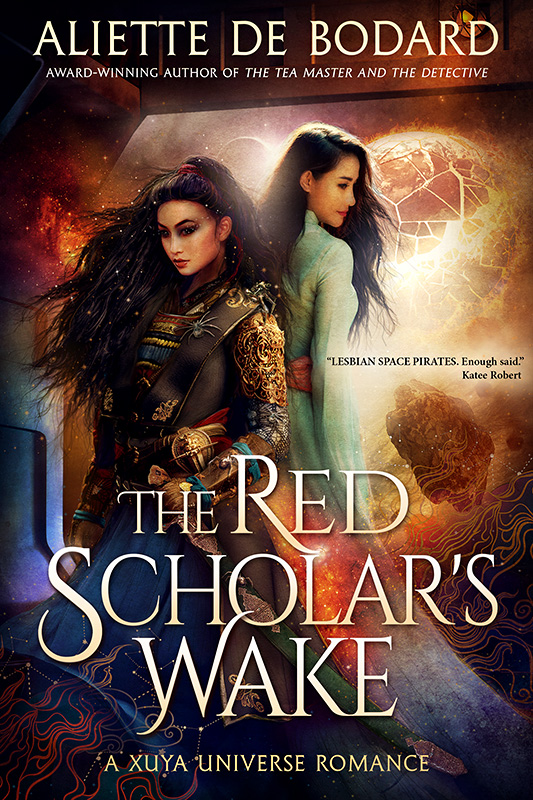 The UK cover (top) is by Alyssa Winans; and the North American cover (above) is by Raven, who also did the covers for Aliette's Dragons & Blades duology (also published by JABberwocky).
Here are some early reactions to the novel…
'A read-in-one-sitting novel with a beautifully-realized setting amid a complex examination of power and consequences, all intertwined with an intense and gripping romance.' — Kate Elliott, author of Unconquerable Sun
'Pirates, politics, sentient ships and unlikely romance all collide in Aliette de Bodard's sapphic space opera THE RED SCHOLAR'S WAKE… With more tense political and social manoeuvring than rip-roaring action, events progress at a pace that maintains momentum while allowing plenty of time to revel in the texture and wonder of this rich, fascinating setting… With a unique world, a thought-provoking plot and a fragile, achingly believable relationship forming against the odds in the midst of rampant inequality and ever-present danger, this is a perfect novel for readers wanting emotional complexity, warmth and heartache in their space opera.' — BSFA
'THE RED SCHOLAR'S WAKE is a fizzingly inventive space opera, quite unlike anything I've encountered before, and told with style, grace, and a big dose of heart. SF is lucky to have Aliette de Bodard.' — Alastair Reynolds
'What made this truly stand out to me was Aliette's writing… Aliette's prose is outstanding. It is descriptive and evocative without being overwrought, it is witty and full of emotion. Every character, every scene comes to life immediately and plastically, drawing the reader into this world of space pirates, family biological and found and relationships of all sorts. It is at times delicate, and at other times matter of fact and then again it will make you laugh out loud with dry wit. The characters' maturity makes them stand out in a market saturated with coming-of-age stories across young adult and adult publishing, and it is a true breath of fresh air to read about protagonists coming into their story after a life well-lived, with attachments and history, knowing who they are and what they want. I could not recommend THE RED SCHOLAR'S WAKE more.' — Grimdark Magazine
'Confident, sexy, and touching – THE RED SCHOLAR'S WAKE gives a whole new meaning to the phrase "star-crossed lovers"!' — Max Gladstone
'[A]n intriguing, compelling character study that's gentle on the face of things and deeply powerful beneath the surface.' — Track of Words
'Space battles! Arranged marriage! Politics and pirates! Aliette de Bodard has a knack for concocting the most glittery and delicious candy-shell of space opera, and then filling it with a bittersweet romance between two fractured people trying to hold on to their ideals. Every new book of hers instantly becomes my favourite book of hers, and this was no exception.' — Freya Marske, author of international bestseller A Marvellous Light
'THE RED SCHOLAR'S WAKE is a quiet, intimate novel, its focus on the personal as driving force for the plot. It's a book about love, over and above everything else: familial love, romantic love, and love for a community that doesn't always love you back. And alongside that love, it's also a book about hope.' — Reads Rainbow
Aliette's previous novels include the award-winning and acclaimed Dominion of the Fallen novels, published by Gollancz in the UK, and Roc Books (#1-2) and JABberwocky (#3) in North America.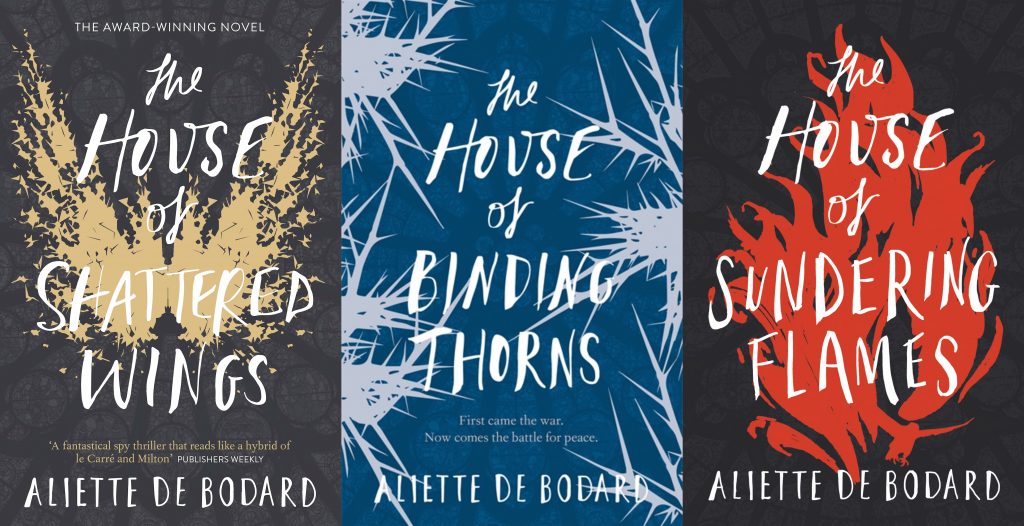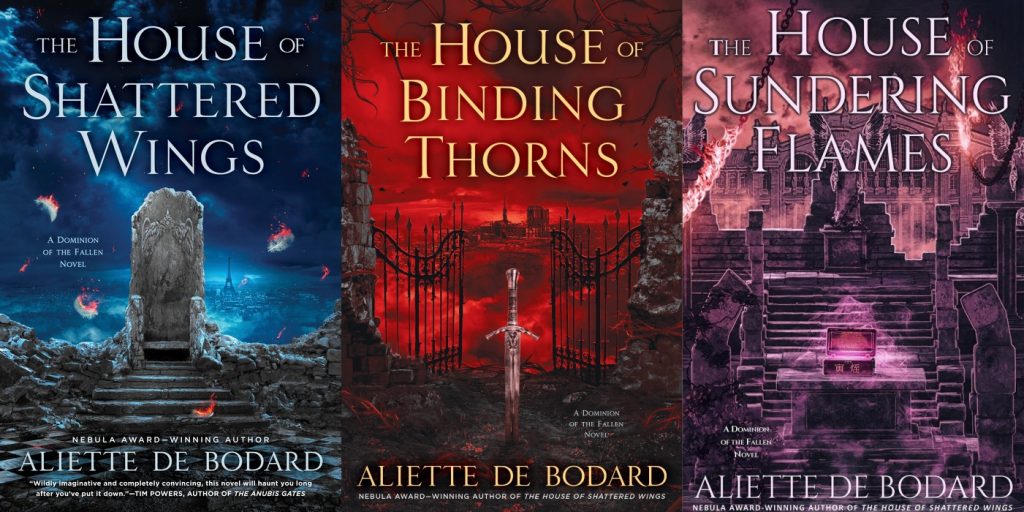 The aforementioned Dragons & Blades series is set in the same world as the Dominion of the Fallen novels.