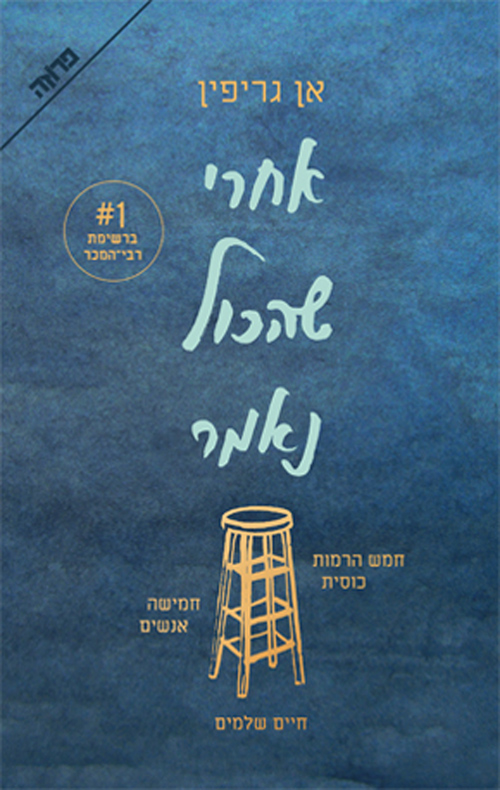 We're very happy to report that Anne Griffin's debut novel, WHEN ALL IS SAID has landed on the bestseller list in Israel! Published by פן הוצאה לאור (Penn Publishing) as אחרי שהכול נאמר, they shared the news on Twitter yesterday…
Delighted to see the Hebrew edition of @AnneGriffin_ @zenoagency When All Is Said on the bestseller list. Well deserved, a literary jewel.https://t.co/50f0SfgJeI pic.twitter.com/MNdddR6rau

— Penn Publishing פן הוצאה לאור (@PennPublishing) January 31, 2020
WHEN ALL IS SAID has been met with wide praise and support since it was released last year — it hit #1 in Ireland, for example, and was also Newcomer of the Year!
The novel is published in the UK and Ireland by Sceptre, in the US by St. Martin's Press, and is available in a growing number of translated editions. Here's the English-language synopsis…
Five toasts. Five people. One lifetime.
'I'm here to remember — all that I have been and all that I will never be again.'
At the bar of a grand hotel in a small Irish town sits 84-year-old Maurice Hannigan. He's alone, as usual — though tonight is anything but. Pull up a stool and charge your glass, because Maurice is finally ready to tell his story.
Over the course of this evening, he will raise five toasts to the five people who have meant the most to him. Through these stories — of unspoken joy and regret, a secret tragedy kept hidden, a fierce love that never found its voice — the life of one man will be powerfully and poignantly laid bare.
Heart-breaking and heart-warming all at once, the voice of Maurice Hannigan will stay with you long after all is said.