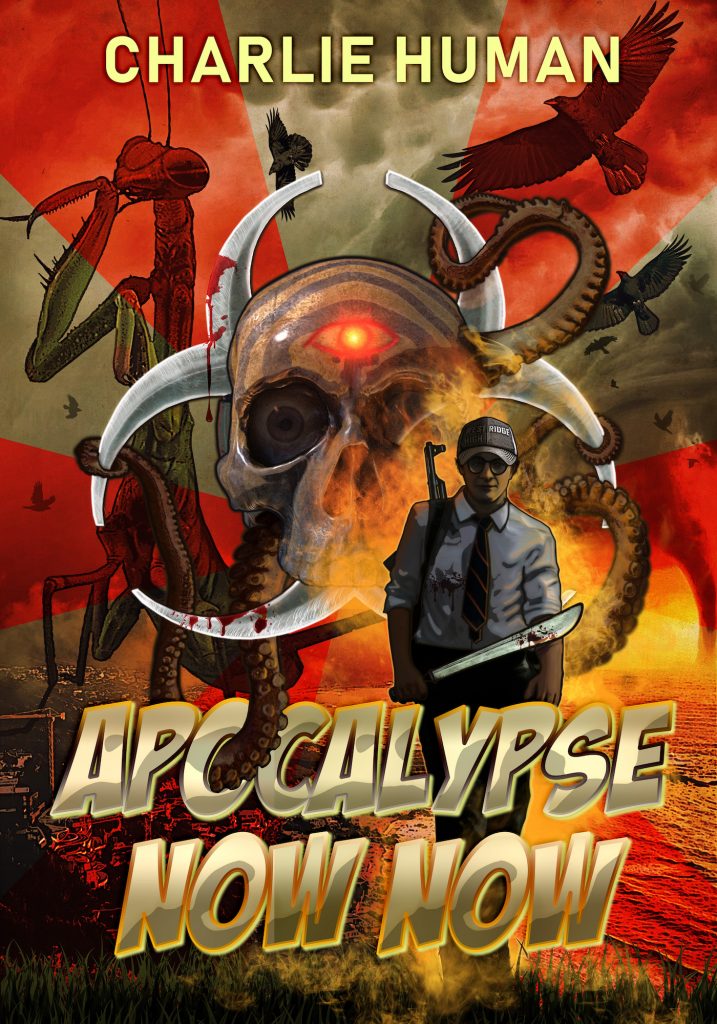 Charlie Human's critically-acclaimed debut novel, APOCALYPSE NOW NOW, is available again in the UK! Published in eBook by JABberwocky, here's the synopsis…
Baxter Zevcenko is your average 16-year-old boy. If by average you mean kingpin of a porn-peddling schoolyard syndicate and a possible serial killer who suffers from weird historical dreams.
Baxter is the first to admit that he's not a nice guy. After all, high school is a gaping, icy abyss and Baxter is not about to allow anybody to drag him down. That is until his girlfriend, Esme, is kidnapped and the clues point toward supernatural forces at work. Faced with navigating the increasingly bizarre landscape of Cape Town's supernatural underworld, Baxter turns to the only person drunk enough to help: bearded, booze-soaked, supernatural bounty hunter, Jackson "Jackie" Ronin.
On a mission that takes them through the realms of impossibility, they face every conceivable nightmare to rescue Esmé, including the odd brush with the Apocalypse.
The sequel, KILL BAXTER, will be available again soon as well — we'll share the cover, etc., as soon as we have it. Both Baxter Zevcenko novels are available in the US, published by Titan Books.
Here is just a small selection of the aforementioned critical-acclaim heaped on APOCALYPSE NOW NOW…
'It's mad, dark, irreverent and wonderfully twisted in all the right ways.' — Lauren Beukes, author of The Shining Girls
'I don't even know how to describe reading this book, so just look at my wide eyes and my silently mumbling mouth and take my shell-shock as a good sign that you need to read this book right now.' — Chuck Wendig, author of Blackbirds
'With a wild imagination and savage glee, Charlie Human throws us into a school yard battle zone that's part teenage wasteland, part Lovecraft fever dream. Rock and Roll High School meets the apocalypse.' — Richard Kadrey, author of Sandman Slim
'Brilliantly entertaining.' — British Fantasy Society
'… a riot — a firebomb of a novel, exploding with sick humour, violence and depravity… it's never less than very funny, and the ongoing question of Baxter's sanity adds a degree of mystery. There's warmth here, too – you'll likely feel sympathy for Bax by the end.' — SFX Magazine
'APOCALYPSE NOW NOW is the gloriously twisted novel from writer Charlie Human. Imaginative, slightly demented and wonderfully odd, it's a striking debut that delivers a dark monster-filled tale at a frenetically enjoyable pace… the voice of the main protagonist prevents the madness from taking control. His intelligent quips and cocky smart-arse attitude provides an incredibly entertaining backbone to a story that slowly reveals his heart and his struggles to grasp the world around him… If you want the dark imaginative wonder of Gaiman injected with the reckless, carefree abandon of a Tarantino flick, you'd be a fool not to hitch a ride into the mysterious world of Charlie Human's South Africa.' — Starburst
'Think Lauren Beukes meets Neil Gaiman, with bounty hunters.' — Wired (UK)
'… wonderfully detailed scenarios, it's fantastic… APOCALYPSE NOW NOW is often hilarious and tremendous fun… its target audience will have a blast.' — SciFi Now
'… breakneck pace and mad imagination… APOCALYPSE NOW NOW [is] such an addictive experience. As one of an associate of Ronin's remarks: "There's no pause button, you understand? … Once it starts you have to see it through." All too true!' — Tor.com