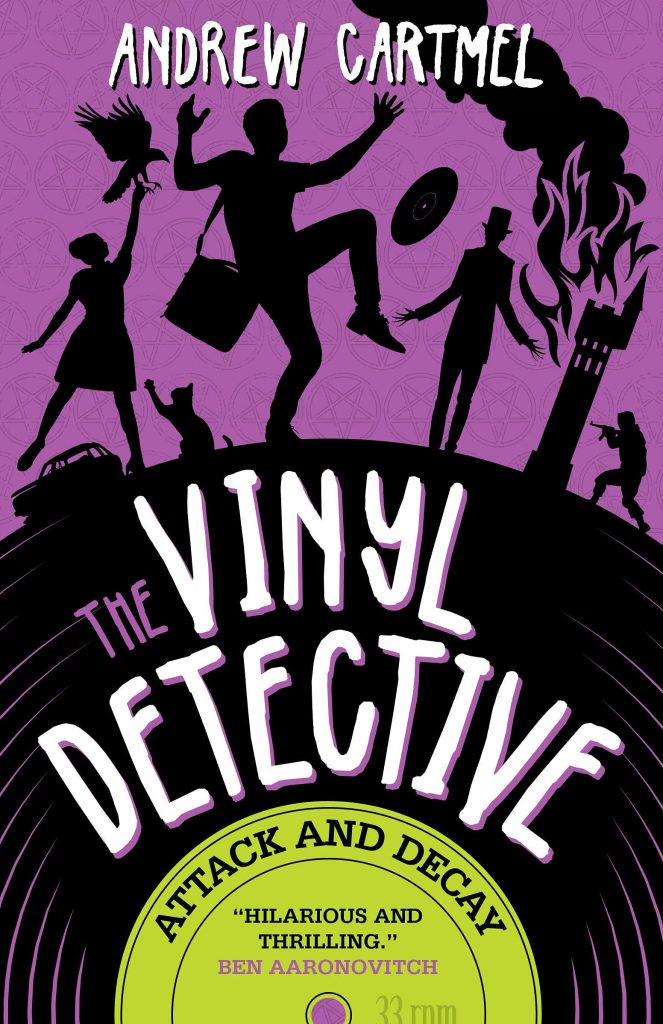 Andrew Cartmel's sixth Vinyl Detective mystery novel, ATTACK AND DECAY is out today in the UK! Published by Titan Books, here's the synopsis…
The Vinyl Detective goes Scandi noir in his sixth adventure. Disfigured corpse. Check. Grotesque snowman. Check. Headless animals. Check. But in fact the killer is taking their cue not from Scandi noir fiction but another popular Scandinavian export – death metal.
It starts with a perfectly normal evening in, except for the corpse-faced gentleman dressed all in black, with a crow on his shoulder, staring into the house, of course. And the visit from Owyn Wynter, head of Whyte Ravyn Records, who needs the Detective's unique skills.
So begins an all-expenses-paid trip to Trollesko, Sweden for the Detective, Nevada, Tinkler and Agatha to track down a copy of the debut album from demonic metal legends, Storm Dream Troopers. Condemned by the church and banned on release, Attack and Decay is a legendary record.
But their trip to the homelands of Nordic noir is quickly thrust into a world of intrigue as the Detective closes in on the deal, the band unexpectedly converge on the peaceful town, And worse, their trip somehow coincides with a visit from Stinky Stanmer… Soon the bodies start piling up, and the Vinyl Detective is the only one who can solve the case.
The North American release of the novel has been unfortunately delayed, but there's not long to wait: fans across the Pond will be able to get the novel from June 14th.
The first five novels in the Vinyl Detective series are all out now, also published by Titan Books: WRITTEN IN DEAD WAX, THE RUN-OUT GROOVE, VICTORY DISC, FLIP BACK, and LOW ACTION.