'A novelist of real vision.' — Zadie Smith
At the end of last year, we had a detailed look at Justina Robson's most recent novel, a Transformers tie-in, THE COVENANT OF PRIMUS. Today, in the first of a new series of Author Spotlight features, we turn our attention to Justina's backlist. Justina is a British Science Fiction author, whose novels have been lauded far and wide, and who has been nominated for major awards 17 times; including her debut, SILVER SCREEN, making the shortlist for the Arthur C. Clarke award in 2000.

Robson is perhaps best known for her most recent science fiction series, Quantum Gravity. The five-novel series is now complete and includes: KEEPING IT REAL, SELLING OUT, GOING UNDER, CHASING THE DRAGON, and DOWN TO THE BONE (published by Gollancz in the UK and Pyr Books in the US). It has also sold in Germany, the Netherlands, Czech Republic, France and Finland. The series even grabbed the attention of Stargate producer Joseph Mallozzi, who invited Justina to answer questions from his readers and fans.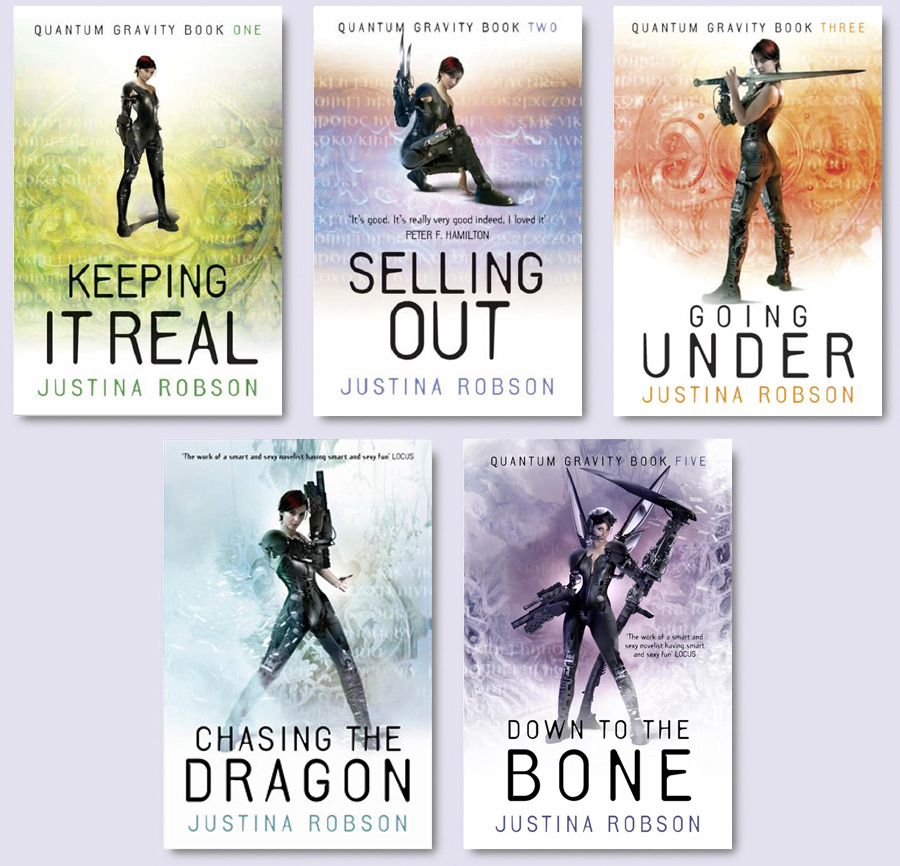 Justina is currently working on a new science fiction series, due to be published by Gollancz. The first novel is THE GLORIOUS ANGELS. Here is a tentative synopsis…
Tralane Huntingore is a rare breed; last in a line of magi adepts with a unique skill in slicing up archaeotechnology; the lost miracles of forgotten ages. Her life is a peaceful scholastic idyll at the heart of a matriarchal imperium until a trespass on ancient alien land begins a war and an arms race in which her skills and her family become key weapons. Paired up with an alien peacekeeper and treacherously on the run, Tralane is about to make some discoveries that will turn the known world upside down.
Robson's earlier novels, which put her on the map – the stand-alones SILVER SCREEN, MAPPA MUNDI, NATURAL HISTORY, and LIVING NEXT DOOR TO THE GOD OF LOVE – were all published to considerable critical acclaim. All four of the novels have been sold in the past in both the UK and US, but have since gone out of print. SILVER SCREEN, however, is available in eBook (Pyr). We are open to foreign rights inquiries.
Early in her writing career, the Guardian published a double-review of SILVER SCREEN and MAPPA MUNDI, which the reviewer claimed 'showed intelligence, grace and a lively but humane imagination. Robson's considerable sense of humour lay in ambush, backed up by a postfeminist tendency to look the problem straight in the eye. Combined with a clean, powerful narrative drive and a cosmological sensibility, this clarity of vision now demonstrates itself as her major asset, making her one of the very best of the new British hard SF writers.'
As the modern readership looks for ever-more unusual and diverse science fiction, and given the newer titles that have been receiving the most attention and success lately, there really is no better time than now to revitalize these titles and get them back into readers' hands (new and old)…
An enjoyably different, subversive slant on the science fiction themes of A.I. and cyberspace. Insecure and overweight heroine Anjuli O'Connell is one of a group of friends who have been hot-housed from an early age to perform in genius-level jobs. But Anjuli worries that her eidetic memory and her friendship with genuine smart boy Roy Croft has been her ticket to success, rather than any real intelligence of her own. 
She's put to the test when Roy kills himself in an experiment to upload his mind into cyberspace, seeking that SF dream of bodiless immortality, which doesn't work as expected. At the same time her boyfriend's research has led to him harnessing himself to dubious biomechanoid technologies, which pull the user into mental symbiosis, creating hybrid consciousness – a new "I", continuous with the old, but different. "Where does life end and the machine begin?" 
Meanwhile Anjuli's grasping multinational employer, OptiNet, the owner of global communications A.I, 901, is locked into an increasingly bitter war with the Machine-Greens, who preach A.I. liberation. As the case for 901's humanity, or otherwise, comes up before the Strasbourg Court, expert witness Anjuli is targeted by assassins and entangled in the hunt for an algorithm which is the key to machine consciousness, and which may even be the master-code of life itself. 
This story explores many interfaces between humans and their technologies, between the promises of science and the explanations of faith. It is written in a first-person style that mingles elements of detective story and confessional. Alongside its SF content, the book delves into the complexities of friendship, loyalty, love, and betrayal from an intimate human perspective. 
Robson's writing has been described as 'punchy, but with a literary sheen', and the novel has been praised as 'deliver[ing] complex concepts and a twisting plot with a deceptively light touch', and for its engaging protagonists who 'deconstruct personal relationships amidst macrocosmic and deeply philosophical goings-on.' Both Publishers Weekly and Kirkus loved the novel. The former wrote that it offered 'a fascinating peek into the development of one of SF's brightest new stars', while Kirkus (in a starred review) described it as 'cerebral and absorbing… Robson's prose is lean and dynamic, and the speculative concepts are cutting edge and ultra cool. A startlingly innovative take on the tried-and-true theme of artificial intelligence.'
MAPPA MUNDI (2001)
The map of everything you know everything you are everything you ever will be just got rewritten
A novel of hard SF exploring the nature of identity both inherited and engineered, from one of Britain's most acclaimed new talents. In the near future, when medical nanotechnology has made it possible to map a model of the living human brain, radical psychologist Natalie Armstrong sees her work suddenly become crucial to a cutting-edge military project for creating comprehensive mind-control.
Meanwhile, on the other side of the Atlantic, Jude Westhorpe, FBI specialist, is tracking a Cold War defector long involved in everything from gene sequencing to mind-mapping. But his investigation has begun to affect matters of national security-throwing Jude and Natalie together as partners in trouble-deep trouble from every direction.
This fascinating novel explores the nature of humanity in the near future, when the power and potential of developing technologies demand that we adapt ourselves to their existence-whatever the price.
In a starred review, Publishers Weekly said that MAPPA MUNDI 'maintains throat-tightening suspense from its teasingly enigmatic introduction of its major characters to its painful conclusion that evil will succeed if well-meaning people try to achieve good at any cost…' The novel, which was shortlisted for the 2001 Arthur C. Clarke Award, 'presents convincing characters caught in profound moral dilemmas brought home through exquisite attention to plot details and setting.'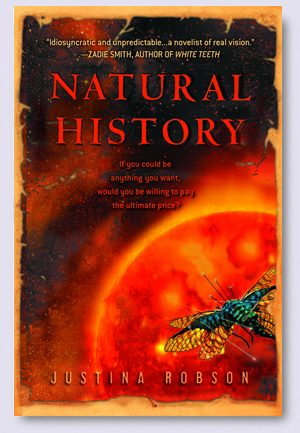 NATURAL HISTORY (2004)
IMAGINE A WORLD… Half-human, half-machine, Voyager Isol was as beautiful as a coiled scorpion–and just as dangerous. Her claim that she'd found a distant but habitable earthlike planet was welcome news to the rest of the Forged. But it could mean the end of what was left of the humanity who'd created and once enslaved them.
IMAGINE A FATE… It was on behalf of the "unevolved" humans that Professor Zephyr Duquesne, cultural archaeologist and historian of Earth's lost worlds, was chosen by the Gaiasol military authority to uncover the truth about this second "earth." And her voyage, traveling inside the body of Isol, will take her to the center of a storm exploding across a spectrum of space and time, dimension and consciousness. 
IMAGINE THE IMPOSSIBLE… On an abandoned planet, in a wrinkle of time, Isol and Zephyr will find a gift and a curse: a power so vast that once unlocked, it will change the universe forever. With civil war looming, Zephyr's perilous journey will lead her to a past where one civilization mysteriously vanished… and another may soon follow.
This novel was described from the get-go as 'daring and original… a stunning work of bold ideas, unforgettable characters, and epic adventure'. Kirkus described the novel as 'Quirky, highly intelligent… often utterly remarkable… thoroughly rewarding.' Publishers Weekly thought it 'a thought-provoking SF stand-alone' that 'revisits the disquieting territory of Arthur C. Clarke's Childhood's End,' and that 'Fans of the sweeping, politically and psychologically aware space opera of Iain M. Banks and Ken MacLeod will be intrigued by Robson's setting and the new slant she takes on universal questions.' Given the science fictional elements, and a testament to Justina's skill at incorporating real (or theoretical) science into her storytelling, the novel was also reviewed in the Journal of Evolution and Technology, who wrote that NATURAL HISTORY is a 'delightful book… a worthy addition to the small library of novels that give serious and careful consideration to the ramifications of a Stapledonian vision of humanity's cosmic evolution', and a novel that 'provides an enjoyable and colorful journey… [a] lyrical voyage.'
LIVING NEXT DOOR TO THE GOD OF LOVE (2005)
Metropolis is a city of superheroes where you can become anyone you like – fight all day, party all night… Sankhara is a universe where everything is remade by night, according to the inhabitants' deepest, darkest dreams… Koker Ai is a city of another time and space, where Intana, courtesan to the court of a decaying empire, has just discovered a warrior who cannot die…
Jalaeka has been many things in his short lifetime: a war captive, a prostitute, a pilgrim, a pirate, a princess in a glass coffin and a physics student at MIT. Now he's looking for someone to make him into something that can duel a god, for the all-powerful entity which created him is coming to take him back.
Francine is a fifteen-year-old runaway, out to find a definition of love she can believe in. She finds a Palace whose rooms are made of bone, flowers and the hearts of heroes. She finds a scientist looking for the lost light of the universe. She finds herself at the centre of an unstoppable conflict that began long before she was born.
Publishers Weekly described this novel thus: 'If William Gibson and Norman Spinrad had dropped acid together, this fourth SF novel by British author Robson is the book they might have written.' The New York Times was particularly effusive with their praise, stating that 'exquisite precision and thoughtfulness' were the first things any reader will notice about the novel, which 'is nothing short of a modern-day fairy tale… Her story could not be told without technology, but it is not a story about technology. It is a story about people, whose behavior cannot be so easily predicted, whose defects cannot be so easily repaired and whose functions and purposes in the universe have yet to be determined.' Robson's 'supreme strength as a writer,' wrote Strange Horizons, 'has always been her ability to create characters whose point of view offers a new perspective on the world in which they exist and act. In LIVING NEXT DOOR TO THE GOD OF LOVE, she handles her characters' voices with confidence and wit, weaving together multiple stories to produce an elaborate whole that's somehow, finally, compacted into a simple seed, a timeless myth of death and resurrection.'
Both NATURAL HISTORY and LIVING NEXT DOOR TO THE GOD OF LOVE take place in the same universe. In an interview with LOCUS Magazine, the author explained part of her process and inspiration for the world-building in NATURAL HISTORY, and also her opinion of the shifts in Sci-Fi at the time (2006): 'There have been too many summer blockbusters where the aliens were absolutely good or bad, and I got fed up with that. Mass-media science fiction has become so commercial, so overused now, there's a science fiction language everyone thinks they know, so it's almost invisible. You couldn't startle anyone with the idea of robots that don't like people the way you once could. It's all so commonplace now, I always feel like I should push myself to something even more extreme and extraordinary.'