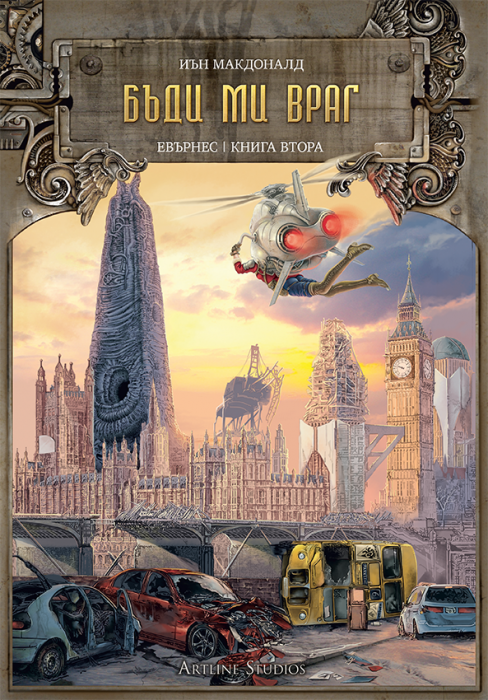 We have more Everness news to share! Following hot on the heels of last Friday's cover reveal for the Italian edition of PLANESRUNNER, we can report that BE MY ENEMY is out now in Bulgaria! The second novel in Ian McDonald's Everness/Евърнес trilogy, it is published by Artline Studios. Here's the synopsis for Бъди ми враг…
Еверет Синг се е измъкнал от ноктите на враговете си с Инфундибулума – ключа към всички паралелни вселени. Но свободата му идва на висока цена: баща му е изгубен в някоя от милиардите паралелни вселени на Целостта.
З1 е първата Земя, разработила Портал на Хайзенберг, с чиято помощ може да се прескача между светове, но е поставена под карантина – никой не може да я посети… нито да я напусне. З1 обаче разполага с нещо, от което Еверет се нуждае: начин да открие баща си.
Заедно с капитан Анастейзия Сикссмит, дъщеря ѝ Сен и екипажа на Евърнес, Еверет ще се сблъска със страшната тайна на З1… А заедно с нея – и на своя най-ужасяващ враг.
Artline have also published the first novel, PLANESRUNNER, as Беглец по равнините; as well as Ian's latest book, LUNA: NEW MOON, as Луна: Новолуние.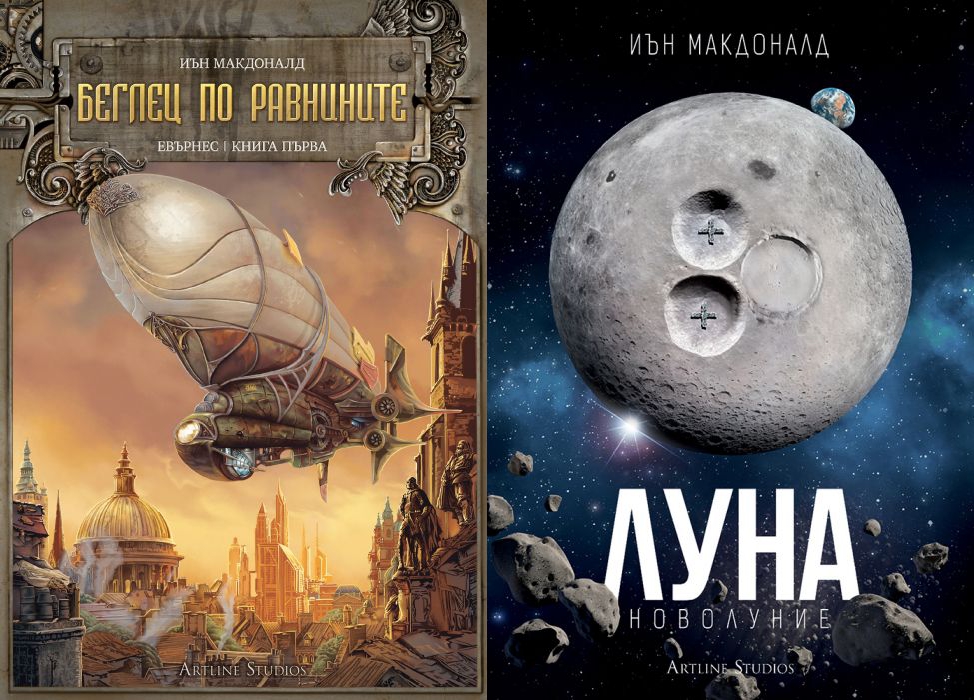 The Everness trilogy is published in the US by Pyr Books, and in the UK by Jo Fletcher Books. Here's the English-language synopsis for BE MY ENEMY…
Everett Singh has escaped with the Infundibulum from the clutches of Charlotte Villiers and the Order, but at a terrible price. His father is missing, banished to one of the billions of parallel universes of the Panoply of All World, and Everett and the crew of the airship Everness have taken a wild, random Heisenberg Jump to a random parallel plane. Everett is smart and resourceful, and, from a frozen earth far beyond the Plenitude, he plans to rescue his family. But the villainous Charlotte Villiers is one step ahead of him.
The action traverses the frozen wastes of iceball earth; to Earth 4 (like ours, except that the alien Thryn Sentiency occupied the moon in 1964); to the dead London of the forbidden plane of Earth 1, where the emnants of humanity battle a terrifying nanotechnology run wild — and Everett faces terrible choices of morality and power. But Everett has the love and support of Sen, Captain Anastasia Sixsmyth, and the rest of the crew of Everness — as he learns that the deadliest enemy isn't the Order or the world-devouring nanotech Nahn — it's yourself.
The Everness series, unsurprisingly for an Ian McDonald novel, has been showered with praise. Here's just a taste…
'Exciting first sequel to outstanding series opener PLANESRUNNER… McDonald roots Everett's heroism in his intelligence… Stuffed with science, this series has the potential to fascinate young readers as William Sleator's books did, tackling concepts on the slippery edge of current understanding. Science causes danger, but it's also the weapon that combats those terrors. Smart, clever and abundantly original, with suspense that grabs your eyeballs, this is real science fiction for all ages. More! More!' — Kirkus
'BE MY ENEMY is the sequel to last year's PLANESRUNNER, the book that launched Ian McDonald's first ever YA series in spectacular fashion. I dearly love both of these novels… The story once again moves along at a very rapid pace, making this another fun, fast read. There are times when these books just sparkle with innovation and adventure and humor… a blast from start to finish. As far as I'm concerned, Ian McDonald could write another dozen or so of these Everness novels, and I'd happily read them all.' — Tor.com
'A pacy book filled with tropes McDonald takes from across the genre and makes his own, whether it is AI or nanotech, unpeopled Earths or post-apocalyptic worlds… I can't wait to see what happens next.' — Strange Horizons
'McDonald proves the concept of his world of the Infundibulum has legs, and provides some intriguing new ideas amid an entertaining adventure… A solidly entertaining second volume to the series… With all of these ideas, concepts and worldbuilding, McDonald, in terms of his core characters, provides us with meaty development and growth… anyone, young adult or otherwise, who has read the first book will find much to love here, and will likely be as eager as I for the next volume in the series.' — SF Signal
'Absolutely triumphant sequel… PLANESRUNNER — a rollicking, multidimensional tale of a young boy who holds the key to infinite universes, seeking to rescue his physicist father from sinister powers — finished on a brutal cliffhanger, leaving its readers gasping and cursing for more… In BE MY ENEMY, there's a lot more of what made PLANESRUNNER great — tremendous action scenes, cunning escapes, genius attacks on the ways that multidimensional travel might be weaponized, horrific glimpses of shadowy powers and sinister technologies. But BE MY ENEMY also has more of what makes McDonald's adult fiction some of the best work I've ever read: a gifted ear for poesie that makes the English language sing, the unapologetic presumption of the reader's ability to understand what's going on without a lot of hand-holding, and a technological mysticism that never explicitly says when the literal stops and the fantasy starts… If you held off on reading PLANESRUNNER because you didn't want to commit to a series without knowing if the author could keep up the quality, have no fear. McDonald has proven himself handily.' — BoingBoing