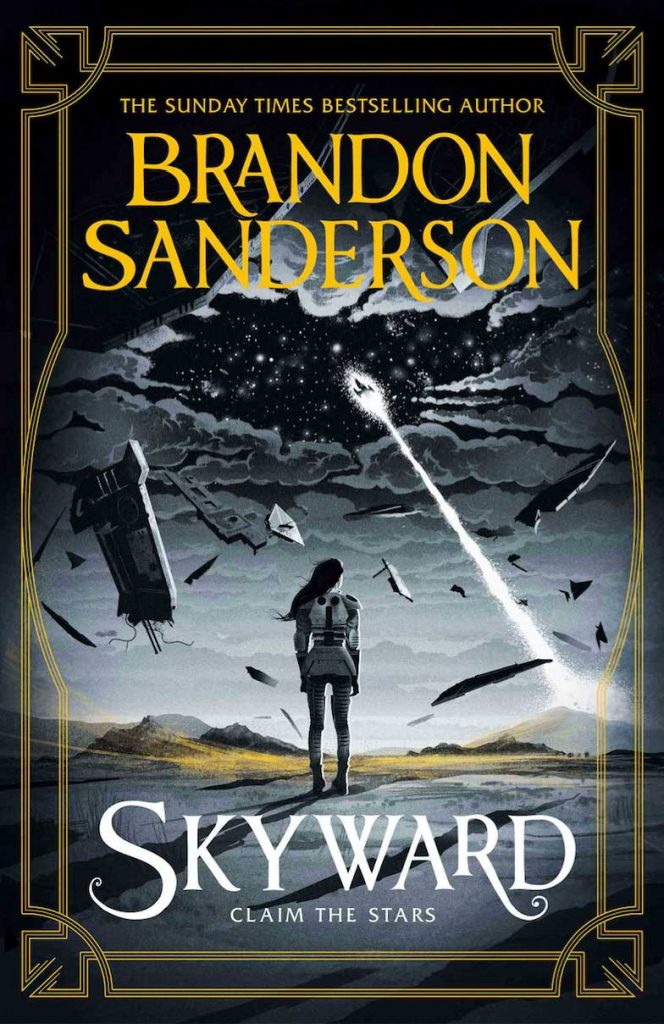 The first novel in Brandon Sanderson's latest sci-fi series, SKYWARD, is out in paperback on Thursday in the UK! Published by Gollancz, here's the synopsis…
Spensa's world has been under attack for hundreds of years. An alien race called the Krell leads onslaught after onslaught from the sky in a never-ending campaign to destroy humankind. Humanity's only defense is to take to their ships and fight the enemy in the skies. Pilots have become the heroes of what's left of the human race.
Spensa has always dreamed of being one of them; of soaring above Earth and proving her bravery. But her fate is intertwined with her father's – a pilot who was killed years ago when he abruptly deserted his team, placing Spensa's chances of attending flight school somewhere between slim and none.
No one will let Spensa forget what her father did, but she is still determined to fly. And the Krell just made that a possibility. They've doubled their fleet, making Spensa's world twice as dangerous… but their desperation to survive might just take her skyward…
Gollancz are due to publish the sequel, STARSIGHT, in November 2019.
Here are just a few of the reviews the novel has received so far…
'Readers will enjoy his hallmark cinematic writing style, with plenty of strong visuals throughout the story, along with humor… The story races to an exciting conclusion… an adventure and a half that you won't want to miss. Even hardcore Cosmere fans will enjoy the special mix of fantasy and sci-fi that unfolds…' — Tor.com
'SKYWARD captivated me unlike any other book has in the past decade… Brandon Sanderson has returned to his very best… an easy book to recommend. It contains all the main characteristics of a Sanderson novel from a writer at the top of his game… Above all, this novel is a ton of fun, and it sets up the story for some excellent ideas to explore in the next volume.' — Fantasy Book Review
'Sanderson… plainly had a ball with this nonstop, highflying opener, and readers will too.' — Kirkus (Starred)
'SKYWARD is … utterly brilliant. I didn't want to put it down. It is well paced and engaging, full of fun and adventure… The world-building is excellent… This is a great fun read and I'm really looking forward to the next instalment.' — Fantasy Hive
Zeno represents Brandon Sanderson in the UK and Commonwealth, on behalf of the JABberwocky Literary Agency in New York.