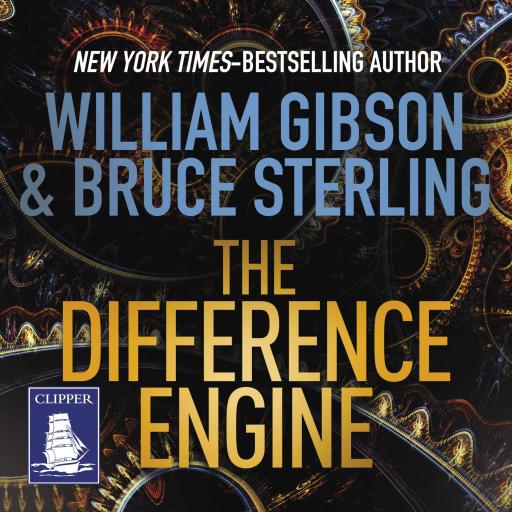 The UK audiobook edition of THE DIFFERENCE ENGINE, the classic steampunk novel by William Gibson and Bruce Sterling, is available now as a CD and MP3 CD! Narrated by Andrew Cullum, the audiobook is published by Clipper, an imprint of W. F. Howes. Here's the synopsis…
1855: The Industrial Revolution is in full swing, powered by steam-driven cybernetic Engines. Charles Babbage perfects his Analytical Engine, and the computer age arrives a century ahead of its time. Three extraordinary characters race toward a rendezvous with the future: Sybil Gerard – fallen woman, politician's tart, daughter of a Luddite agitator; Edward Leviathan Mallory — explorer and palaeontologist; Laurence Oliphant — diplomat, mystic, and spy. Their adventure begins with the discovery of a box of punched Engine cards of unknown origin and purpose. Cards someone wants badly enough to kill for.
Part detective story, part historical thriller, The Difference Engine took the science fiction community by storm when it was first published. It is a prime example of the steampunk sub-genre; It posits a Victorian Britain in which great technological and social change has occurred after entrepreneurial inventor Charles Babbage succeeded in his ambition to build a mechanical computer called Engines.
Provocative, compelling, and intensely imagined, this audiobook is poised to impress a whole new generation.
W. F. Howes have also recently published UK audio editions of Gibson's NEUROMANCER, PATTERN RECOGNITION, and DISTRUST THAT PARTICULAR FLAVOUR (with more on the way!).

Gibson's latest novels — THE PERIPHERAL and AGENCY — are published in the UK by Penguin. His classic Neuromancer series is published in the UK by Gollancz.