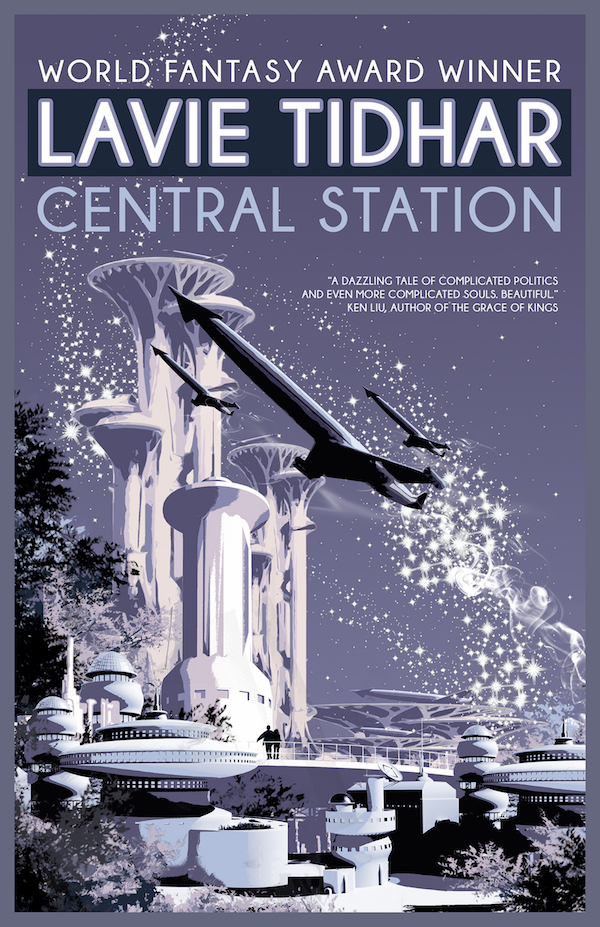 Today, Lavie Tidhar's critically-acclaimed CENTRAL STATION is a Kindle Deal in the US! Published by Tachyon Publications, here's the synopsis…
A worldwide diaspora has left a quarter of a million people at the foot of a space station. Cultures collide in real life and virtual reality. Life is cheap, and data is cheaper.
When Boris Chong returns to Tel Aviv from Mars, much has changed. Boris's ex-lover is raising a strangely familiar child who can tap into the datastream of a mind with the touch of a finger. His cousin is infatuated with a robotnik — a damaged cyborg soldier who might as well be begging for parts. His father is terminally-ill with a multigenerational mind-plague. And a hunted data-vampire has followed Boris to where she is forbidden to return.
Rising above them is Central Station, the interplanetary hub between all things: the constantly shifting Tel Aviv; a powerful virtual arena, and the space colonies where humanity has gone to escape the ravages of poverty and war. Everything is connected by the Others, powerful alien entities who, through the Conversation — a shifting, flowing stream of consciousness — are just the beginning of irrevocable change.
At Central Station, humans and machines continue to adapt, thrive… and even evolve.
Lavie's novel has been praised far and wide, by peers and readers alike. Here's just a sample of the reactions…
'It is just this side of a masterpiece — short, restrained, lush — and the truest joy of it is in the way Tidhar scatters brilliant ideas like pennies on the sidewalk.' — NPR
'The stories include some of Tidhar's most beautiful prose, and his future Tel Aviv is among the most evocative settings in recent SF… Somehow, CENTRAL STATION combines a cultural sensibility too long invisible in SF with a sensibility which is nothing but classic SF, and the result is a rather elegant suite of tales.' — Locus
'If you want to know what SF is going to look like in the next decade, this is it.' — Gardener Dozois
'Beautiful, original, a shimmering tapestry of connections and images – I can't think of another SF novel quite like it. Lavie Tidhar is one of the most distinctive voices to enter the field in many years.' — Alastair Reynolds
'A fascinating future glimpsed through the lens of a tight-knit community. Tidhar changes genres with every outing, but his astounding talents guarantee something new and compelling no matter the story he tells.' — Library Journal (starred review)
'A dazzling tale of complicated politics and even more complicated souls. Beautiful.' — Ken Liu
More reviews can be found on Lavie's author page, and also on the book's page at the publisher's website.