The second and third novels in Charlaine Harris's critically acclaimed new Midnight Texas series are today's Kindle Daily Deal! Only 99p each, here is the synopsis for DAY SHIFT…
Welcome to Midnight, Texas.
It's a quiet little town, perched at the junction between Davy Road and Witch Light Road, and it's easy to miss. With its boarded-up windows, single traffic light and sleepy air, there's nothing special about Midnight… which is exactly how the residents like it.
So when the news comes that a new owner plans to renovate the run-down, abandoned old hotel in town, it's not met with pleasure. Who would want to come to Midnight, with its handful of shops, the Home Cookindiner, and quiet residents – and why?
But there are bigger problems in the air. When Manfred Bernado, the newest resident in town, is swept up in a deadly investigation suddenly the hotel and its residents are the least of the towns concern. The police, lawyers and journalists are all headed to Midnight, and it's the worst possible moment…
The series, which has recently been adapted into a TV series, is published in the UK by Gollancz.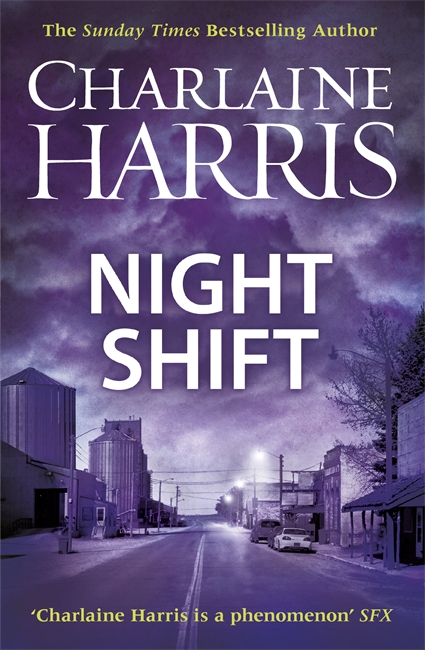 Here are some of the great reviews these two novels have received so far…
'Superstar Harris is back with the second installment of her fresh new series that explores the mysteries of Midnight, Texas. Harris excels at building a rich cast of characters who are like icebergs, with much lying beneath the surface. Having secondary characters from the Sookie-verse pop in just adds to the intriguing vibe!' — RT Book Reviews on DAY SHIFT
'Outsiders swarm the sleepy streets of Midnight, Tex., as supernatural superstar Harris returns with another practiced out-of-the-ordinary mystery…Harris continues to open up her setting, layering in more secrets as well as revealing some answers, and, in a nod to her fans, dropping the S-bomb to link this series with her famous Southern Vampire Mysteries series.' — Publishers Weekly on DAY SHIFT
'The reigning master of ''rural fantasy'' returns to the tiny village of Midnight, Texas (familiar from MIDNIGHT CROSSROAD) with a new story of magic and mystery, with local psychic Man­fred Bernardo embroiled in a murder case that brings unwelcome publicity to the town. Harris's customary warmth and humor shines throughout.' — Locus, New & Notable on DAY SHIFT
'Bestseller Harris (the Sookie Stackhouse books) brings a real sense of community to the characters she introduced in MIDNIGHT CROSSROAD and DAY SHIFT, deepening the reader's connection to an irresistible assortment of phone psychics and cowpunching vampires.' — Publishers Weekly on NIGHT SHIFT
'Harris if truly a gifted storyteller who delivers unique and fascinating characters… Great as always!' — RT Book Reviews on NIGHT SHIFT
Zeno represents Charlaine Harris in the UK and Commonwealth, on behalf of the JABberwocky Literary Agency in New York.