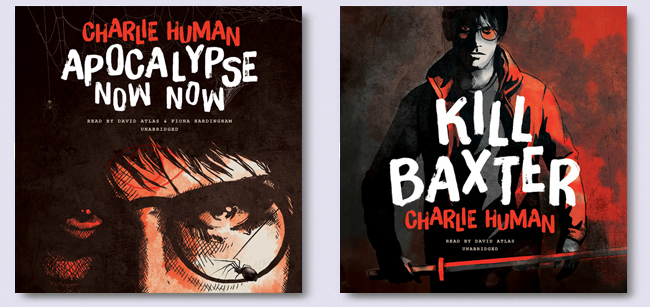 Charlie Human's APOCALYPSE NOW NOW and KILL BAXTER are now available in audio format. Published in the UK and US by Blackstone Audio, here's the synopsis for the first novel…
"now now" adv. a common South Africanism relating to the amount of time to elapse before an event occurs. In the near future; not happening presently but to happen shortly
Baxter Zevcenko's life is pretty sweet. He's making a name for himself as the kingpin of his smut-peddling high school syndicate, the other gangs are staying out of his business, and he's dating the girl of his dreams, Esmé.
But when Esmé gets kidnapped, things start to get seriously weird, and the only man drunk enough to help is a bearded, booze-soaked, supernatural bounty hunter who goes by the name of Jackson "Jackie" Ronin.
Plunged into the increasingly bizarre landscape of Cape Town's supernatural underworld, Baxter and Ronin team up to save Esmé. On a journey that takes them through the realms of impossibility, they must face every conceivable nightmare to get her back, including an odd brush with the apocalypse.
Both novels are published in the UK by Arrow, in South Africa by Umuzi, and in the US by Titan Books. APOCALYPSE NOW NOW has also been optioned for film; and published in Turkey, Italy and Japan.
'With a wild imagination and savage glee, Charlie Human throws us into a school yard battle zone that's part teenage wasteland, part Lovecraft fever dream. Rock and Roll High School meets the apocalypse.' — Richard Kadrey, author of Sandman Slim, on APOCALYPSE NOW NOW
'Brilliantly entertaining.' — British Fantasy Society on APOCALYPSE NOW NOW
'A riot — a firebomb of a novel, exploding with sick humour, violence and depravity… it's never less than very funny, and the ongoing question of Baxter's sanity adds a degree of mystery. There's warmth here, too – you'll likely feel sympathy for Bax by the end.' — SFX Magazine on APOCALYPSE NOW NOW
'Think Lauren Beukes meets Neil Gaiman, with bounty hunters.' — Wired (UK) on APOCALYPSE NOW NOW
'APOCALYPSE NOW NOW was a very clever, extremely dark book with an underpinning of real insight into the teenage mind. KILL BAXTER is a step beyond – a viciously sharp adventure that combines explosive entertainment with cutting satire; the best traditions of contemporary fantasy with the truth of what it actually means to be contemporary. The odd book that should appeal to those who love fantasy and those that hate it. And I would heartily recommend it either way.' — Pornokitsch
'As ambitious, ludicrous, laugh out loud funny and twisted as its predecessor… If you enjoy dark twisted urban fantasy, you won't want to miss it… A triumphant return to the dark side of South Africa.' — Sci-Fi Bulletin on KILL BAXTER
'The sequel to the jubilantly violent APOCALYPSE NOW NOW… Even after brushing with the apocalypse, this emerging series hasn't lost its frenzied bite. KILL BAXTER is leaner, meaner and shows an unrestrained zest for dizzying, carnivalesque violence… this is an irresistible ride which has lost all control of the brakes. Either cling to the handrail or be splattered in the dust.' — Starburst