Above, you can listen to an audio excerpt from Nick Martell's acclaimed debut novel, THE KINGDOM OF LIARS. Read by Joe Jameson, and published by Orion/Gollancz, the book is out now in the UK!
The first novel in Martell's Legacy of the Mercenary Kings series, here's the synopsis…
Michael was branded a traitor and his family exiled from courtly life after his father, David Kingman, murdered the king's nine-year-old son.
Now he survives by conning, cheating and duelling minor royals in a weak attempt to strike back at the world that abandoned him and his family, sure all the while that his father must be innocent… and aware that some powerful secret lurks in the hot white emptiness of his mind.
So when the opportunity arrives to return to court, via the most dangerous of the King's royal council, Michael takes it, hoping for clues to unlock his hidden past. Instead, he's going to find a royal family spiralling into a self-serving dictatorship, as beyond the walls gun-wielding rebels clash against magically trained militia.
But if he can find his way to the truth, he could completely reverse the injustices which rule the Hollows… if Michael and his family can survive long enough to see it…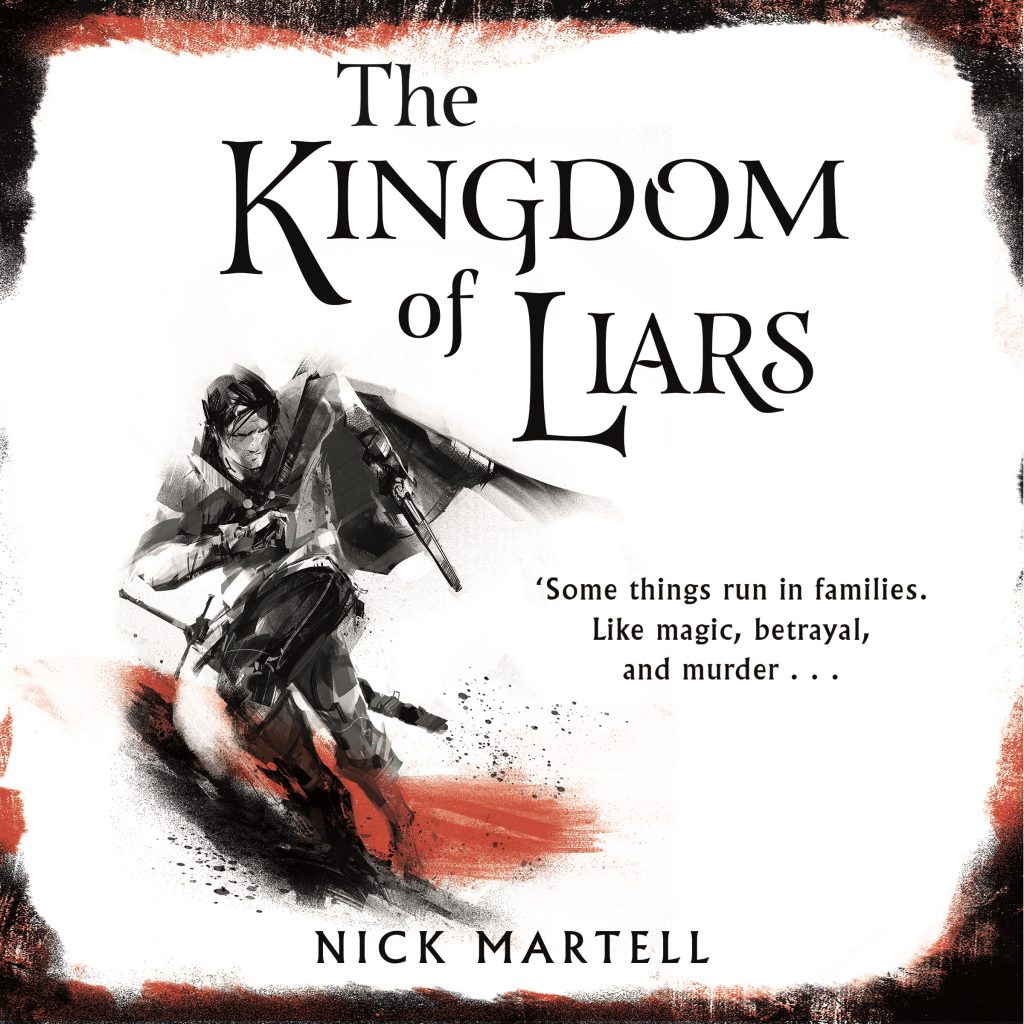 Here is just a small selection of reviews that the novel has received so far…
'… impressive and highly ambitious epic fantasy debut… Martell's portrayal of his protagonist's growth, from a cocksure chancer to a mature adult sobered by his discoveries, is just as impressive as the twisty plot.' — Guardian
'THE KINGDOM OF LIARS is a tale of family, loyalty and leaving a legacy that none shall forget. This is certainly a book that you won't be able to put down, and will linger with you long after you've read the last page.' — Fantasy Hive
'Martell's taut, clever debut tells of rebellion and regicide in a world where the use of magic comes at the cost of one's memories… Though the abundance of characters becomes overwhelming at times, their political maneuvers and varied motivations form a satisfying web. This smart, briskly told high fantasy entertains all the way until the unexpected end.' — Publishers Weekly
'An obvious strength of this novel is Martell's worldbuilding prowess as well as his utilization of magic, which is subtle but powerful… a knotty mystery… keeps the pages turning… a story full of relentless action and more than a few jaw-dropping plot twists… An impressive fantasy debut that creates a solid foundation for (hopefully) a much larger narrative to come.' — Kirkus
'An excellent fantasy debut, with engaging worldbuilding and a good mix between action and character. I thoroughly enjoyed the novel, and look forward to following Nick's sure-to-be lengthy writing career.' — Brandon Sanderson, #1 New York Times bestseller author of THE WAY OF KINGS, and The Mistborn Trilogy
'A symphony of loyalty, greed, family, and betrayal set in an innovative culture!' — Tamora Pierce, #1 New York Times bestselling author of Tempests and Slaughter, The Song of the Lioness Quartet
'… an exciting, action-focused fantasy thriller with intriguing mystery elements… The finale is stunning…' — Grimdark Magazine