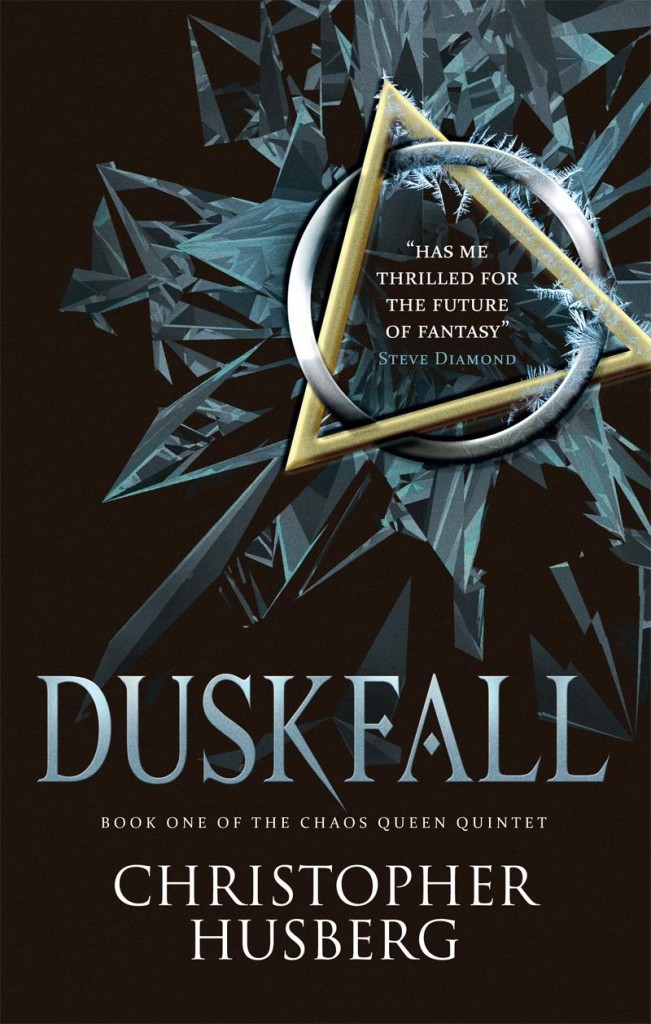 DUSKFALL, Christopher Husberg's debut fantasy novel, is out today in the UK! Published by Titan Books, it is the first book in the author's Chaos Queen Quintet. Here's the synopsis…
Stuck with arrows and close to death, a man is pulled from the icy waters of the Gulf of Nahl. As he is nursed back to health by a local fisherman, two things become very clear: he has no idea who he is, and he can kill a man with terrifying ease.
The fisherman is a tiellan, a race which has long been oppressed and grown wary of humans. His daughter, Winter, is a seemingly quiet young woman, but behind her placid mask she has her demons. She is addicted to frostfire — a substance that both threatens to destroy her and simultaneously gives her phenomenal power.
A young priestess, Cinzia, hears the troubling news of an uprising in her native city of Navone. Absconding from the cloistered life that she has kept for the last seven years, she knows she must make the long journey home. The flames of rebellion threatening her church and all that she believes in are bad enough, but far worse is the knowledge that the heretic who sparked the fire is her own sister.
These three characters may have set out on different paths, but fate will bring them together on one thrilling and perilous adventure.
You can read a recent interview with the author here.
'The storytelling is fresh and assured and the characters appealing… This is a solid setup for a great new fantasy epic, perfect for fans of Daniel Abraham and Brandon Sanderson.' — Library Journal
'Breathtaking… I zoomed through DUSKFALL. The author did a wonderful job entwining the story of three people along with the world they live in and all the side characters. I was never confused or lost and that was wonderful! DUSKFALL is a book that I will be hunting down for a finished copy so I can reread it for years to come!' — Night Owl Sci-Fi
'DUSKFALL by Christopher Husberg is just amazing. This is a good example of the books I will think about when people that do not read fantasy go gah-gah over the Game of Thrones. I always want to say, have you ever tried to read a good Fantasy novel? I do not mean to dish on the Game of thrones, but no, it would not make it into my top 100 Fantasy novels, but I think this novel would… a must for any fantasy lover…' — SF Reader
Zeno represents Christopher Husberg in the UK and Commonwealth, on behalf of the JABberwocky Literary Agency in New York.