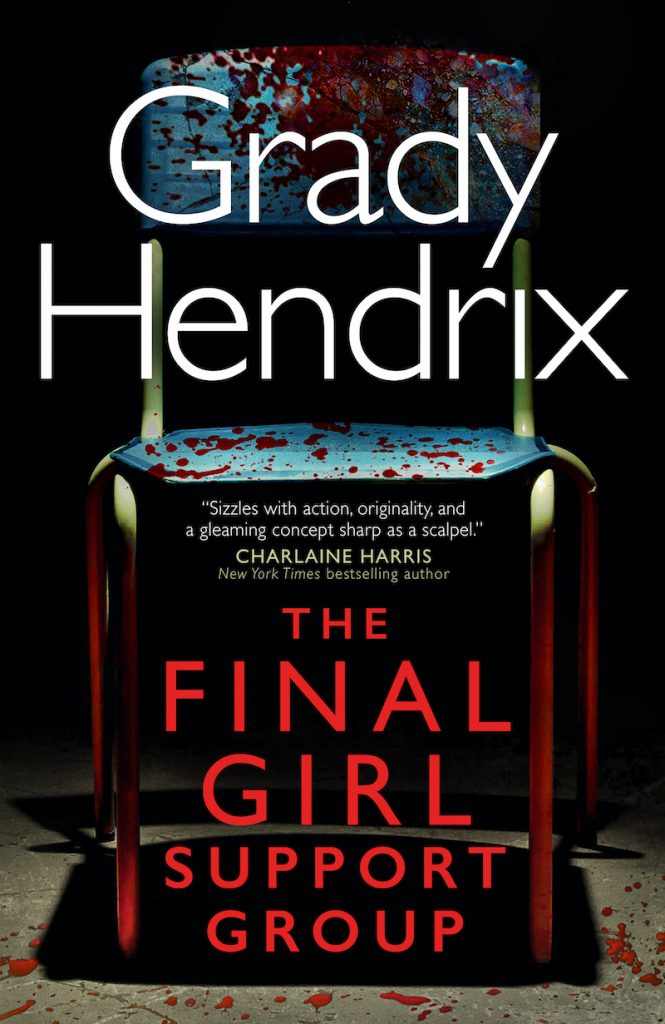 You may have seen the North American cover for Grady Hendrix's highly-anticipated new novel circulating online for a little while, now. Today, we're very happy to report that THE FINAL GIRL SUPPORT GROUP is going to get a UK edition!
Due to be published by Titan Books on July 13th, here's the synopsis…
A fast-paced, thrilling horror novel that follows a group of heroines to die for, from the brilliant New York Times bestselling author of The Southern Book Club's Guide to Slaying Vampires.
Ever wonder what happens to those Final Girls? After the cops eliminate them as suspects, after the press releases their brace-faced, pizza-cheeked, bad-hair-day class photos that inevitably get included on the cover of the true crime book? After the candlelight vigils and the moments of silence, after someone plants the memorial shrub?
For Lynette Tarkington, it's been a support group. Her, five other final girls, a therapist. Close to twenty years. Today's the last day for group, but Lynne doesn't know it yet. It's also going to be the last day for one of the group. And maybe the final day for all of the final girls, because someone's been planning a nasty surprise for them for a long time.
Zeno represents Grady Hendrix in the UK and Commonwealth, on behalf of the JABberwocky Literary Agency in New York.