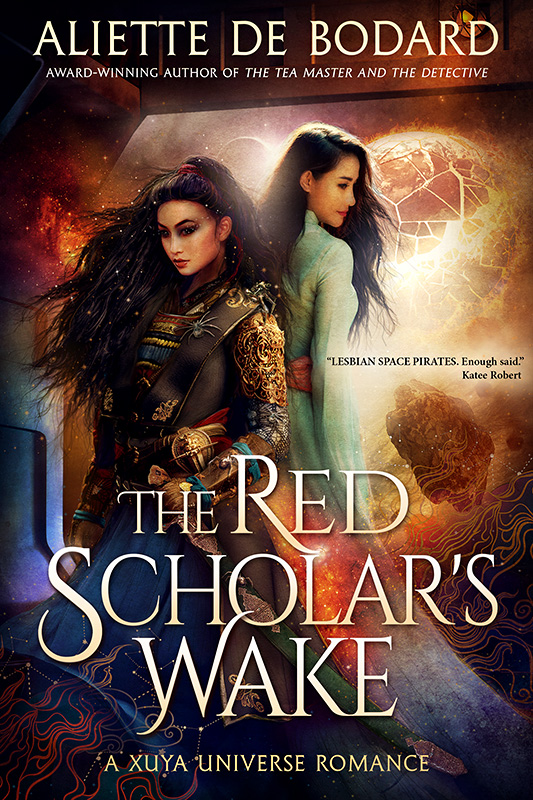 A little while ago, Gollancz unveiled the UK cover of Aliette de Bodard's latest science fiction masterpiece: THE RED SCHOLAR'S WAKE. Today, we can share with you the North American cover! The striking cover is by Raven, and the book is due to be published by JABberwocky, here's the synopsis…
A rich space opera and an intensely soft romance
When tech scavenger Xích Si is captured and imprisoned by the infamous pirates of the Red Banner, she expects to be tortured or killed. Instead, their leader, Rice Fish, makes Xích Si an utterly incredible proposition: an offer of marriage.
Both have their reasons for this arrangement: Xích Si needs protection; Rice Fish, a sentient spaceship, needs a technical expert to investigate the death of her first wife, the Red Scholar. That's all there is to it.
But as the interstellar war against piracy rages on and their own investigation reaches a dire conclusion, the two of them discover that their arrangement has evolved into something much less business-focused and more personal… and tender. And maybe the best thing that's ever happened to either of them — but only if they can find a way to survive together.
The North American edition of THE RED SCHOLAR'S WAKE is available for pre-order now!
Here's the UK cover for THE RED SCHOLAR'S WAKE, by Alyssa Winans — due to be published by Gollancz on November 24th…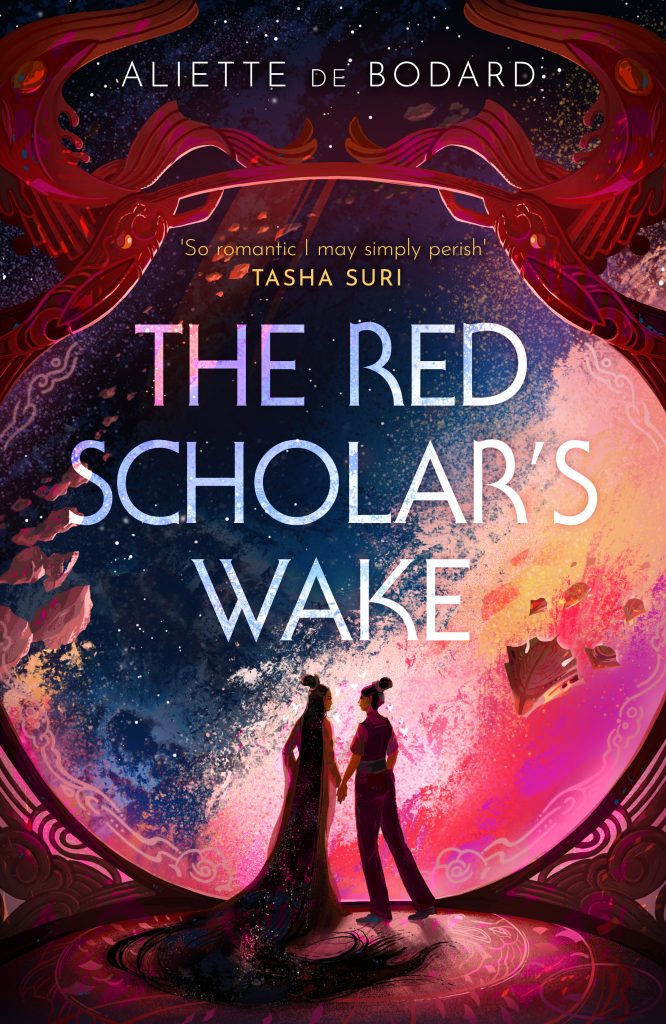 Here, too, are some early reactions to the novel…
'A read-in-one-sitting novel with a beautifully-realized setting amid a complex examination of power and consequences, all intertwined with an intense and gripping romance.' — Kate Elliott, author of Unconquerable Sun
'Thrillingly exciting and achingly romantic, THE RED SCHOLAR'S WAKE is rich with political intrigue and piratical adventure. It took my breath away!' — Stephanie Burgis, author of Snowspelled and Scales and Sensibility
'Space battles! Arranged marriage! Politics and pirates! Aliette de Bodard has a knack for concocting the most glittery and delicious candy-shell of space opera, and then filling it with a bittersweet romance between two fractured people trying to hold on to their ideals. Every new book of hers instantly becomes my favourite book of hers, and this was no exception.' — Freya Marske, author of international bestseller A Marvellous Light
'THE RED SCHOLAR'S WAKE is a quiet, intimate novel, its focus on the personal as driving force for the plot. It's a book about love, over and above everything else: familial love, romantic love, and love for a community that doesn't always love you back. And alongside that love, it's also a book about hope.' — Reads Rainbow
Raven has also done the covers for Aliette's Dragons & Blades books: OF DRAGONS, FEASTS AND MURDERS and OF CHARMS, GHOSTS, AND GRIEVANCES (both also published by JABberwocky).
The Dragons & Blades books are set in the same world as the author's award-winning and acclaimed Dominion of the Fallen novels, published by Gollancz in the UK, and Roc Books (#1-2) and JABberwocky (#3) in North America.