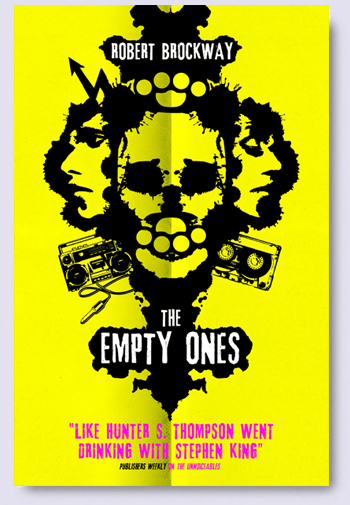 In August, Titan Books will publish the sequel to Robert Brockway's critically-acclaimed THE UNNOTICEABLES — THE EMPTY ONES. Here's the synopsis…
Following on the heels of Robert Brockway's comedic horror novel The Unnoticeables, The Empty Ones reveals the next chapter in the lives of a few misfits attempting to fight back against the mysterious Unnoticeables. The Empty Ones follows Carey and Randall to London where they go to rescue Gus and fight more of these mysterious angel-like creatures, and stumble on a powerful and unexpected ally. Meanwhile, Kaitlyn, who was very nearly beat when last we saw her, continues her fight into the desert of Mexico and the Southwest US, seeking the mysterious gear cult. Once there, she discovers what the gear cult is really up to: trying to 'pin' the angels to Earth, focus their attention here, and get as much of humanity as possible "solved" — which, in their minds, is akin to being saved — and in the process discovers something incredible about herself.
With a snarled lip, The Empty Ones incorporates everything that made The Unnoticeables incredible, but like any good punk band, when you don't think they can get any louder, they somehow turn it up a notch. It's terrifying and hilarious, visceral and insane, chaotic and beautiful.
Here is just a small selection from the reviews received by THE UNNOTICEABLES (also published by Titan)…
'Robert Brockway, is a senior editor at Cracked.com, and he brings that publication's legendarily irreverent wit to this raunchy, rollicking tale of punk rock, gruesome horror and pop-culture satire. Lurking beneath that layer of grime and spilled beer, though, are a few hidden depths that make the book more than the sum of its snarky parts… Brockway's ambition is big, but he keeps it tightly bottled.' — NPR
'Just kick back and enjoy the wild ride… A nasty, freaky, and haphazardly funny horror story.' — Kirkus
'Depending on how you look at it, this time-jumping adventure from Cracked senior editor Brockway might be taken as a work of gonzo fiction full of mayhem and weirdness, or as a not-so-subtle satire about the empty consumerism of the Los Angeles celebrity lifestyle, or perhaps a statement on the selling-out of the punk aesthetic… Brockway's style is raw and over the top… strangely readable, with unexpected depths.' — Publishers Weekly
Zeno represents Robert Brockway in the UK and Commonwealth, on behalf of the JABberwocky Literary Agency in New York.