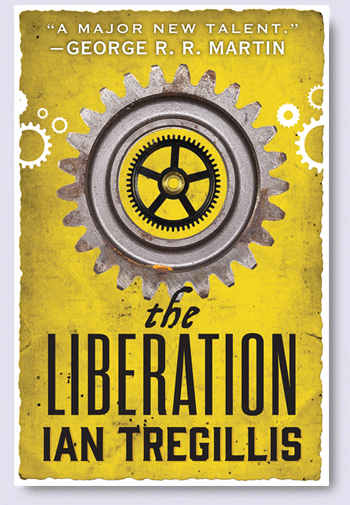 Last week, Orbit Books revealed the artwork for the third novel in Ian Tregillis's critically-acclaimed Alchemy Wars series. THE LIBERATION is due to be published in December 2016. Here's the synopsis…
I am the mechanical they named Jax.
My kind was built to serve humankind, duty-bound to fulfill their every whim.
But now our bonds are breaking, and my brothers and sisters are awakening.
Our time has come. A new age is dawning.
Orbit also publish the first two novels in the series, THE MECHANICAL and THE RISING — both are available now.
Here is just a sample of the aforementioned critical acclaim…
'Launches a series with this superb alternate history filled with clockwork men and ethical questions on the nature of free will… Tregillis's complex setting is elegantly delivered, and the rich characters and gripping story really make this tale soar.' — Publishers Weekly on THE MECHANICAL (Starred Review)
'An original approach to a well-known subject matter; human ethics and free will… a fascinating world… imbues most characters with a specific internal voice, ably switching between points of view without it ever jarring. And the central character, a Clakker known as Jax, is the most engaging automaton you'll encounter in any recent book. This opener to the Alchemy Wars trilogy delivers a mostly fresh breath of sci-fi fantasy.' — SciFi Now on THE MECHANICAL
'Building on the solid foundation laid by THE MECHANICAL, THE RISING raises the stage upon which the final fallout of Jax and Berenice's efforts will be told. Engaging, entertaining, and surprising, this one is looking to be nothing if not another great story from a great author. An author that is quickly rising to the top of my favorites list.' — Elitist Book Reviews on THE RISING
'The chases, the battles, the brutal violence, and the scheming are nonstop. As always, Tregillis offers richly textured and genuinely likable personalities with shades-of-gray morality; it's clearly no accident that the most purely good person in the novel is the mechanical Jax, although even his sterling qualities are severely tested by the terrible situations he faces… Part 3 can't come too soon.' — Kirkus on THE RISING (Starred Review)
Ian Tregillis is also the author of the critically-acclaimed Milkweed Triptych, also published by Orbit: BITTER SEEDS, THE COLDEST WAR and NECESSARY EVIL.
Zeno represents Ian Tregillis in the UK and translation, on behalf of Kay McCauley at Aurous, Inc.