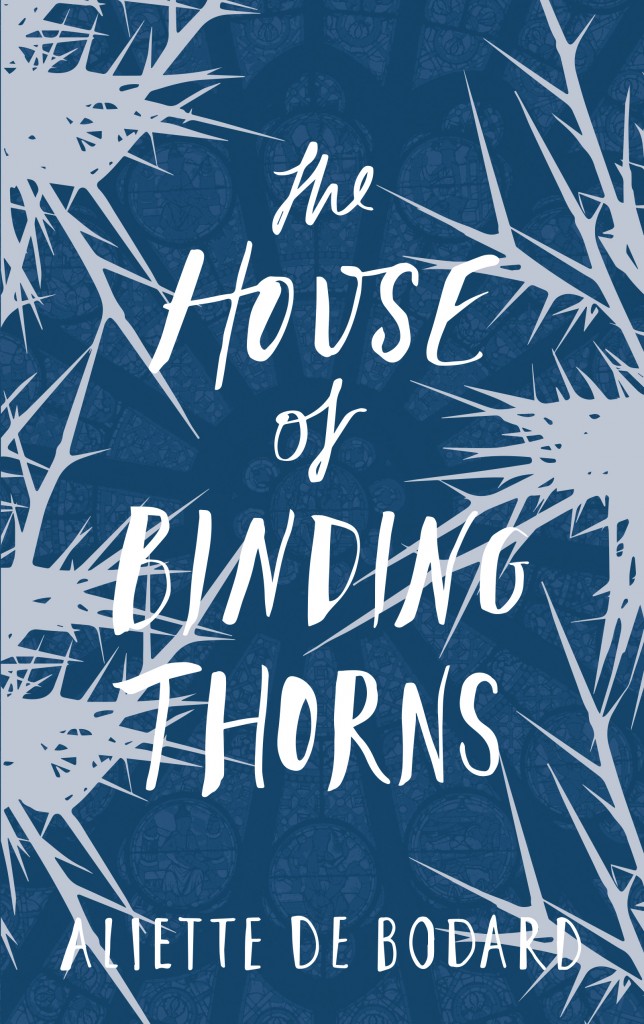 Gollancz just revealed the cover for Aliette de Bodard's next novel, THE HOUSE OF BINDING THORNS! The second novel in her Dominion of the Fallen series, it follows the critically-acclaimed and award-winning THE HOUSE OF SHATTERED WINGS. There's no official synopsis, yet, but here's a quick description…
THE HOUSE OF BINDING THORNS continues the epic story of the fallout of the war in heaven that saw the angelic Great Houses of Paris assaulted and torn apart by mistrust and betrayal in THE HOUSE OF SHATTERED WINGS. Among the ruins of Paris the Great Houses, shaken to their foundations, now struggle to put themselves back together, as powerful forces, gods and angels, men and demons, begin to circle the once unassailable Houses.
On her website, Aliette has posted a little bit more about what the novel is about…
'… this will be focused on the House of Hawthorn, and will have a bunch of returning characters, notably angel essence addict Madeleine — and a bunch new ones too, a Houseless Annamite and a kick-ass dragon prince with a talent for getting into major trouble.
'It takes place in the months following The House of Shattered Wings. It follows various characters connected to the House of Hawthorn (with bonus locations in the Annamite community in Paris and Saint-Ouen). Like its predecessor, it will be standalone, though characters from the first book will obviously be around!'
THE HOUSE OF SHATTERED WINGS, which won the BSFA Award for Best Fantasy Novel, has also been published in the US by Roc Books, who are also due to publish the sequel.
Here's a selection from the great reviews the first novel has received…
'A beautifully crafted novel full of complex characters, set in a post apocalyptic Paris – the image of which is truly haunting… vivid and fast-paced battles and intense political manoeuvrings… with carefully crafted characters both with layers and depth, De Bodard reflects the best and worst of human nature in her novel… an intriguing mystery, elegantly written… Something any avid fantasy reader with an open mind will devour!' — Guardian
'It's a testament to De Bodard's skills that we're completely immersed in the world almost immediately, without her resorting to a 'here's what happened' information splurge. None of the fallen angels can remember why it was that they fell from Heaven…the Paris of fallen angels that the author has created is so compelling…It's brimming with ideas, some of which rush by so quickly that you might wish De Bodard had taken a little more time to explore them. This is a good problem to have though. It's fascinating, moving and hugely readable.' — SciFi Now
'Will grab readers and force them to pay attention to the amazing writing and the phenomenal characters. de Bodard will sweep you up into the dark and dirty world Paris has become. The characters are very vivid and will stay with you until long after the last page, as each of them is fighting and longing for something. The writing style rendered the characters' feelings and emotional turmoil beautifully. Watching Philippe and Isabelle work through their "connection" is fascinating and lovely. There's so much going on, and every character has their own past, their own tragic history. It's a whirlwind, it's heartbreaking and it's one of the best fantasy novels of 2015.' — RT Book Reviews (Top Pick August 2015)
'A gripping tragedy of forlorn individuals caught up in an angelic version of the Cold War… The story holds up well as a standalone, with clear possibilities but no pressing need for a sequel. De Bodard aptly mixes moral conflicts and the desperate need to survive in a fantastical spy thriller that reads like a hybrid of le Carré and Milton, all tinged with the melancholy of golden ages lost.' — Publishers Weekly (Starred Review)
'If the image of Lucifer sitting on a throne in the ruins of Notre-Dame strikes you as awesome, then this is the book for you.' — Marie Brennan
'A Gothic masterpiece of supernatural intrigues, loves and betrayals in a ruined and decadent future Paris — wildly imaginative and completely convincing, this novel will haunt you long after you've put it down.' — Tim Powers
'An intense, beautiful, brutal journey written with an eye for the stunning, vivid detail and the cruel demands of duty, loyalty, and leadership. Its portrait of a ruined Paris ruled by fallen angels is one I won't soon forget.' — Kate Elliott