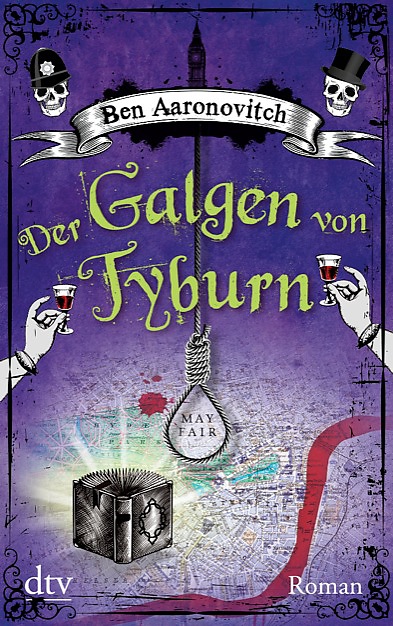 Ben Aaronovitch's sixth Peter Grant novel, THE HANGING TREE, now has a German cover! The novel is due to be published in February 2017 by DTV, as DER GALGEN VON TYBURN. Here's the synopsis…
In seinem sechsten Fall muss der fabelhafte Peter Grant
– ein verschollenes altes Buch wiederfinden einen verdächtigen Todesfall auf einer Party der Reichen und Schönen Londons aufklären
– versuchen, es sich dabei nicht völlig mit Lady Ty zu verderben
– vermeiden, vom Gesichtslosen ins Jenseits befördert zu werden
– sich mit einem ganzen Haufen rauflustiger Amerikaner herumschlagen, die definitiv zu viel ›24‹ gesehen haben.
Kurz: Peter bekommt die einzigartige Gelegenheit, es sich mit alten Freunden zu verderben und sich dabei jede Menge neue Feinde zu machen. Mal vorausgesetzt, er überlebt die kommende Woche.
THE HANGING TREE is due to be published in early 2017 by Gollancz (UK) and DAW Books (US). The first five novels in the series are out now: RIVERS OF LONDON, MOON OVER SOHO, WHISPERS UNDERGROUND, BROKEN HOMES and FOXGLOVE SUMMER. The comic series BODY WORK and NIGHT WITCH are also available, published by Titan Comics.