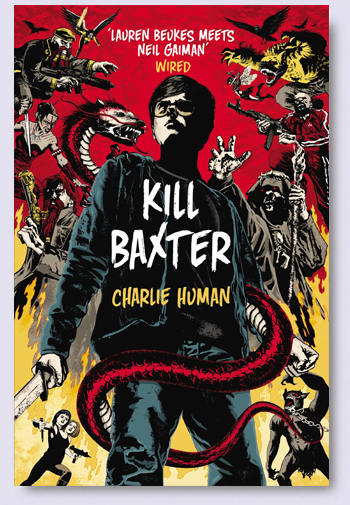 We are very happy indeed to be able to share with you the superb cover for Charlie Human's second novel, KILL BAXTER. We think you can agree, Joey Hi-Fi has once again knocked it right out of the park! KILL BAXTER is the sequel to APOCALYPSE NOW NOW, Charlie's critically-acclaimed debut. Here's the synopsis for the new novel…
And he thought the hard part was over…
The world been massively unappreciative of sixteen-year-old Baxter Zevcenko. His bloodline may be a combination of ancient Boer mystic and giant shape-shifting crow, and he may have won an inter-dimensional battle and saved the world, but does anyone care? No.
Instead he's packed off to Hexpoort, a magical training school that's part reformatory, part military school, and just like Hogwarts (except with sex, drugs, and better internet access). Th problem is that Baxter sucks at magic. He's also desperately attempting to control his new ability to dreamwalk, all the while being singled out by the school's resident bully, who just so happens to be the Chosen One.
But when the school comes under attack, Baxter needs to forget all that and step into action. The only way is joining forces with his favourite recovering alcoholic of a supernatural bounty hunter, Ronin, to try and save the world from the apocalypse. Again.
Here's just a small selection of that aforementioned critical praise for APOCALYPSE NOW NOW…
'It's mad, dark, irreverent and wonderfully twisted in all the right ways.' — Lauren Beukes, author of The Shining Girls
'With a wild imagination and savage glee, Charlie Human throws us into a school yard battle zone that's part teenage wasteland, part Lovecraft fever dream. Rock and Roll High School meets the apocalypse.' — Richard Kadrey, author of Sandman Slim
'… a bowl of fireworks… It has porn-peddling adolescents, ginger bearded monk ninjas, killer crows and zombie-filled sex dungeons ruled over by parasitic mega-spiders. What's not to love!?!' — J For Jetpack
'… a riot – a firebomb of a novel, exploding with sick humour, violence and depravity… it's never less than very funny, and the ongoing question of Baxter's sanity adds a degree of mystery. There's warmth here, too – you'll likely feel sympathy for Bax by the end.' — SFX Magazine
'Think Lauren Beukes meets Neil Gaiman, with bounty hunters.' — Wired (UK)
KILL BAXTER is due to be published by Century in the UK in July 2014. As for APOCALYPSE NOW NOW, Joey Hi-Fi is working on a separate cover for Charlie's home South African edition, and we'll be sure to share that will you as soon as we can.