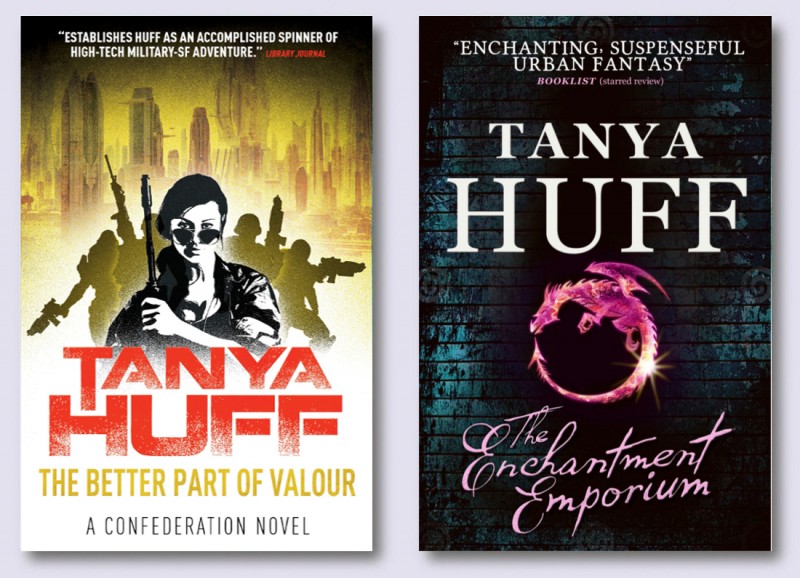 Not so long ago, we announced the first two UK covers for Tanya Huff's novels. Today, we are very happy to share with you the next pair of covers! They are for THE BETTER PART OF VALOUR (the sequel to VALOUR'S CHOICE) and THE ENCHANTMENT EMPORIUM. Both books are due to be published by Titan Books in December 2013 and January 2014, respectively.
Here's the synopsis for THE BETTER PART OF VALOUR…
When Staff Sergeant Torin Kerr makes the mistake of speaking her mind to a superior officer, she finds herself tagged for a special mission for the interplanetary Confederation to act as protector to a scientific exploratory team assigned to investigate an enormous derelict spaceship. Along with her crew and her charges, Kerr soon finds herself in the midst of danger and faced with a mystery that takes all her courage and ingenuity to solve. This sequel to Valor's Choice, featuring a gutsy, fast-thinking female space-marine protagonist, establishes veteran fantasy author Huff as an accomplished spinner of high-tech military-sf adventure.
And also THE ENCHANTMENT EMPORIUM, which is the first in an urban fantasy series…
The Gale family can change the world with the charms they cast, and they like to keep this in the family. Alysha Gale is tired of having all her aunts try to run her life, both personally and magically. So when the letter from her Gran arrives willing her a "junk" shop in Calgary, Alysha jumps at the chance. It isn't until she gets there that she realizes her customers are fey. And no one told her there's trouble brewing in Calgary-trouble so big that even calling in the family may not save the day…
Zeno represents Tanya Huff in the UK and Commonwealth on behalf of the JABberwocky Literary Agency in New York.