Elizabeth Moon's The Deed of Paksenarrion omnibus has just been published by Orbit. This bumper release collects together Elizabeth's three epic fantasy novels ;  The Sheepfarmer's Daughter, Divided Allegiance, and Oath of Gold. Great to see these reissued at long last, and in such an impressive package too.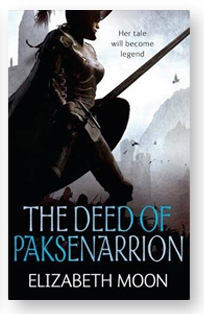 'Paksenarrion wasn't planning to submit to an unwelcome marriage and a lifetime of poverty, so she left her village with a plan and her grandfather's sword. And a few weeks later, she was installed as Duke Phelan's newest recruit in a company of soldiers for hire, her arms training about to begin. But when Paks sees combat, she's stabbed with an ensorcelled knife and barely survives. Then the near-misses start mounting up, raising questions about this young fighter. Is she attracting evil because she is a danger to them all? Or is there another reason malignant forces seek her life? Paks will face the spider-minions of the Webmistress Achrya, orcs and the corrupted men who serve blood mage Liart, Master of Torments. She will also earn the gratitude of elves and of her Duke. And through conflict she will learn she has powers of her own and a destiny. To become a gods-chosen Paladin of Gird, and a target for the ultimate torture.'
Be sure to check out the Orbit blog where Elizabeth has recently contributed this guest post.