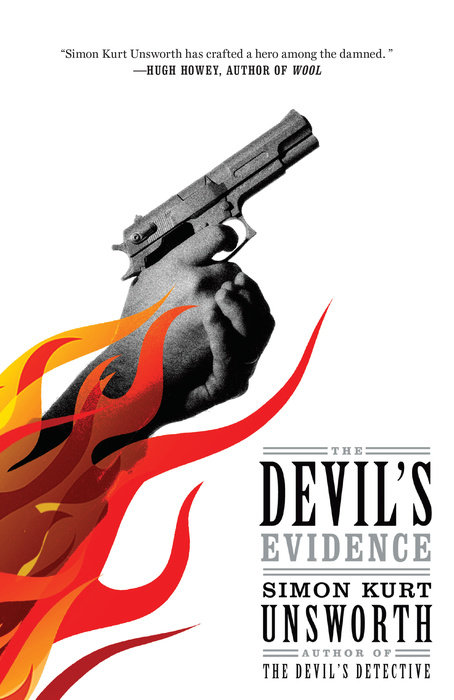 The US paperback edition of Simon Kurt Unsworth's critically-acclaimed THE DEVIL'S EVIDENCE is out today in the US! Published by Anchor, here's the synopsis…
Thomas Fool is a detective from Hell – literally. Having survived the wrath of both angel and demon, and still without memory of his life on earth, Fool is currently spending his damnation as a bureaucrat heading up the Information Office of Hell. But when mysterious fires begin spooking higher-ups in the Bureaucracy – homicidal arson, it's believed–and a series of unexplained murders plagues Heaven, Fool is dispatched north to investigate.
But Heaven is not what Fool imagines. In fact, it's not so different from Hell. And friction between the two afterworlds is only beginning to mount as Fool conducts his investigation. The Devil's Evidence is a thrilling ride through the spiritual realm, and a welcome return for the dead's most endearing private eye.
Anchor also published the first in the series, THE DEVIL'S DETECTIVE. Both novels are published in the UK by Del Rey. Here are some of the great reviews the series has received so far…
'Unsworth's conception of a spiritual universe where deeper understanding may itself be the greatest curse is as nuanced and ingenious as his depiction of "poor little Fool," perhaps the most oddly endearing sleuth to come along in years. The scales are tipped a tad more toward gaudy savagery and gratuitous cruelty than toward more intellectual digressions and plot twists. Still, one suspects Thomas Fool will return, with more respect from readers than from his spiritual jailers. It's less a whodunit than a ripsnorter, with an emphasis on the ripping. Or maybe the snorting.' — Kirkus on THE DEVIL'S EVIDENCE
'Unsworth's imagination soars! THE DEVIL'S EVIDENCE is a twisted journey into the afterlife, a dark labyrinth of mystery, and a brilliant contemplation on identity, transgression, and our struggle to recognize that we each make our own heaven and our own hell. A fresh new voice in dark fiction. Don't miss this series!' — Christopher Golden
'The ultimate solution is a fairly clued surprise, and Unsworth's creative worldbuilding leaves plenty of room for a sequel.' — Publishers Weekly on THE DEVIL'S EVIDENCE
'Do you love Jim Butcher's Dresden Files series? How about the Rivers of London series by Ben Aaronovitch? Like a bit of John Le Carre intrigue? If so, you will love THE DEVIL'S EVIDENCE. A hybrid between horror fantasy and crime procedural, Simon Kurt Unsworth's novel had this writer hooked from its first opening, fiery lines… Unsworth has built a very horrible, yet believable universe with characters who you can hate as well as root for. While you don't need to read the first novel to enjoy the second in the series, we really do recommend you start at the beginning. There's a lot to take in and a great deal of character development to enjoy. A real page turner.' 10/10 — Starburst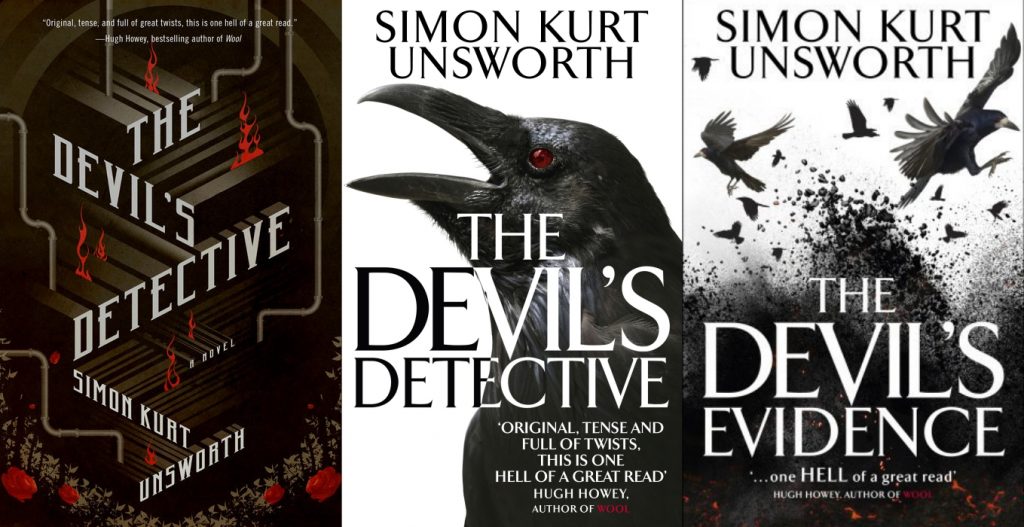 'Dark and luminous, compelling and insidious, THE DEVIL'S DETECTIVE is a novel that transcends genre.' —  Michael Marshall Smith
'Inventive and intriguing – Unsworth turns a journey through Hell into a heavenly read.' — Alison Littlewood
'I think this might be the most whimsical murder story ever told. THE DEVIL'S DETECTIVE is relentlessly creative, fearlessly witty, and completely twisted. Naturally, I loved it.' — Chelsea Cain
'Hell as the setting for a noir investigation turns out to be as fun as it sounds in THE DEVIL'S DETECTIVE. Inventive and pacy, Simon Kurt Unsworth has created a world – underworld? – distinctly his own.' — Andrew Pyper
'The debut novel from prolific short story writer Simon Kurt Unsworth depicts a very modern hell. There's still suffering but it's mostly to be found in the drudgery of the daily grind. Gruesome medieval tortures have given way to endless toil, confounding bureaucracy and arbitrary cruelty. Once you accept the logic of this underworld, what follows is an entertaining Dantean spin on the police procedural… Appropriately awash with gore and bodily fluids, THE DEVIL'S DETECTIVE is damned good.' — Financial Times
'THE DEVIL'S DETECTIVE grips. Unsworth's storytelling is taut and lean, avoiding any lapses into potboiler… When he writes about Hell, he makes it downright hellish… The book eventually spins all this admittedly sumptuous horror into thought-provoking notions about salvation, hope and free will.' — NPR