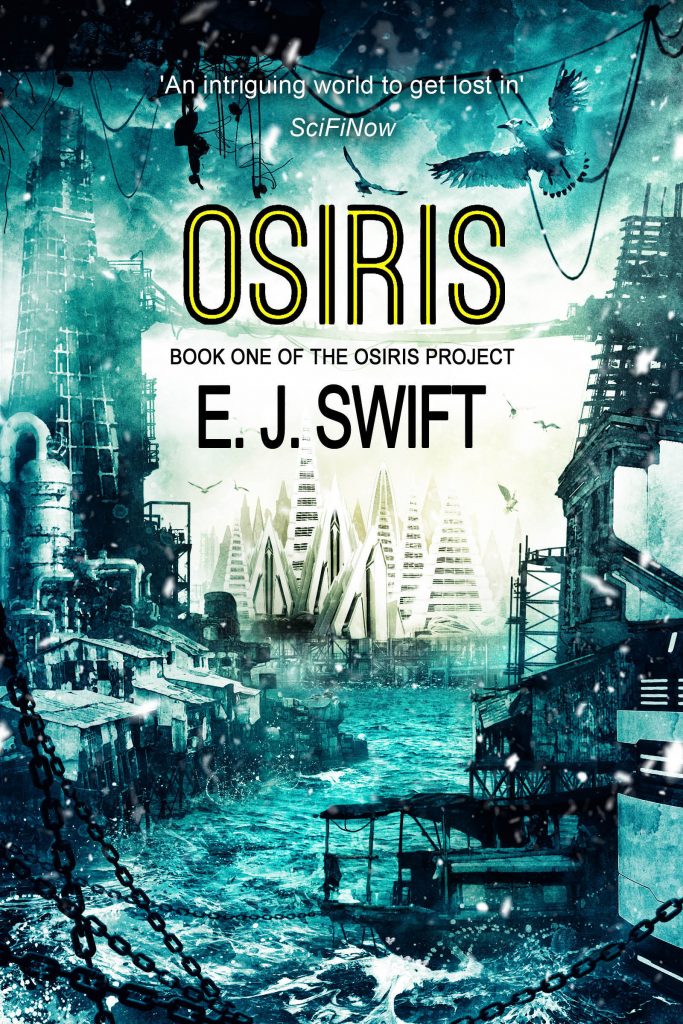 We just wanted to take the opportunity to share with you the new eBook cover for E.J. Swift's debut novel, OSIRIS! The first novel in the author's critically-acclaimed Osiris Project trilogy, it is published in the US through the JABberwocky eBook Program, here's the synopsis…
The city of Osiris rises above the cold waters of the South Atlantic ocean, a beacon of hope in a world ravaged by climate change.
Adelaide Rechnov is a daughter of the city's ruling family and a darling of high society. Yet her glamorous world is shattered when her twin brother disappears in mysterious circumstances. Vikram Bai grew up in the slums and has seen too many of his friends die from the cold and starvation. Now he risks his life to fight for a better future for those the city has abandoned.
When their lives collide, Adelaide and Vikram find themselves caught up in a conspiracy that could destroy the city – and the lives of everyone in it.
All three novels in the Osiris Project series are published in the UK by Del Rey: OSIRIS, CATAVEIRO and TAMARUQ.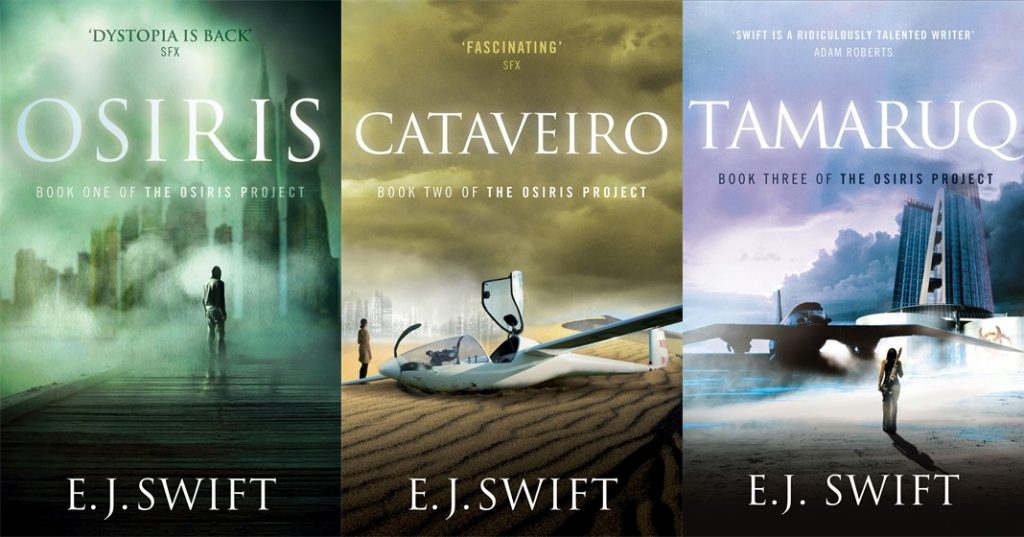 Here are just a few of the reviews OSIRIS has received since it was published…
'What a bare summary of the novel's premise obscures is the amount of space Swift creates for her protagonists to simply live in their world and experience it for us – in other words, how textured the novel is. The world-building has a playfully oceanic flavor throughout… but is most compelling when it is sketching out the psychology of Osiris' citizens. Small episodes, such as an interlude on a freshwater iceberg during which Vikram muses that the slap of waves must be what land sounds like, or the "ground dreams" experienced by many citizens, underline that the sea here is all-encompassing: everything comes from it and returns to it. It's the sea that catches the city's ghosts, and the sea that gives the city's criminal justice system its cues, from the underwater prisons to the official method of execution… Swift demonstrates a much more sophisticated control of pace and tone, an ability to rapidly shift gears within scenes, and a willingness to undercut one scene with another: most notably, the prologue removes ambiguity from one of the major questions facing the protagonists and requires Swift to show one character in particular as much more obsessive and less sympathetic than would otherwise be the case. In the end it's that choice, perhaps, more than anything else in this nuanced, intriguing, occasionally frustrating book, that makes me think Night Shade have found another worthy writer…'  —  LA Review of Books
'Swift's writing is exceptional, vivid and compelling… I found OSIRIS to be a novel that deserves to be read. Swift's talent as a writer can't be questioned, and it's clear to me that there exists an intent behind her work. It lends a depth that helped me persevere, not only to finish, but to anticipate the sequel. I'm hopeful that other patient readers will take the time to find the beauty in it that I ultimately did.' — Staffer's Book Review
'A fantastic blend of world-building, excellent storytelling and complex characters… An engrossing story from start to finish… OSIRIS would still be good if all it had was world-building, but it offers so much more by way of plot and storytelling. The thrust of the narrative is the motivation of the characters… forces readers to ask themselves what it would take to spur them to action. Now combine this with the other interesting elements of the book like political intrigue, subterfuge, the way the story is told from alternating viewpoints… and you can see why OSIRIS shines. It's that kind of impressive storytelling that makes OSIRIS hard to put down, and when you have to put it down, something that you remain eager to pick up again.' — SF Signal
'With a plot as slick and tangled as drifted seaweed and phrases like 'an empty foyer that smelled of decomposing ideas,' this is a terrific debut. Grade A' — Cleveland Plain Dealer
'Swift's first novel, with its brilliant near-future vision of an ecologically and socially devastated world and characters who resonate with life and passion, marks her as an author to watch.' — Library Journal
E.J. Swift's latest novel, PARIS ADRIFT is also out now, and has been met with acclaim from fans and peers alike. It is published by Solaris.