LEGENDS & LATTES, Travis Baldree's acclaimed debut novel is getting a FairyLoot edition! Due to be published on November 8th (members) and 9th (general availability), it will have a snazzy new cover, too — a version of the UK cover with lots of shiny foil!
Here's the synopsis…
After a lifetime of bounties and bloodshed, Viv is hanging up her sword for the last time.
The battle-weary orc aims to start fresh, opening the first ever coffee shop in the city of Thune. But old and new rivals stand in the way of success — not to mention the fact that no one has the faintest idea what coffee actually is.
If Viv wants to put the blade behind her and make her plans a reality, she won't be able to go it alone.
But the true rewards of the uncharted path are the travelers you meet along the way. And whether drawn together by ancient magic, flaky pastry, or a freshly brewed cup, they may become partners, family, and something deeper than she ever could have dreamed.
The "regular" editions of the novel are due to be published by Tor Books in North America and in the UK.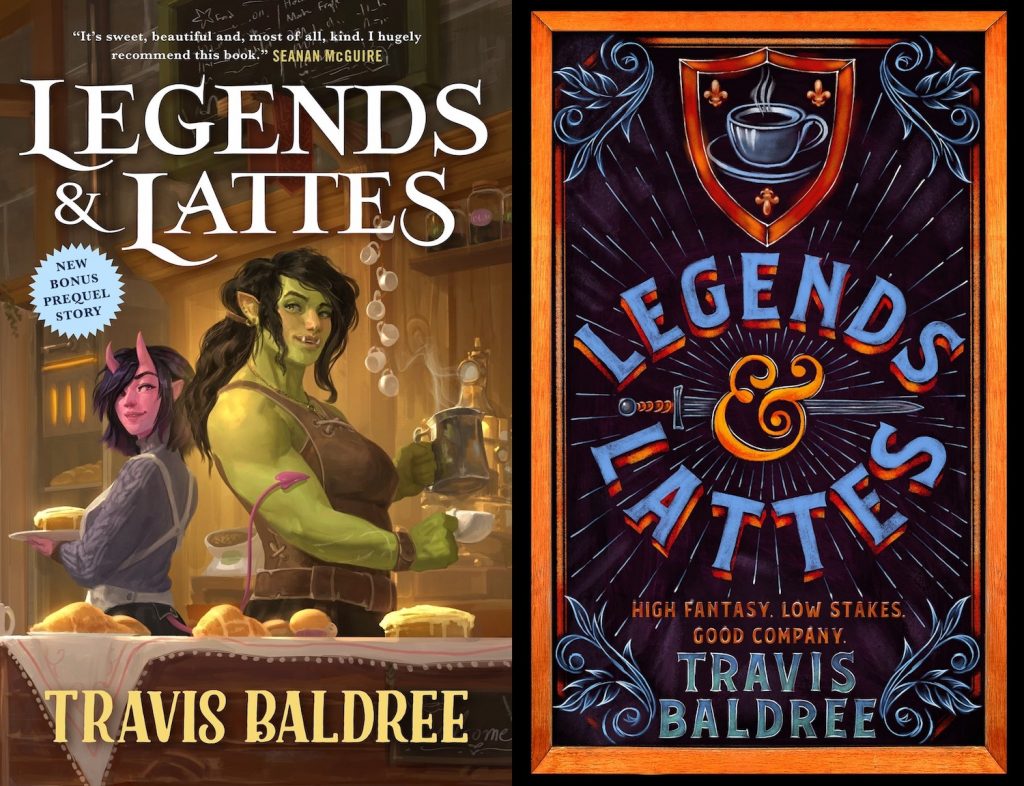 Here are just some of the great reviews the novel has received so far…
'This is a story about following your dreams, even when they take you away from who you thought you had to be. It's sweet, beautiful and, most of all, kind. I hugely recommend this book.' — Seanan McGuire, New York Times bestselling author of Every Heart A Doorway
'The most fun I've ever had in a coffee shop.' — Ben Aaronovitch, bestselling author of Rivers of London
'This slice-of-life cozy fantasy novel has everything you've been searching for.' — Buzzfeed
'An orc retires from adventuring to start a fantasy city's very first coffee shop. This setup combined with the positive messages of defying societal stereotypes, letting go of violence to build peace, and trusting in your friends feels like a premise from Terry Pratchett's Discworld… LEGENDS & LATTES is a novel, and shop, that will delight anyone who enjoys coffee-shop alternate universes, slow-burn romances, and the vindication of friendship.' — Booklist, starred review
'A stunningly-well done story at every level' — Fantasy Faction
'If you like fantasy but you're tired of reading about wars and general intensity, this is the book for you… Cozy fantasy at its best.' — Literary Hub
'I loved LEGENDS & LATTES and I have literally nothing bad to say about it… a warm hug on a cold day. Written with care and attention, Baldree's delicate touch and vibrant characters make this story shine… Books have their own kind of magic. LEGENDS & LATTES was positively enchanting.' — Bookworm Blues