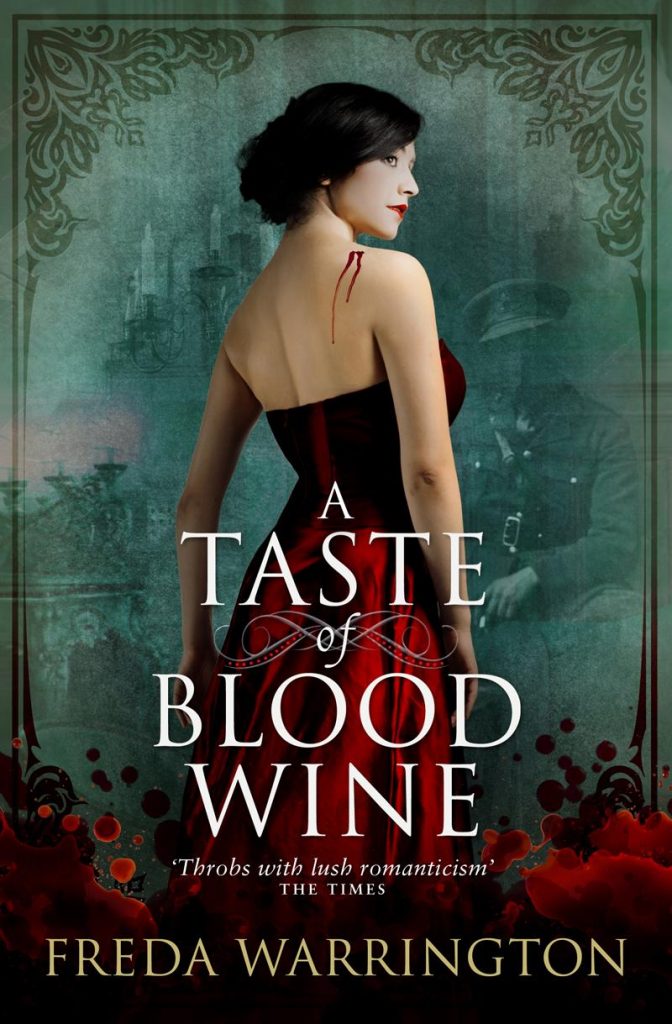 The first novel in Freda Warrington's Blood Wine series, A TASTE OF BLOOD WINE, is out today in mass market paperback in the US. Published by Titan Books, here's the synopsis…
1918. A First World War battlefield becomes the cosmic battleground for two vampires, as Karl von Wultendorf struggles to free himself from his domineering maker, Kristian.
1923. Charlotte Neville watches as her father, a Cambridge professor, fills Parkland Hall with guests for her sister Madeleine's 18th birthday party. Among them is his handsome new research assistant Karl — the man Madeleine has instantly decided will be her husband. Charlotte, shy and retiring, is happy to devote her life to her father and her dull fiance Henry — until she sees Karl…
For Charlotte, it is the beginning of a deadly obsession that sunders her from her sisters, her father and even her dearest friend. As their feverish passion grows, Karl faces the dilemma he fears the most. Only by deserting Charlotte can his passion for her blood be conquered. Only by betraying her can he protect her from the terrifying attentions of Kristian — for Kristian has decided to teach Karl a lesson in power, by devouring Charlotte.
Titan Books has also published the other three novels in the series, in both the UK and US: A DANCE IN BLOOD VELVET, THE DARK BLOOD OF POPPIES and THE DARK ARTS OF BLOOD.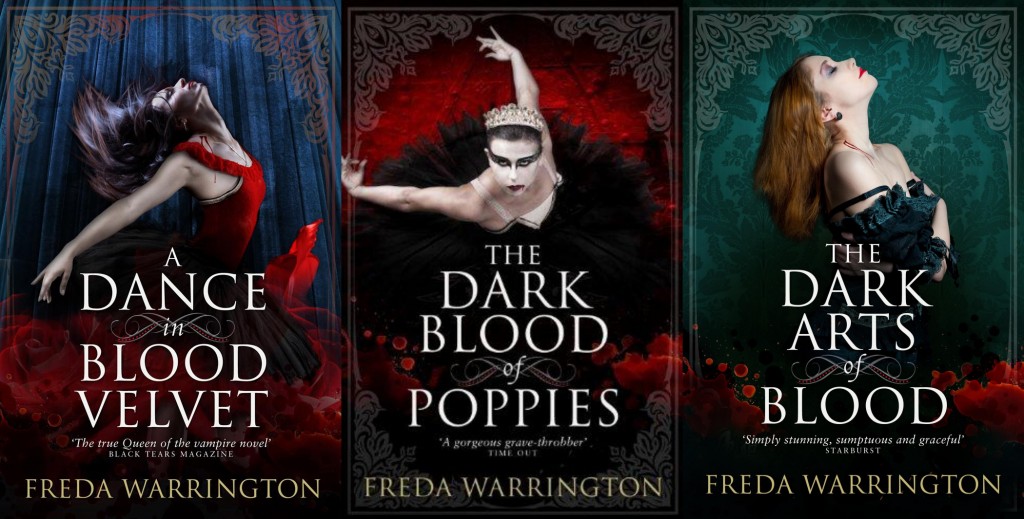 Here's just a selection of the great reviews the series has received…
'A tale which throbs with lush romanticism.' — The Times on A TASTE OF BLOOD WINE
'A really, really splendid read… exquisite period detail. Sometimes the effect is playfully satirical… but more often it's lusciously picturesque… attractively reminiscent of the lux, country house horror of Hammer's The Devil Rides Out… Freda Warrington is like a cross between Anne Rice and Kim Newman – she has the sweep of one, the cleverness of the other… not to be missed.' — Starburst on A TASTE OF BLOOD WINE
'This delicious tale of love, lust and a passionate affair that stretches beyond the grave, is truly delightful. Step forward Charlotte and Karl, a magnificent pairing, and a timeless couple that deserve a place up there with the very best of genre lovers… There's so much here to love… To be honest, there's very little herein that I didn't love… the writing is gorgeous, by turns haunting, lucid, and all-round beautiful… This first instalment is eminently readable, absorbing, and all-round brilliant, a lovely piece of work, and definitely a must-have whether or not you're a fan of vampires. It's a book for fiction-lovers and anyone that claims to appreciate the written word…' — British Fantasy Society
'The story neatly and scrupulously takes up the most important loose ends left dangling by the earlier volume, and moves with measured vigour towards a hectically extended climax, building a remarkable crescendo of action and emotion… amply fulfils the promise of its predecessor, and there is no doubt that the series will become one of the literary monuments of the nascent genre to which it belongs.' — Interzone on A DANCE IN BLOOD VELVET
'The third book in Freda Warrington's brilliantly evocative Blood Wine Sequence, and for me at least, possibly one of the best… I've yet to end any review of one of Freda's books without referring to the impressive style of her writing — it's smart, compelling, and simply fabulous… So easy to recommend this, and any of the others in the Blood Wine Sequence.' — British Fantasy Society on THE DARK BLOOD OF POPPIES
'Dark and sensual and atmospheric, this stunning book continues the story of Karl, Charlotte and their friends, deftly expanding the mythos of vampires and introducing new characters that are sure to become favourites.' — Aliette de Bodard on THE DARK ARTS OF BLOOD