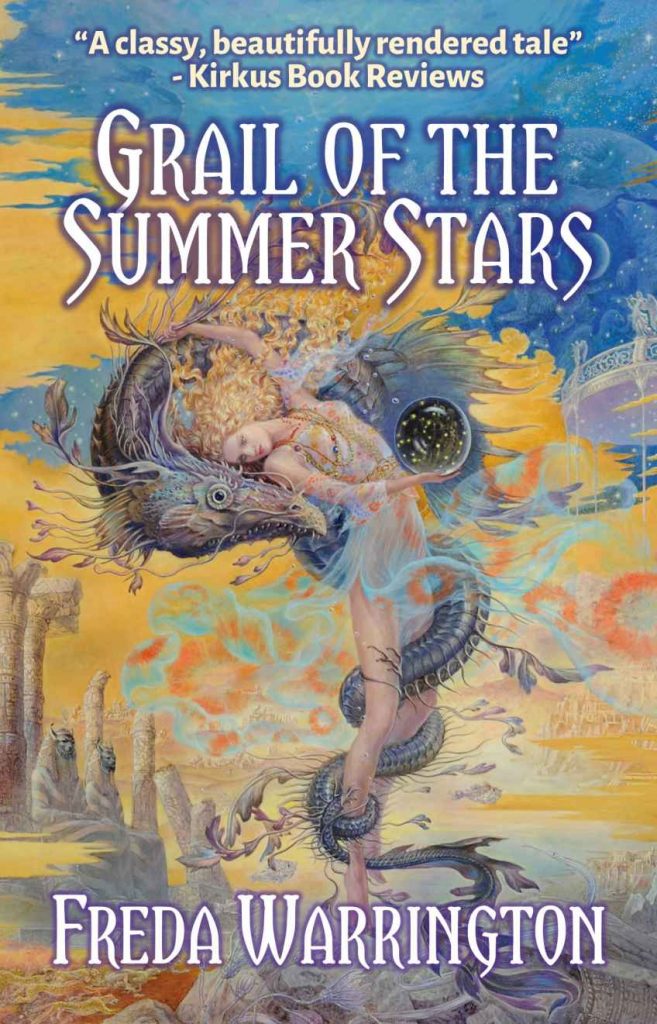 We shared the news recently that the first two novels in Freda Warrington's Aetherial Tales trilogy had been released as eBooks. Today, we're happy to report that the final novel, GRAIL OF THE SUMMER STARS is also now available! Published via the JABberwocky eBook Program, here's the synopsis…
An eerie, spellbinding contemporary fantasy in which a small mystery builds to an epic confrontation.
Stevie Silverwood's quiet life as the manager of an arts museum is disrupted when a painting depicting haunting scenes of a ruined palace and a scarlet-haired goddess in a fiery city arrives with a cryptic note saying, "The world needs to see this." Stevie soon realizes that Daniel, her ex-boyfriend from art school, painted the image, but her attempts to contact him reveal that Daniel has gone missing. Concerned, Stevie rushes to his studio where she bumps into a stranger, Mist — an Aetherial from the Otherworld — who has mysteriously risen from drowning in the depths of the ocean. Together they are determined to find out what has happened to Daniel — and the meaning behind the haunting image.
Stevie and Mist must uncover their lost past in order to understand the greater secrets the painting holds, and what cataclysmic events it might portend. A twisty, perilous journey awaits as they encounter friends and enemies both old and new, charming and dangerous. Who can they trust? Entwined histories reel them towards a single path, a spire of ice and a conspiracy older than humankind.
In Grail of the Summer Stars, a haunting, powerful tale of two worlds and those caught between, Freda Warrington weaves an exciting story of suspense, adventure and danger that fulfills the promise of the Aetherial Tales as only she can.
GRAIL OF THE SUMMER STARS is available from all major eBook retailers. Here are some relevant links:
All three of the novels — the first two are ELFLAND and MIDSUMMER NIGHT — are available from all major eBook retailers.
Here are just a few of the great reviews that the Aetherial Tales novels have received…
'This dreamlike, nuanced and sensual novel is reminiscent of the best of early Charles de Lint and is compulsively readable. Rose is a memorable, unique and wholly sympathetic protagonist, and the supporting cast is equally well drawn. The story of Rose and Sam is compelling, enchanting and utterly enthralling. This is simply one of the best fantasy novels of the year.' — RT Book Reviews on ELFLAND
'ELFLAND… is an exhilarating, wondrous read. The scope of the imagination is breathtaking, as is Ms. Warrington's evocative writing… a fabulous, remarkable, literary modern fairy tale. Absolutely recommended…' — Book Smugglers
'a distinctive spin on human/nonhuman relations in this sensuous, relationship-driven story… Solid wordplay, great pacing and a thrilling conclusion will definitely earn Warrington some new American fans.' — Publishers Weekly on ELFLAND
'unlike the urban fantasy books that have taken over most of the fantasy section, this is old school fantasy. Magic that's full of awe and wonder. It reminds you why we love this kind of story in the first place… Each book [MIDSUMMER NIGHT and ELFLAND] is a stand-alone volume and an absolute delight… I have a lot of fun with the kinds of fantasy/supernatural books that dominate the field at the moment, but none of them can match a novel such as either of these two — for storytelling that takes you where you don't expect to go, and for that exquisite sense of wonder that makes the heart of this old reader sing.' — Charles de Lint
'moody and spine-shivering sequel… Warrington doesn't miss a beat with this sinister, ghostly tale of some of the darker aspects of the Aetherial world and its denizens' dealings with humanity.' — Publishers Weekly on MIDSUMMER NIGHT
'This is the second book in Warrington's Aetherial Tales series, and while it is only loosely connected to the first volume, it is every bit as evocative and compelling. Gill is an intelligent and prickly protagonist and the mystery at Cairndonan is one of family secrets, great art and magic.' — RT Book Reviews on MIDSUMMER NIGHT
'Freda Warrington deftly weaves together contemporary art and ageless magic in this vivid, atmospheric fantasy.' — Tricia Sullivan on GRAIL OF THE SUMMER STARS
'A classy, beautifully rendered tale that persuasively builds from low-key beginnings into a complex enterprise with real heft, a rich back story and characters that grow with the narrative. A must for existing fans, while being easily accessible to newcomers.' — Kirkus on GRAIL OF THE SUMMER STARS
Warrington is also the author of the Blood Wine series, published by Titan Books in the UK and North America.